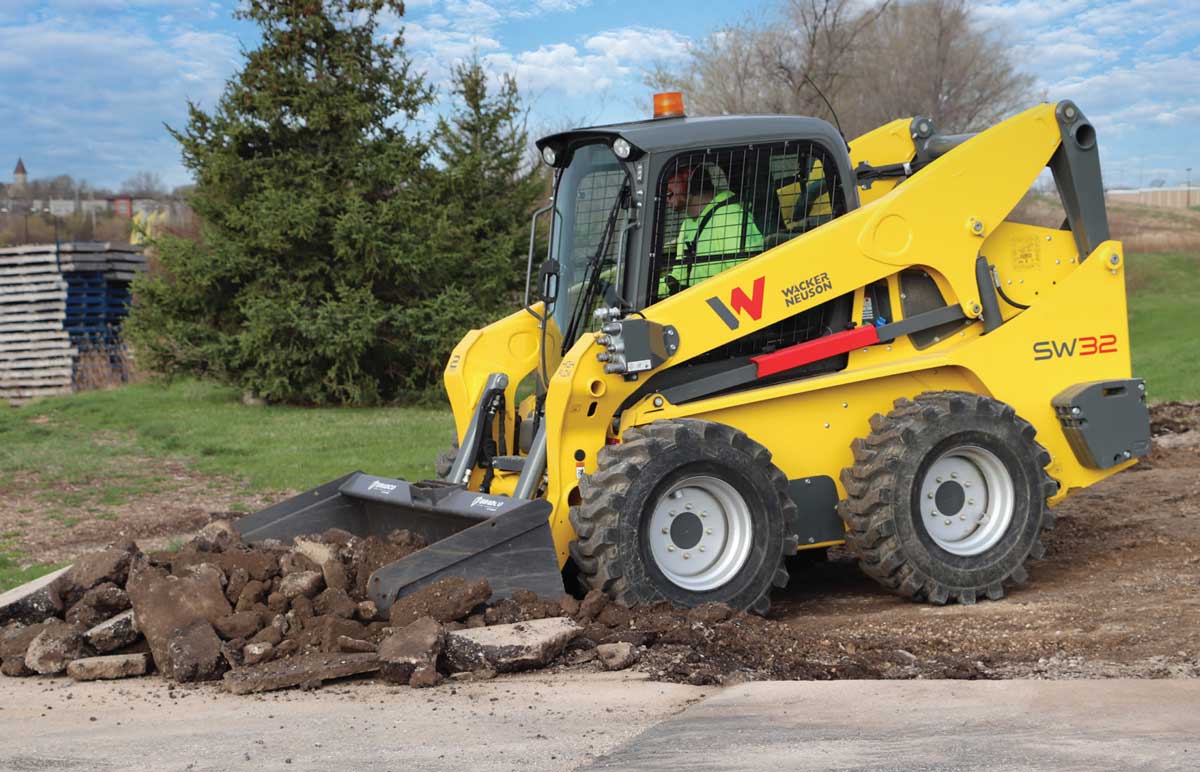 Vertical-Lift Models with High-Vis, Big Fuel Tanks and Lots of Amenities
This post is a part of Compact Equipment's annual Spec Guide. View other brands' product and spec info by clicking this link. View the magazine version of these summaries by clicking right here. Sign up for the print edition right here. Now enjoy!
Wacker Neuson has been manufacturing construction and landscape equipment for 65 years in the United States and has developed many products that have become global jobsite mainstays. Included in this impressive lineup are the locally designed and produced skid steer loaders. Wacker Neuson has been manufacturing skid steers at the Menomonee Falls, Wis., facility since 2015, and during this time has been able to fine-tune the lineup to meet the changing needs of contractors across North America.
All Wacker Neuson skid steers are designed to meet tough applications with comfortable operation and optimal performance. The high-visibility cab is easy to enter and exit and features conveniently located switches. Wacker Neuson notes its skid steers offer best-in-class daily service access. The cab fully tips forward with the loader arms down for complete access to all maintenance components. Opening the wide door at the back of the machine provides access to the well-organized daily check points, which are all easy to see and reach to speed up the maintenance process. This simple design and efficient layout means less time spent on daily service checks and more time on the job.
Wacker Neuson skid steers usher in a new era of comfort features, including joysticks that promote intuitive and comfortable operation. The high-visibility cab includes angled pedals and a foot bed, as well as conveniently located switches that significantly reduce operator fatigue. Access in and out is easy with a wide door and step. Plus there is no restrictive lap bar.
Different types of controls ensure that operators with different backgrounds and experience can efficiently operate these skid steers. The control patterns can be toggled between ISO and H-pattern via a switch in the cab. With adjustable sensitivity and control patterns, the loaders are designed to fit the control preferences of nearly any user.
All models, the SW20, SW21, SW28 and SW32, are vertical-lift machines with class-leading hinge pin height for maximum loading, says Wacker Neuson. Rated operating capacities range from 2,000 to 3,200 lbs. All units are powered by Kohler turbocharged diesel engines that come with a four-year/4,000-hour warranty. Large 40-gal fuel tanks give operators more time in the cab and less time refueling. These skid steers get the job done.

Advice to Buyers
"Prospective buyers have a choice between radial- and vertical-lift path models," says Adam Devins, product manager for skid steers at Wacker Neuson. "For a small premium compared to comparable radial-lift models, vertical lift offers 5 to 10 percent more hinge pin height and 10 to 25 percent more lift capacity. This added performance will help boost productivity and profits." Tags: July August 2022 Print Issue, Spec Guide, Spec Guide 2022, Wacker Neuson