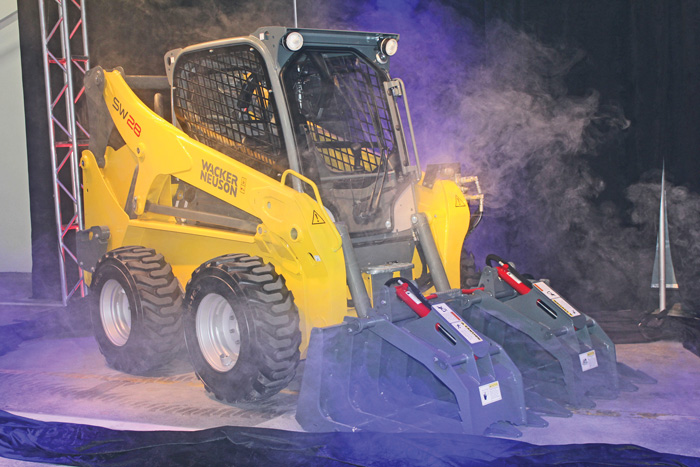 Wacker Neuson hosted its second annual contracted dealer summit at the company's North American manufacturing facility and corporate headquarters in Menomonee Falls, Wis., October 1-3. The highlights of the event included the much anticipated unveiling of Wacker Neuson's new skid steer line for the North American market and the chance for one lucky dealer to win the first unit off the production line.
More than 150 people representing 100 companies from the United States and Canada gathered in Wacker Neuson's manufacturing plant to hear Christopher Barnard, president and CEO of Wacker Neuson Corp., explain the strategy for the development and production of the popular skid steer product line. As Barnard explained, "We have the vision, commitment and execution to complete this critical piece of the puzzle for our product line. With the addition of our new skid steer line, we can now offer dealers the most comprehensive and competitively unique line of light and compact equipment in the industry."
Barnard unveiled the new skid and track loaders after explaining to the dealers and employees that many options were considered to bring a quality skid steer line to the market.
"Wacker Neuson decided for its own development in order to control the design, the manufacturing, the quality and the cost, which will benefit us all. We are confident that these new models will exemplify the quality and durability that the industry associates with the Wacker Neuson brand," Barnard said.
Wacker Neuson has more than 10 years of experience in designing and manufacturing skid steer loaders for the European market. "The requirements of the customers in the U.S. are different and North America is the biggest skid steer market in the world. That's the reason why we decided to design a product line for this important market," said Martin Lehner, CTO of Wacker Neuson SE. The design of the skid steer models will be done jointly between Wacker Neuson's facility in Hoersching, Austria, and Menomonee Falls, Wis. The new models will officially hit the market at CONEXPO-CON/AGG, March 4-8, 2014, in Las Vegas with two skid steer and two track loaders offered in a variety of packages and price ranges to fit the North American market.
After getting their first look at the SSL product line, the machines were moved to the dirt where dealers could operate the machines.
"These machines look and feel robust and tough," said Sam Eaton, vice president and general manager, Knickerbocker Russell Co., Pittsburgh. "It's a nice looking machine and was very responsive, comfortable with easy to reach controls. The 75-hp engine had all the power it needed. The cab is ergonomically pleasing and the best I've ever seen. It took only a few minutes to get the hang of it."
A real highlight of the two-day dealer event was the opportunity for an attendee of the meeting to enter a drawing to win the first machine off the production line. The winner was Ryan Ouye, general manager, Service Rentals and Supply, Maui, Hawaii. As a result of his win, Ouye and his company will also give back to the community. He explained: "The winning skid steer will go into our rental fleet and half of the rental revenue will be donated to a local non-profit. Our employees will be able to choose which organization will receive the donation." 
Tags:
skid steers
,
Track Loaders
,
Wacker Neuson