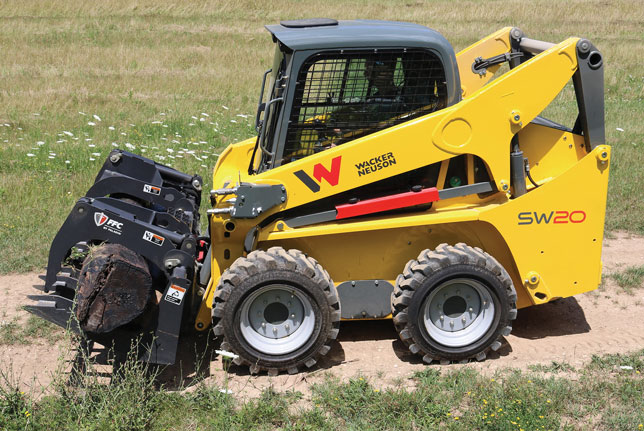 Industry-Leading Warranties and Hinge Pin Height Boost Four New Loaders
Wacker Neuson entered the North American skid steer market in 2014 with a series of large frame models. In 2017, the equipment manufacturer launched a new line of medium-frame skid steers that were designed from the ground up and are manufactured in Menomonee Falls, Wis.
Class-leading hinge pin height on the vertical loaders provides maximum loading and unloading capabilities, says Wacker Neuson. An engine torque of 221 lbf provides the power needed for improved ground-engaging performance. The Kohler diesel engines feature a maintenance-free, regeneration-free aftertreatment system. These engines are backed by a best-in-class transferable engine warranty of four years or 4,000 hours, which is a huge value to customers buying the machine new or in its secondary life.
Versatility comes standard on every Wacker Neuson skid steer loader. The universal skid steer attachment plate enables attachments to be switched out easily, accomplishing more in less time. Category-leading hydraulic horsepower is standard and optional high flow enables these machines to handle high performance attachments like rakes, mowers, tillers and augers with ease. Plus, the 30-gal fuel tank gives operators more time in the cab and less time refueling.
Wacker Neuson created a cab environment with operator comfort and convenience in the forefront of the design. Access in and out is easy, there is no restrictive lap bar and controls are intuitively placed. Mechanical hand-foot and selectable electric-hydraulic options (ISO/H-Pattern) ensure operators with a variety of experience can efficiently operate these machines. Additionally, these machines offer the only one-piece pod style cab that fully tilts forward with the arms down, providing complete access to all maintenance components. The models include:
• SW16 is the smallest of the medium frame lineup and is ideal for applications where space is limited. Its radial lift gives it an advantage with forward reach and is a good machine for agriculture, landscape and nursery applications.
• SW17 is a higher horsepower version of the SW16. The SW17 offers the option of high-flow auxiliary hydraulics. This opens up a wide range of available attachments, increasing versatility.
• SW20 is ideal for those who need to lift material to greater heights. Its class-leading vertical-lift pin height gives the SW20 a competitive edge when loading trucks and material bins, says Wacker Neuson.
• SW21 offers class-leading lift height, higher horsepower and available high flow auxiliary hydraulics. The SW21 combines the best features of Wacker Neuson's medium-frame skid steer loaders into one productive machine.
Advice to Buyers
"The first step in making a decision on what skid steer is needed is really understand the applications it will be used for," says Brent Coffey, product manager for loaders with Wacker Neuson. "This will make a difference for features such as lift height and standard versus high flow. Just as important is looking at the longevity of the unit. For example, with a transferable four-year/4,000-hour engine warranty and an ability to add factory options as dealer install kits, dealers can reconfigure machines to meet the specific needs of the contractor. The contractor doesn't have to just take what he can get on the used market. He can get a machine outfitted specifically for his needs, plus be confident he will get many hours of quality use."
Wacker Neuson
N92W15000 Anthony Ave., Menomonee Falls, WI 53051
262-255-0500 | wackerneuson.com
Click on table to enlarge
[prettyPhoto title="Wacker Neuson Specs" link="https://compactequip.com/wp-content/uploads/2017/07/wacker-neuson-specs.png" type="link" ]

[/prettyPhoto]
Tags:
2017 Spec Guide- Skid Steers
,
July/August 2017 Print Issue
,
Wacker Neuson