Sometimes even superheroes need a multifunctional utility belt, equipped with all the right tools to conquer villainous problems on big projects. Even real heroes, public servants like soldiers, doctors, policemen and your local construction contractor, are admired for similarly brave and noble deeds, and these overachievers can always use a similarly versatile utility belt of super tools to help them overcome obstacles.
Using the "tool carrier" category of construction equipment (machines that take attachments like skid steers, tractors and excavators) is like owning a drivable toolbox full of solutions. Wielding hydraulic tools like a breaker, backhoe or broom (and that's just a few of the Bs), a tool carrier can be the ultimate super machine on a project site. In fact, there are so many attachment options on the market today (from tree spades to silt fence installers), it's difficult to discover the newest and often coolest of these innovative hydraulic tools.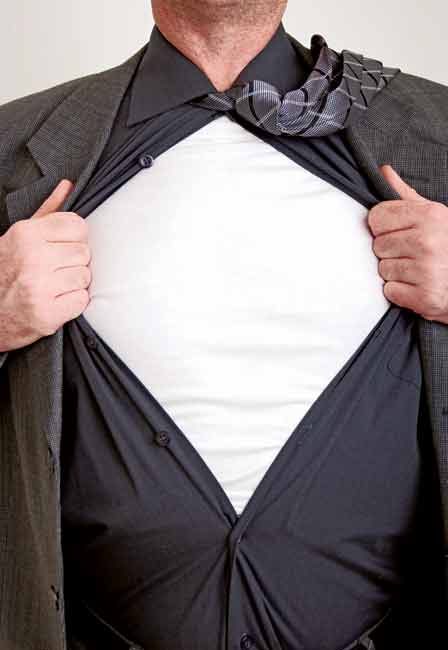 That's where the mild-mannered reporters of Compact Equipment step in. Every issue we cover the tool carrier equipment marketplace, but in this November issue we've compiled some of the most innovative and unique options in the attachment arena. From a snow blade that contours to exact jobsites to a sand bagger that spearheads flood battles, these next five pages are filled with pioneering attachments that can give your contracting outfit superhero status.   
Air Force  
Vacuworx MC3 Mini Lifter Uses Super Suction to Pick and Place Project Materials
It takes dexterity to safely piece together a construction site. It's a puzzle of moving pipes, concrete slabs, large lumber and working crews. It's in this complex environment that the Vacuworx MC3 Mini Lifter was designed to excel. Fitted to a mini excavator, the Mini Lifter uses material-specific vacuum pads that can suction up and move all types of construction supplies — all diameters of coated and non-coated pipe, concrete slabs, steel plates, steel tanks, polished stone, glass, granite and landscape rocks. Only the pads must be changed to switch to different pipe diameters or other materials.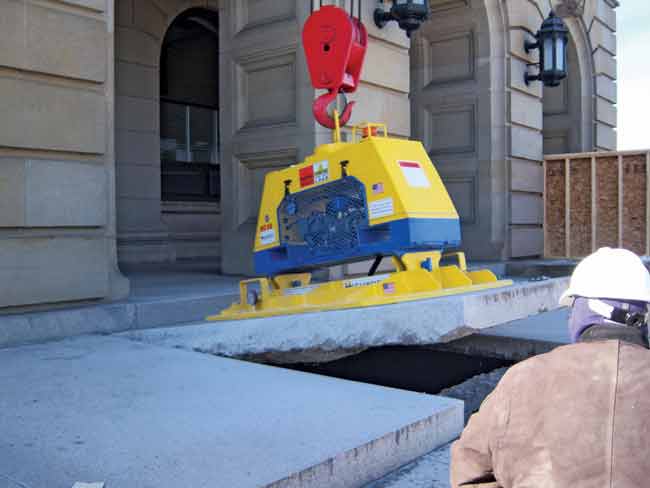 The MC3 has a lift capacity of 6,600 lbs and can deliver a vacuum suction force of 28.94 Hg (98 kPa). It's gasoline-powered, using an engine and your tool carrier's hydraulic system, has a dry weight of 900 lbs and actually attaches to more than mini exs (track loaders, pipe layers, skid steers, knuckle boom trucks and other carriers can handle this implement). It's a perfect tool for underground utility contractors and road crews with its closed frequency wireless remote control system that allows contractors to successfully carry out material-handling projects with fewer workers, reducing exposure to injuries, driving down labor costs and increasing productivity. Cost: $23,057. Contact: Vacuworx International, 10105 E. 55th Place, Tulsa, OK 74146, 918-259-3050, http://vacuworx.com. RS#50  For more information, go to www.ceunbound.com/info. 
Pile Driver   
The EDGE Post Pounder Easily Installs and Removes Poles and Fences   
Fence installers work with miles of construction, which means quick and effective means of product installation is the meat and potatoes of a project. The new EDGE Post Pounder is a one-person post installation operation controlled from the cab of a skid steer. It can also be used as a pulling attachment to grab and remove posts or even small trees up to 1 in in diameter from the ground. It also has the ability to drive posts further into the ground, as low as 18 in. below the surface.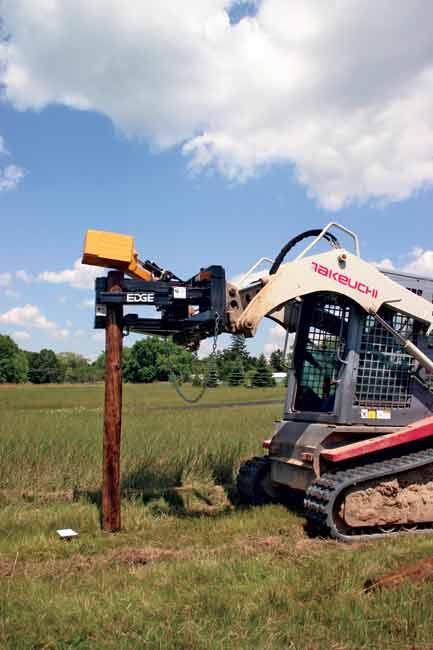 The all new EDGE Post Pounder and Puller attachment assists with fast, easy and cost-effective installation and removal of solid steel or wooden posts used in property line fences or other applications. This easy-to-use, one-person operation will drive fence posts as wide as 10 in. and up to 10 ft long into the ground in minutes with its powerful 50,000-lb impact force. There's no need to ever touch the post by hand. Simply use the attachment to pick up the post and position it using the 12-in. plumb chain. An optional T-post adapter kit is a simple accessory to assist the skid steer operator with T-posts. Cost: $5,750 and the optional T-post adapter kit lists at $139. Contact: CEAttachments Inc., P.O. Box 179, West Bend, WI 53095, 866-232-8224, www.ceattachments.com. RS#51 For more information, go to www.ceunbound.com/info. 
Moldable Blade    
Arctic Snow and Ice Control Make a Sectional Snow Pusher that Adapts to the Terrain   
Snow removal projects are hidden beneath a deceiving blanket of white, frozen participation. Plowing parking lots, streets and driveways requires the most adaptable snow pusher, something like Arctic Snow and Ice Control's CD Sectional Sno-Pusher. Unlike traditional one-piece moldboard plows or pushers, the CD Sectional Sno-Pusher features a sectional moldboard design, and each section moves independently of the others, allowing the pusher to essentially contour to any pavement characteristics, including dips, depressions and elevations. It removes more snow and leaves behind less to re-plow or salt.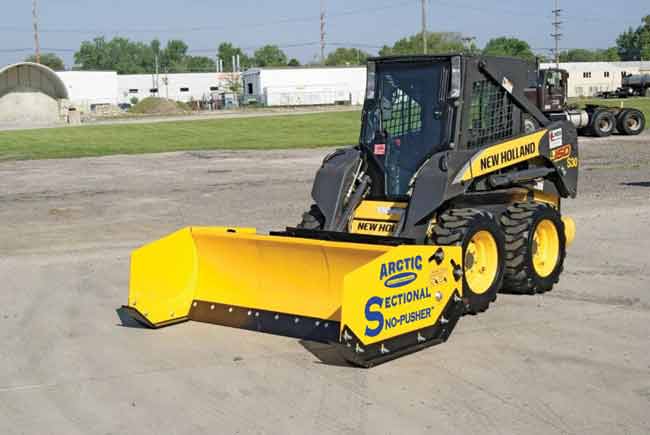 Arctic originally offered both light- and heavy-duty models for mid-size to large clearing applications. What was needed was a smaller, more compact unit than the smallest LD model that could handle tighter, more cramped parking lots, driveways, sidewalks and recreational paths. The CD pusher is that model, outfitted with Sectional Sno-Pusher's patented Slip-Hitch system, which allows the pusher to automatically adjust and continuously read just to the pavement grade. Compared to pushers with rigid fixed panels that can be severely damaged if an obstacle is encountered, the CD pusher's side panels rotate up and over small obstructions. Cost: CD6 (6-ft model) is $5,000; CD8 (8-ft model) is $5,500; and the CD10 (10-ft model) is $6,000. Contact: Arctic Snow and Ice Control Products, 101 Euclid Ave, Bradley, IL 60915, 888-2-ICE-SNO (888-242-3766), www.sectionalplow.com. RS#52 For more information, go to www.ceunbound.com/info.    
Disaster Support     
The SandMaster Builds Hope with Barriers at Flood Relief Projects     
Disaster situations call for stalwart construction tools. In the high-pressure and long-hour operations of flood relief, building sandbag walls is a tough, 24-hour job, an exhausting application that calls for the likes of the SandMaster attachment. The SandMaster20 for skid steers produces 20 bags per cycle or 4,800 bags in an eight-hour day. The SandMaster26 and 26e for backhoes and excavators produce 26 bags per cycle and 6,250 bags in an eight-hour day. This is a fast and efficient tool that can run circles around hand labor all day long and never tires. It saves time and money and is able to pay for itself quickly.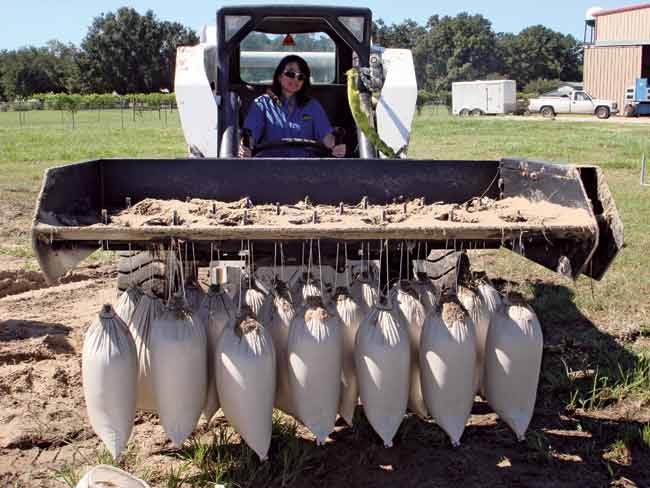 Its primary function is to facilitate flood prevention efforts and emergency response. The attachments work equally well with other materials such as rocky soil, gravel and nursery and agricultural products. Either polypropylene or biodegradable burlap bags can be used. The SandMaster has few moving parts, which is critical for machines working in wet and sandy environments. It is mobile and can create a vast stockpile in the local yard or can easily be transported and produce sandbags at the site of the flood.  It can then place the bags at the area of need. Another unique feature that sets the SandMaster apart is that it can place the filled sandbags directly into the bed of a pickup truck. Cost: SandMaster20 is $13,685, the SandMaster26 is $14,835 and SandMaster26E is $16,335. Contact: Barrier Systems LLC, P.O. Box 854, Kula, HI 96790, 530-587-8724, barriersystemsllc.com. RS#53 For more information, go to www.ceunbound.com/info.  
Drill Team    
Minnich Mfg.'s A-1Q Combines Drill and Tool Carrier for Deep Excavation Results  
The driller's age old dilemma: How do you fit a big rig into a cumbersome and cramped jobsite? Minnich Mfg. has an answer: You fit it to your nimble tool carrier, running it off the unit's high-powered hydraulic system (with a small compressor). The A-1Q drill attachment offers a rock solid solution at a rock bottom price when it comes to mid-range drill jobs. With a weight of 1,000 to 1,200 lbs (depending on the model), it can be fitted to just about any piece of tool carrier equipment — from a mini excavator or skid steer all the way up to a full-size excavator.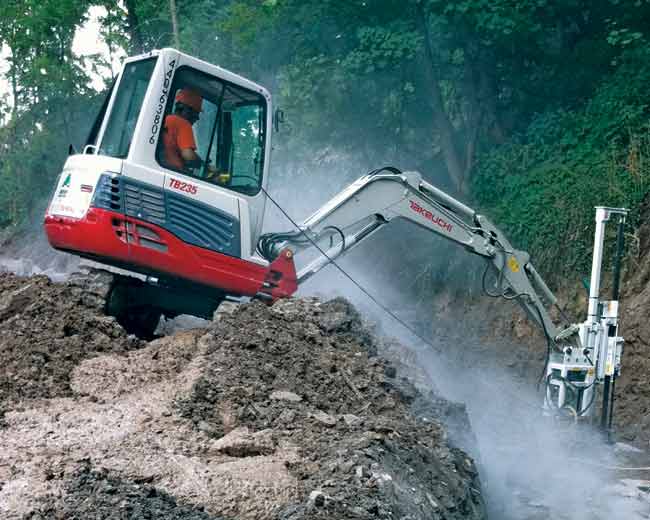 The A-1Q comes in two standard configurations. The 1,000-lb A-1Q-72 features a 110-in. mast height and 64 in. of travel which will allow you to drill 5 ft, 6 in. in one pass. The 1,200-lb A-1Q-96 has a 140-in. mast height and 88-in. travel which will allow you to drill 7 ft, 6 in. in one pass. Both units feature rail leveling with a hydraulic cylinder that runs off the auxiliary circuit of the host vehicle. It allows 90 degrees of rotation or up to 360 degree rotation when the cylinder is repositioned. Custom units are available by sending Minnich Mfg. your drilling requirement. Cost: The A-1Q-72 is $10,995, and the A-1Q-96 is $11,995. Contact: Minnich Mfg., 277 North Main St., Mansfield, OH 44902, 419-524-1000, www.minnich-mfg.com. RS#54 For more information, go to www.ceunbound.com/info. 
Recycle and Reuse     
The Eco-Crusher–SS Turns Construction Debris into Usable Spoils   
Construction usually requires some sort of destruction (demolition, excavation and onward), leaving behind jobsite rubble and refuse, which must be disposed. With an  Eco-Crusher-SS skid steer bucket crusher attachment, you'll rarely need to haul off that debris. Originally designed to recycle reinforced concrete and asphalt, the Eco-Crusher-SS can also handle some wood, gypsum, roots, stumps, plastic, ceramic and most importantly, dirt and sand, all of which are prevalent in most contractors' debris piles.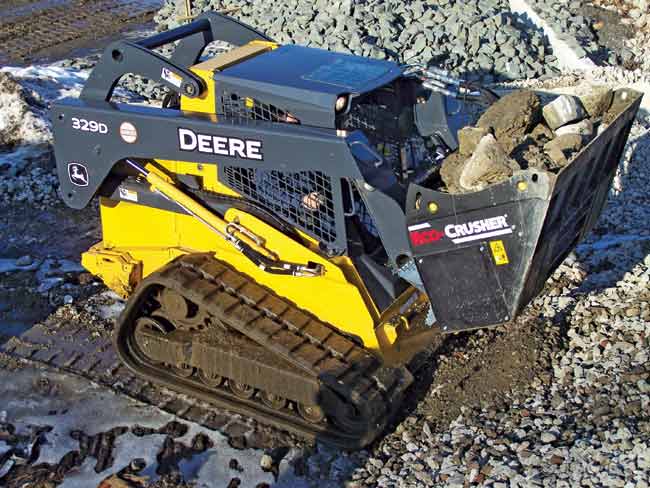 While bucket crushers are relatively new to the market in recent years, the Eco-Crusher-SS is the first and currently the only skid steer crusher attachment that is designed to handle rebar and wire in the concrete, says the company. Also, the rotary-style crushing mechanism is much more maintenance-friendly with its direct-drive design. There are currently six models available for skid steers (as well as three larger versions for backhoes and loaders). In addition to the excellent ROI, the unsurpassed service levels that come with an Eco-Crusher SS equate to a huge competitive advantage for the customer that wants to be cutting edge in the industry. Cost: Skid steer units range from $14,500 to $34,500. Contact: 5 Park Dr., Shamong, NJ 08088, 888-789-ECOCrusher (3262), ecocrusher.com. RS#55 For more information, go to www.ceunbound.com/info. 
A Cut Above     
John Deere's 60D and 72D AutoConnect Mowers Are the Next Generation of Mid-Mount Implements
On a tractor, belly attachments can be a pain to put on and take off, yet belly mowers are great attachments, especially if you're looking for an easy-to-use finishing mower. With the introduction of the 60D and 72D AutoConnect mower decks, John Deere is ushering in a new generation of mid-mount mower attachment technology. The AutoConnect mower decks, available for the 3000 TWENTY (3120, 3320, 3520 and 3720) Series compact utility tractors, demonstrate superior ease-of-use with the ability to physically drive over the mower deck and automatically connect the PTO drive shaft.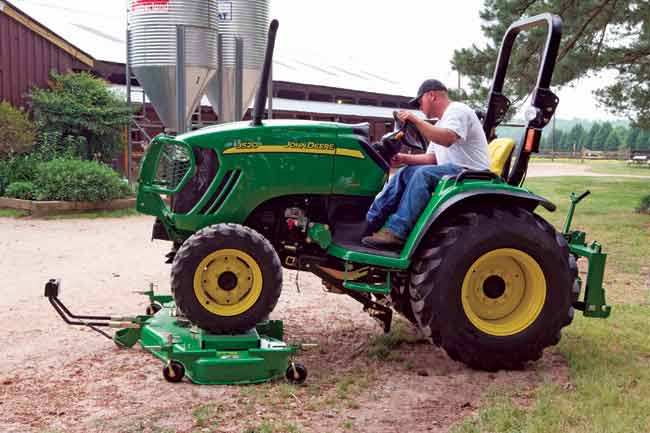 The AutoConnect feature automatically connects the mower deck to the tractor and hooks up the difficult-to-reach PTO shaft simply by driving over the top of the mower. This means consumers and contractors can install their mower deck in seconds without leaving the tractor seat, virtually eliminating all frustration typically associated with this task. The operator only needs to leave the tractor seat to set the gauge wheels in place and then the machine is ready for mowing. Removing the mower deck is just as simple. Cost: The 60D is $3,270, and the 72D is $3,920. Contact: 2000 John Deere Run, Cary, NC 27513, www.deere.com. RS#56 For more information, go to www.ceunbound.com/info. 
Dig This      
Danuser's Wobble Auger Has Been Dubbed the Dirtless Digging Solution    
Excavating the most efficient hole has been the ambition of earth movers for centuries. When it comes to the art of precision excavation, Danuser's Wobble Auger makes accuracy, speed, safety and minimal restoration the mission statement of its posthole digger. The Wobble Auger produces a hole with no loose dirt in the bottom or around the top of the hole, making it an ideal tool for fence builders who have the troublesome issue of having an employee clean out the holes and remove all the dirt from around the hole to set the posts in concrete.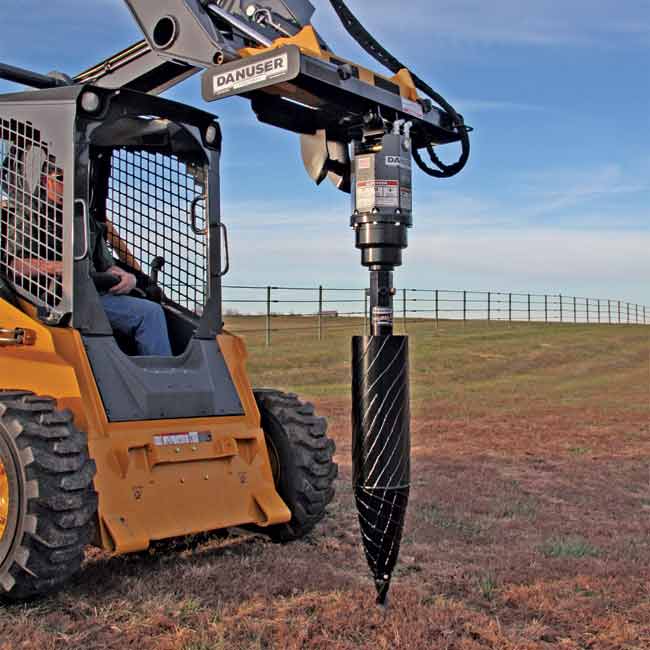 The barrel of the auger is welded off center, which allows the auger to push and compact the material from the center of the hole to the outer walls of the hole. The Wobble Auger pushes through dirt, sand, clay, asphalt and compacted or embedded rock. If you build your fence using a post driver, you can use the 4-in. Wobble Auger for your pilot holes. This will ensure the posts are straight and provide less stress on the machine and posts. The Wobble Auger is available in 4-, 6- or 9-in. diameters with standard 4-ft lengths. Various collar options are also available. When using the 9-in. auger, it is recommended that you have a skid steer with an operating load or rated operating capacity of 2,250 lbs or greater, utilizing an auger drive with 2,000 ft-lbs of torque or greater. Cost: The 4-in. bit is $285, the 6-in. bit is $360 and 9-in. bit is $550. Contact: 500 E 3rd St, Fulton, MO 65251, 573-642-2246, www.danuser.com. RS#57 For more information, go to www.ceunbound.com/info.   Tags: backhoes