Wheel loaders are extremely versatile machines because they can go from dirt work to snow removal as quickly as the snow can fall. For contractors and landscapers who face constant climate changes, wheel loaders are ideal for moving all types of material including snow.  
Skid steers are commonly used for snow removal, but in reality wheel loaders can get the job done more economically. Wheel loaders can offer up to 30-percent fuel savings and up to 75-percent reduction in tire wear vs. skid steers. There are other benefits besides economics that make wheel loaders an alternative to skid steers for snow removal including operator comfort and performance.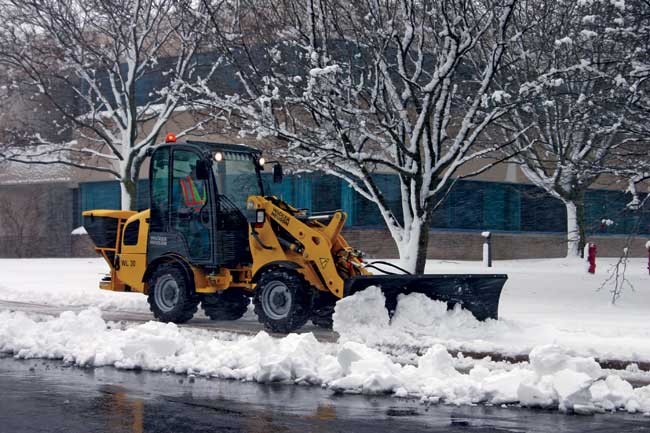 Operator comfort can easily equate to productivity. Wheel loaders have heated cabs, offer plenty of legroom, adjustable seats, ergonomic controls and excellent visibility which all contribute to a comfortable working environment allowing the operator to work for longer periods of time, increasing productivity. Operator safety is another top concern as snow removal can occur in sloppy weather conditions. Features such as the machine's side door allow an operator to enter and exit the unit easily and safely compared to skid steers which often require an operator to climb over the front bucket which may be slippery in the snow. In addition to improved traction in snowy and icy conditions, some wheel loaders have an on-demand differential lock that prevents tire slipping.
Another big differentiator for wheel loaders from skid steers in snowy conditions is the excellent visibility they provide. Excellent 360-degree view plus working lights make them ideal in low light situations. Snow removal often takes place before sunrise and during the night, so adequate lighting is essential, especially in parking lots and while backing up where there is threat of hitting parked cars which can cause damage and add cost to the contractor's bottom line. Wheel loader lights provide excellent lighting, reducing the chances of expensive accidents. Working lights also make it easier for drivers to see snow removal operators increasing operator safety.
Some wheel loader manufacturers, including Wacker Neuson, even feature a skid steer quick-attach plate that allows contractors and landscapers to use any of their skid steer attachments on wheel loaders. Certain wheel loader manufacturers also offer a full line of snow removal attachments including plows, blowers, brooms, plus additional options including a salt spreader, a special kit to reduce the width of the machine for sidewalk applications and studded tires and chains.
In addition to attachments, a snow removal option package from Wacker Neuson consisting of speed control and throttle control can turn your material mover into the ultimate snow removal machine. The combination of slow speed and throttle control allows attachments such as snow blowers, brooms and other attachments that require full RPM but slow speed travel to be maximized, allowing optimal machine performance.  
Just make sure your wheel loaders have four-wheel drive and articulated steering, offering outstanding maneuverability, especially in confined areas such as sidewalks, malls, walkways, commercial parking lots and for general municipal applications.    
Marcus Auerbach is the director of compact equipment at Wacker Neuson, based in Menomonee Falls, Wis.