Bobcat Three-Point Tillers
A new line of Bobcat three-point tillers is available for use with compact tractors and Toolcat 5610 utility work machines. Three new models have working widths of 43, 55 and 67 in. and an adjustable tilling depth up to 5 in. Tiller implements for compact tractors and Toolcat machines are gear-driven, allowing them to provide an efficient method to break ground, prepare soil for planting, amend soil with fertilizer, manure or mulch and remove weeds between tree rows. The tillers are equipped with slip-clutch protection to prevent driveline damage in case the rotor system becomes bound or jammed. The tines of the tiller rotate in the opposite direction as the tires when the tractor or Toolcat 5610 is moving forward. For more information, visit www.bobcat.com.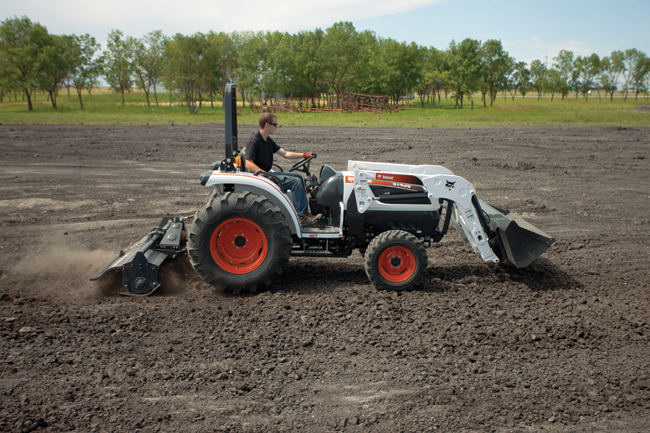 New Holland Tractor Backhoes
If you need a small backhoe for your large tasks, the New Holland 915GH backhoe on the Boomer 25 compact tractor is for you. The New Holland 915GH backhoe is the perfect companion for the Boomer 20 or 25 compact tractor. Constructed with a rugged four-point mount, it's designed for homeowners and landowners to do general operations like excavating, trenching and property maintenance. This backhoe attachment has full-size features like two independently operated stabilizers with pivoting pads, footrests and an on-off step for safe operation. It features a control armrest to avoid any unintentional operation. The 6.5-ft backhoe also features a curved boom design for digging ease. The backhoe includes swing lock and boom stabilizer for safe transport. It is also available with a mechanical grapple to make any lot cleanup a cinch. For more information, visit www.newholland.com/na.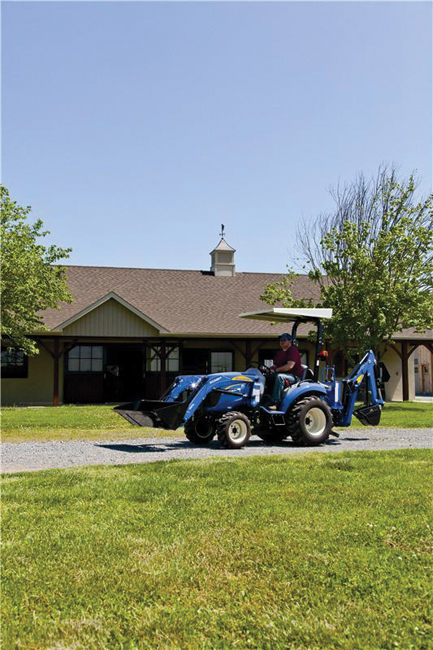 KIOTI Snow Blowers
KIOTI Tractor now offers three front-mount snow blower models designed to fit KIOTI's entire CK line of compact tractors ranging from 20 to 35 hp, as well as their DKSE models in the 40- to 50-hp range. All models are powered off the tractor's mid-mount PTO and secured to a special sub-frame that includes a quick-attachment system. Adjustable lateral skid shoes are standard on the KS66-220FM and KS72-220FM, while offered as an option on the KS54-180FM model. These productive, two-stage snow movers are available in three operating widths — 54, 66 and 72 in. Center-balanced 14- or 15-in. diameter augers move snow quickly and effortlessly to a center point discharge window, where a high-speed, four-blade fan moves it directly to the discharge chute. For more information, visit www.KIOTI.com or call 877-GO-KIOTI.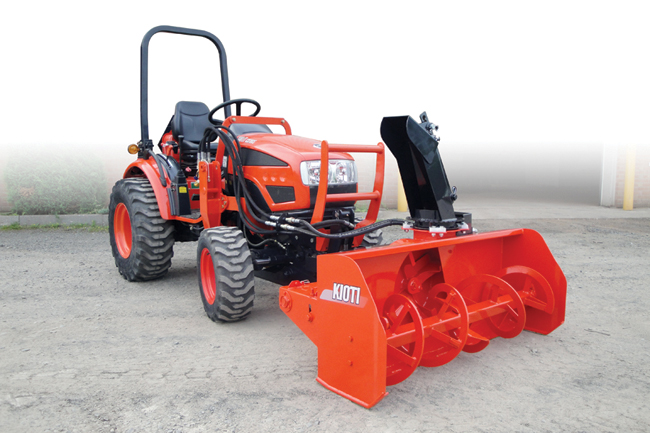 TurfEx Commercial-Duty Spreaders
TurfEx offers two models of PTO-driven spreader attachments. Available with 7- or 12-cu-ft capacities, the spreaders provide consistent distribution of seed, fertilizer or any other granular material. They can also spread ice melt for winter maintenance applications. The products include a 12-in. stainless steel spinner with adjustable cups for optimizing the spread pattern, and they are capable of spreading up to 30 ft wide. The hoppers are constructed of lightweight, corrosion-resistant polyethylene for low maintenance. Other standard equipment includes a clear hopper cover. TurfEx is a product division of TrynEx International. Other TrynEx brands include SnowEx winter maintenance equipment and SweepEx broom attachments. For more information, visit www.trynexfactory.com or call 866-5TURFEX.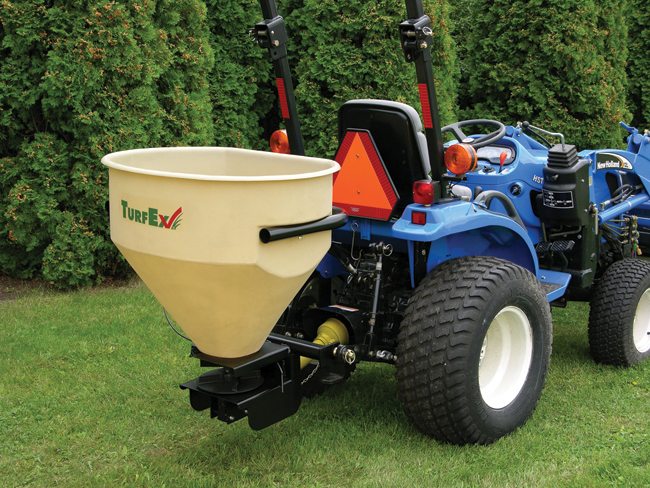 EDGE Stump Grinders by CEAttachments Inc.
CEAttachments definitely has EDGE stump grinders available for compact utility tractors. The ¾-in. wheel on the stump grinder is equipped with carbide steel teeth and is driven by a heavy-duty, oil-bath gearbox. Lift and swing functions are controlled right from the tractor seat. This tough attachment has a 55-degree swing path that can handle a 45-in. diameter stump without repositioning the tractor. Hydraulic drive stump grinders are also available for your skid steer loader. CEAttachments is an international wholesale distributor of attachments and accessories for all brands and models of compact equipment including skid steers, compact excavators and compact utility tractors. For more information, visit www.ceattachments.com or call 866-232-8224.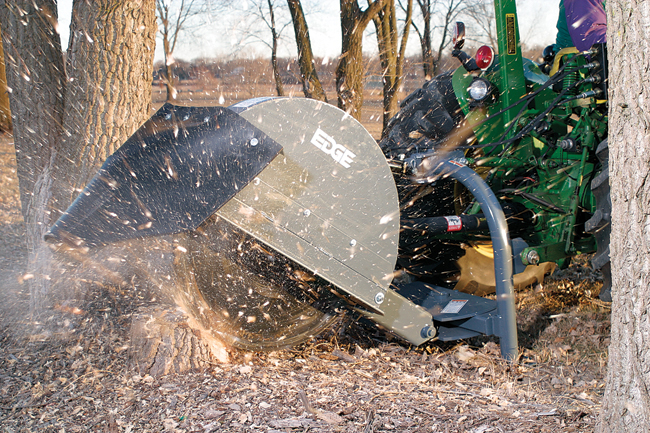 Case IH L300 Series Loaders
Whether the task is stacking hay, moving materials or feeding livestock, Case IH L300 Series loaders are built to power through the toughest jobs. This compatible loader saves time and handles a variety of difficult tasks with maximum efficiency. Designed specifically to match Farmall compact tractors, these loaders can be installed and removed by a single person in minutes, allowing for an easy switch between attachments. The L300 Series loaders offer improved implement control, which means longer loader life and a better return on investment. Durable cast reinforcements for greater strength are implemented and large, rectangular loader torque tubes are used for increased durability. Mid-mount loader placement allows for easy access and servicing of the tractor engine, radiator and battery. For more information, visit www.caseih.com.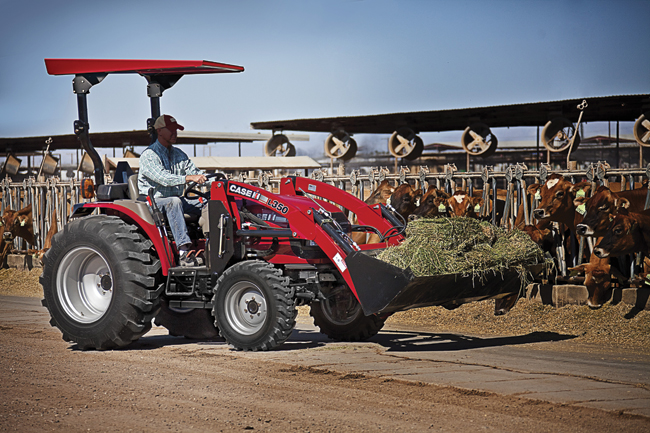 Danuser Offset Quick-Attach Auger Mounts
Established and family-owned since 1910, Danuser has manufactured drilling machines since 1943. The company's new quick-attach auger mounts for the front-end loaders of compact tractors add to Danuser's great heritage of drill attachments. These new quick-attach auger mounts offer greater visibility with the offset mount, which allows for more accurate and efficient digging with greater visibility of the digging area. This attachment mounts to all skid steers and tractors such as John Deere's 200 to 500 and 600 to 700 Series. These quick mounts also attach to Danuser models EP, PRO and 8900 Series auger systems. The construction uses a welded cradle to hold the auger system horizontal as loader arms lower to the ground for traveling. For more information, visit www.danuser.com.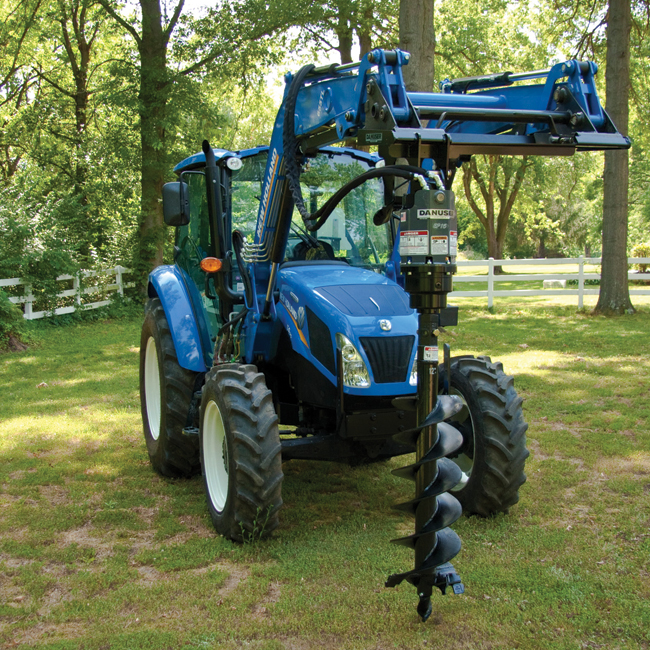 John Deere's 60D and 72D AutoConnect Mowers
On a tractor, belly attachments can be a pain to put on and take off, yet belly mowers are great attachments, especially if you're looking for an easy-to-use finishing mower. With the introduction of the 60D and 72D AutoConnect mower decks, John Deere is ushering in a new generation of mid-mount mower attachment technology. The AutoConnect mower decks, available for the 3000 TWENTY (3120, 3320, 3520 and 3720) Series compact utility tractors, demonstrate superior ease of use with the ability to physically drive over the mower deck and automatically connect the PTO drive shaft. The AutoConnect feature automatically connects the mower deck to the tractor and hooks up the difficult-to-reach PTO shaft simply by driving over the top of the mower. This means consumers and contractors can install their mower deck in seconds without leaving the tractor seat, virtually eliminating all frustration typically associated with this task. For more information, visit www.deere.com.