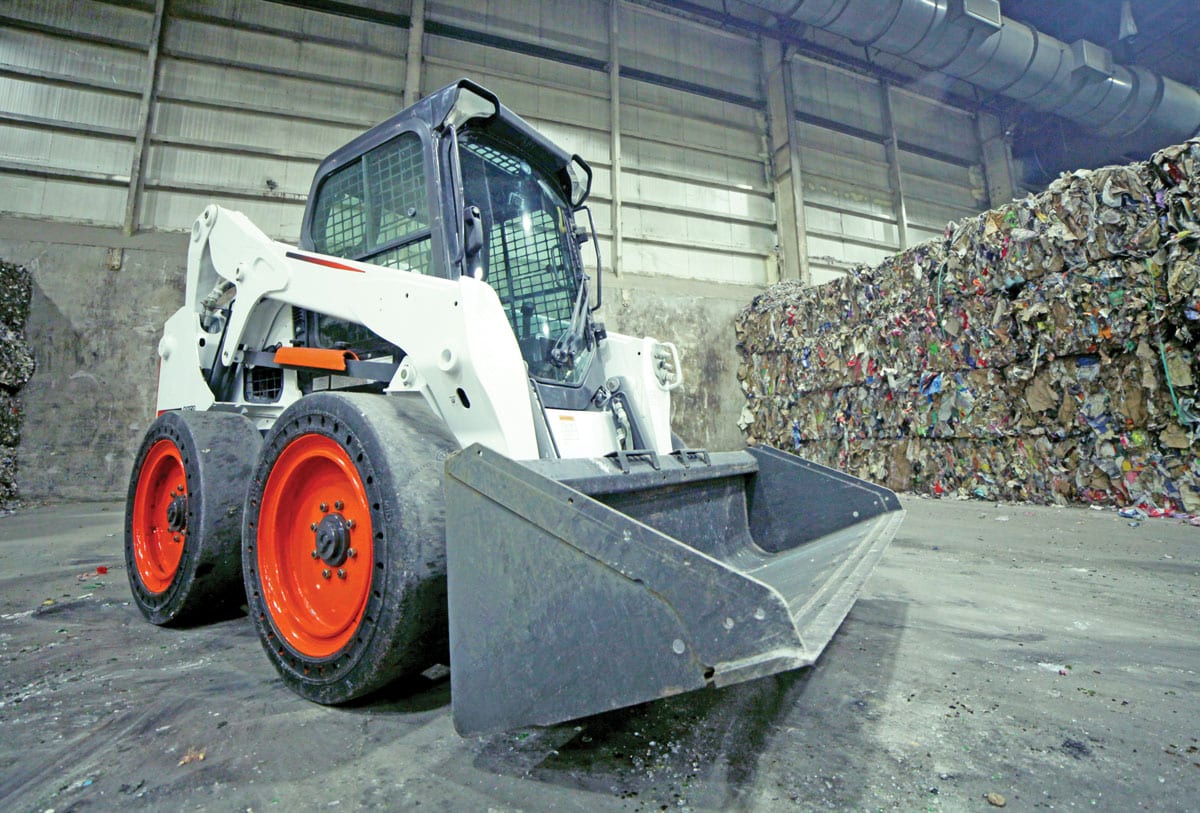 A skid steer isn't much help without the right wheels to keep it moving. So, outfitting your machine with tires that can offer a reliable, durable ride in your application is important.
"There are different features to consider when choosing skid steer tires that fit best," says Marcello Mantovani, product manager — construction at Trelleborg Wheel Systems. "For instance, if the machine is working in muddy conditions, a wide tread design will be necessary to ensure traction. Or, if your machine is working in the recycling business, damage protection is essential, and your tire must be flat proof."
There are basically two main types of tires available for skid steers — pneumatic and solid. Pneumatic tires are the standard, air-filled, cost-effective choice for skid steers and offer a comfortable ride for operators. These types of tires come in bias or radial designs. Bias tires tend to be less expensive and are traditionally designed specifically for off-highway applications. Radials have gained acceptance with better traction, cut and heat resistance and fuel economy. They're also usually better at higher speed applications and excel on hard, paved surfaces. Radials are also more expensive. However, all pneumatic tires are susceptible to punctures and flats, so it's best to avoid pneumatic tires if you plan on encountering dangerous terrain.
Despite the possibility of damage, there are great, durable pneumatic options in the market. For example, Trelleborg's SK-900 pneumatic tire is designed for use in heavy-duty applications, and its SK-900 ND (Non-Directional) premium tire offers maximum performance on concrete, asphalt and other hard surfaces.
"These tires have a wide lug tread pattern that provides optimal grip and traction on both smooth and rough surfaces," says Mantovani. "The high-quality tread compound promotes maximum tire life and increased cut and chip resistance."
Foam-filled pneumatic tires are another option that offer a bit more durability but come at a higher cost. They are much more puncture-resistant, making them better for construction applications. Solid tires are the more expensive option but often last much longer — potentially making them more cost-effective in the long run. This type of tire is very durable and won't go flat or develop the same damage that pneumatic tires do.
"The durability allows solid tires to last until the lifespan of the tread," says Marcus Leite, sales and marketing manager for Evolution Wheel. "Solid tires use higher-quality materials, making the rubber more resilient. On top of that, both our hard surface and all-terrain solid skid steer tires are composed of rubber segments that attach to the rim with a series of nuts and bolts — providing operators with a servicable option without the need for special equipment or a service truck."
Evolution Wheel manufactures two styles of solid skid steer tires: the EWRS-HS and the EWRS-AT in 10×16.5, 12×16.5 and 14×17.5 sizes. Both styles feature a segmented design and have a 52/32-in. tread depth.
"When designing these tires, we wanted to provide a cost-effective, serviceable option that outperforms the competition," says Leite. "The tire has a segmented design that allows operators to easily service the tire if it's damaged. If a segment is damaged, it only takes a few minutes to replace that segment with a new one. Pairing this with the large lugs allows the tire to last three to five times longer than other options on the market."
Leite adds that the tires feature specialized core geometry that is designed to compress under the weight of the machine, acting as extra shock absorption to provide a comfortable ride for operators. Although comfort may sometimes be compromised with solid tires, Trelleborg focused on it while designing its solid offering. The company says it optimized the tire's compound and structure to improve deflection and comfort.
"Our Brawler HPS Solidflex features elliptical apertures to deliver a comfortable ride resulting in reduced equipment and operator fatigue," says Mantovani. "It is designed to perform in extreme environments including scrap metal recycling, waste transfer stations and mining operations."
Another big consideration when selecting a tire is tread pattern. Operators should select a tread pattern that's designed specifically for the application. Names will vary by tire maker, but options might include smooth-surface, hard-surface, soft-surface, sensitive-surface or all-terrain treads.
"Generic all-terrain tires in road work applications will be uncomfortable and cause premature wear," says Leite. "A hard surface tire in muddy conditions will likely get your skid steer stuck."
There are also unique tire options on the skid steer market such as Michelin's Tweel, which is an airless radial tire that boasts the run-flat capabilities of a solid tire and the flexibility and smooth ride of a pneumatic.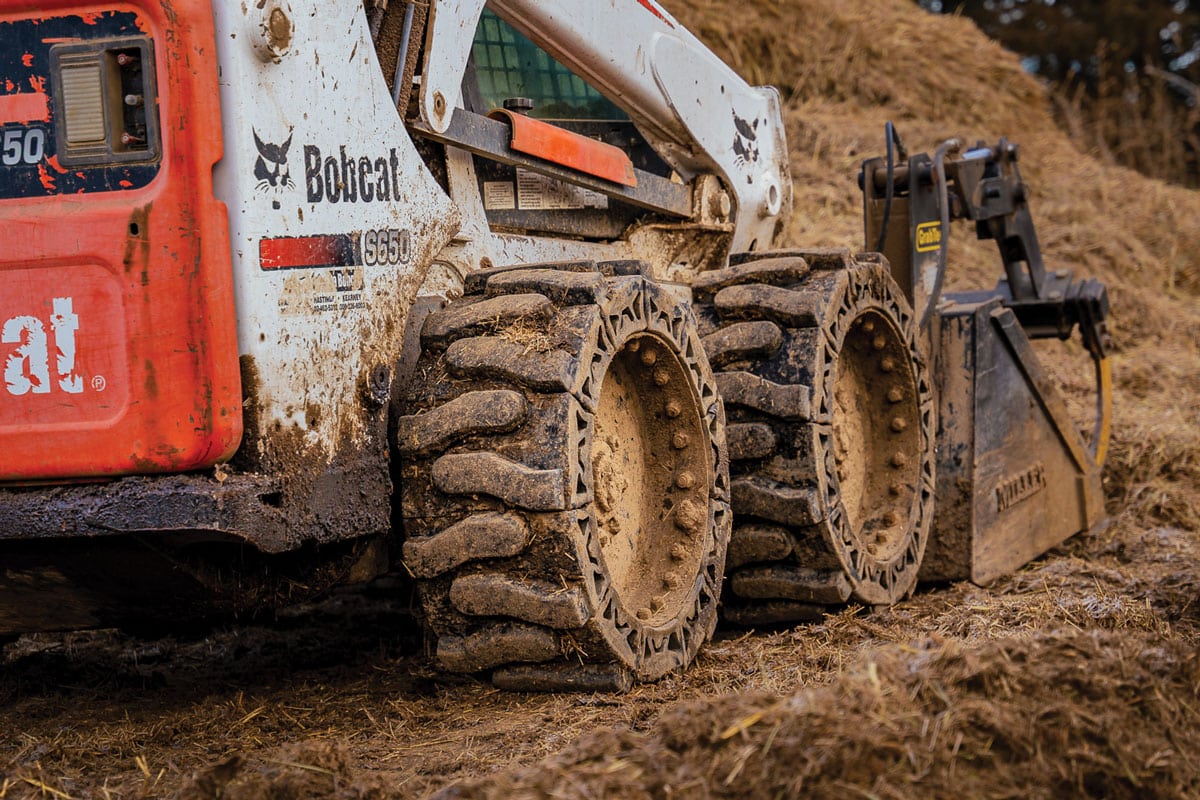 Operational Insights
After selecting the right tire, it's important to protect your investment. This includes operating the skid steer properly. A tire's life expectancy depends on the operator's application and how he or she drives the machine. Leite says an aggressive driver on a hard surface will wear through tires much faster than a slower driver in a soft ground application. His suggestion? Slow down a bit.
"We know everyone wants to get the job done but by slowing down, you can pay more attention to your surroundings," he says. "This will help you avoid debris and unnecessary skidding that can damage your tires."
Maintenance Musts
Performing a daily maintenance regimen is important, and it starts with checking tire pressure if you have pneumatic tires. Leite points out that under-inflated tires can cause blowouts and wear out quicker than properly inflated tires, so always operate pneumatic tires at the manufacturer's recommended pressure. Operators should also check the tires' tread daily for unusual wear or damage.
"Uneven wear is an indicator that something is wrong," says Leite. "If a puncture is caught early enough with pneumatic tires, it can be addressed. If not caught early enough, the tire may need to be replaced. Cleaning your tires at the end of the day is also a great way to preserve the health of your tires. Rocks in the tread and caked dirt on the tire will increase the wear on a tire. Making sure they are clean will minimize wear."
Not sure how to check for tread wear? Leite says measuring the height of your tread tells you how much wear life you have left. The more tread on the tire, the more life it has.
"Check for chunking, cutting, gouging and any other wear on your tread," he says. "It's not uncommon to see lugs wearing faster than others on the tire. Some types of wear develop quicker with an aggressive driver. Slowing down and limiting tight turns will help decrease wear on your tires."