In 1991, the Detroit Tigers' Tony Phillips was the first baseball player ever to start 10 games at five different positions in the same season. Guys like César Tovar, Cookie Rojas and Bert Campaneris all played every position at the major league baseball level (including pitcher) during their respective careers. Roy Chipley is something akin to those types of impressive utility players (to wax a sports metaphor). His South Carolina construction company (Chipley Company) can do just about anything a customer needs on a job. It's a philosophy he's boiled down to one word.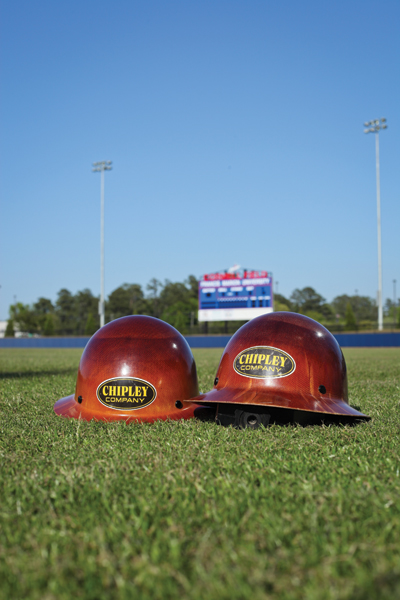 "You need to be able to answer the phone and say 'yes' when they ask if you can do something," explains Chipley, president and owner. "We've never thumbed our noses at work and said there's something that's beneath us — because that's the only way I know how to survive. I saw plenty of businesses close up shop during this time, but that's not us.  My customer is whoever's on the other end of that phone, and I have to be able to tell them, 'Yeah, we can do that.' And then back it up."
Chipley Co. has been in business for more than 50 years, performing everything from paving work to site prep to utility installation all around Florence, S.C., but the last three years have been some of its toughest. In 2009, the company shrank to seven employees. "We had three contracts on the same day in December 2008 just all disappear, but we survived that," he recounts. The first quarter of 2012 looked to be just as bad, until Chipley's can-do company slogan landed him a variety of work at Florence's Francis Marion University (FMU).
The school needed help finishing its brand new athletic complex, and it needed help quick. Completion of necessary detail work not under the scope of the original contracted work was fast approaching. FMU was up against a tight schedule to complete its baseball field before a big game this past April. The No. 13 ranked FMU Patriots were scheduled to play the two-time defending national champions (the University of South Carolina Gamecocks). With Chipley's versatile fleet of compact equipment, his crews would become the ultimate utility player on the construction project. (The FMU Patriots won 5-4 over the Gamecocks, by the way.)
"I've got five different people asking me to get something done for the university," says Chipley. "They're just trying to get stuff pulled off, and we're pulling a lot of it off for them. They're extremely happy about that. Every piece of compact equipment I own is out here running. Almost every attachment I have for those pieces are out here running, too. We're paving. We're doing concrete work. We're doing irrigation and planting. You name it. We're probably doing it. This university expects everyone to tell them 'yes,' but some of the contractors working for them are not doing that. That's not our attitude. I can't tell people how to run their companies, but here's what I can do. I can tell a customer 'yes,' and they will load us down with work."
Chipley Co. was founded in northeastern South Carolina and has been providing construction services for more than 50 years. Locally, the construction outfit is known as Chipley Paving Co., and that's where the company grew its solid reputation, laying asphalt, milling asphalt, operating pavers and pleasing customers that could range from Florence County Library to Pet Smart to Burger King. Paving is still one of Chipley Co.'s most sought-after skill sets.
"My business is a family-run organization," says Chipley. "My father was in the construction equipment business with the Finley Corp. for 10 years prior to establishing our company. His background was deeply rooted in the asphalt business. When he began Chipley Paving Co., his small paving outfit catered to residential and small businesses. Our roots are based on construction equipment, and his attitude of providing the best quality for our clients is something that will never change with us."  
But paving is just one of the extensive services Chipley Co. offers today. Site clearing, grading and excavating, storm drainage, sanitary sewer, domestic water, material hauling, landscaping, mulching and concrete, curb and flatwork are all listed as services on the company's website (www.chipleycompany.com). It's an attractive resume to clients like Francis Marion University. As the only state university located in the Pee Dee region of South Carolina (the northeastern corner of the state), the liberal arts college has a great need for facilities construction and maintenance. The school teaches 4,000 students on a beautifully rural 400 acres. Those smarts are matched with some pretty good athletic programs. The Patriot women's soccer team and the men's golf team both compete as NCAA Division I independents. Baseball's just as big. At press time, the FMU Patriots were ranked number 14 in the country for NCAA Division II baseball.
All of those heavy hitters have a new home. The university has built an $8.5 million new athletic complex. The new facility will consist of baseball, softball and soccer fields and track and field components, situated on more than 100 acres of university property. Its jewel is the Henry Booker and Nellie Cooke Sparrow Baseball Stadium, which seats approximately 2,500 fans with a growth potential for an additional 2,500 people. It also features paved parking for nearly 400 cars.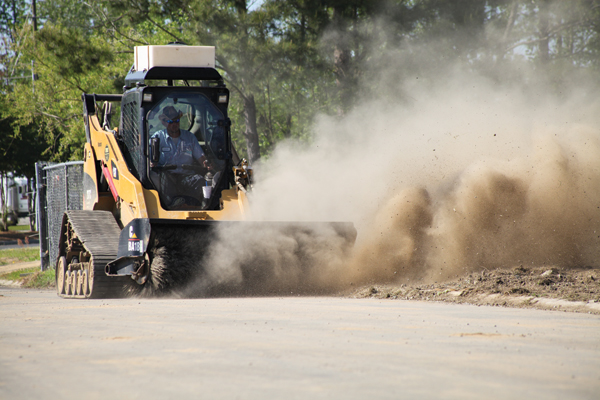 "Once again, it's one of those jobs where it has all kinds of aspects to it, and we're able to perform almost every one of them if need be," says Chipley. "We've come in and helped them design and install the irrigation systems for the exterior of the ball fields. In the last week and half, we've probably put in close to three miles of irrigation in the ground, and it's up and running. We've planted six tractor trailer loads of grass sod, two tractor trailer loads of various types of trees. Once again, these are jobs that would be more involved with a landscaper, but I had the equipment and the people."
Those people include 18 full-time employees today. The equipment includes an enormous fleet of some 62 pieces of construction machinery. Chipley's fleet has it all, but in the last few years, it's been the compact equipment that has been called up more and more to win big projects. Crews utilize a fleet of mostly Caterpillar machines, with a heavy focus these days on skid steers, compact track loaders, mini excavators and attachments for all the above. 
"I'll tell you about the equipment I have on site today," Chipley says, talking via cell phone from his work truck. "I have my [Cat] 259B high-flow compact track loader. I have my [Cat] 287C high-flow multi-terrain loader. I'm watching my pickup broom running right now. They're switching back and forth between the angle broom and the pickup broom, cleaning up where we milled with the high-flow mills. We have the power rake here. We have the six-way dozer blade here. Multiple buckets and forks are here. We have our [Cat] 303.5 CCR and our 305D — both of those mini excavators are here and working. I have both of my asphalt pavers. I have a concrete forms trailer here. My Cat 320C excavator is working on the berm at the baseball field. I have multiple dump trucks here. I have one of my Terramite ride-on brooms working. We have multiple asphalt rollers because we'll be paving in the morning. Those are Dynapac and LeeBoy asphalt rollers. That's just a smattering of the equipment."
Chipley's an engineer, so if he can read the plans, he can usually build it. For instance, the university needed a new staircase to lead up to the wooden bridge on Lake Coleman (a five-acre, boot-shaped water feature on the complex). "They didn't have anybody to finish that, so we did it," says Chipley. Crews were called in to grade around the exterior of the baseball field, re-grade the berms, design and install irrigation systems, plant trees, lay sod and mulch. The worksites were small, so crews utilized a lot of compact track loaders engineered with dedicated track undercarriages for low ground pressure and big pushing power. They used attachments like a power rake or sod roller, grading and planting hundreds of square feet in a matter of minutes and hours.
"It's funny. I didn't own any small equipment in 2005. My small equipment acquisitions have been from 2005 until now," says Chipley. "That small equipment has kept us extremely versatile. We will put it behind a pickup truck and go from jobsite to jobsite. I don't have to have one of my bigger trucks with airbrake trailers or my lowboy moving my heavy stuff. I can go in and attack jobs with smaller equipment that's a lot more efficient. We get into a lot tighter spaces. We can move pretty fast."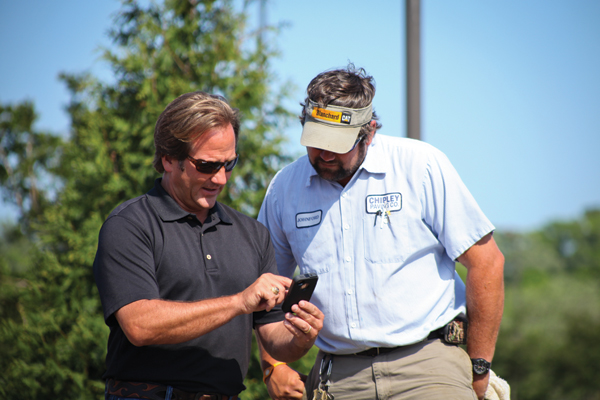 Chipley's biggest business partner in equipment is Blanchard Caterpillar, a family-owned equipment dealer of 30-plus years. Blanchard Caterpillar has 14 facilities throughout South Carolina representing five divisions: compact equipment, heavy equipment, pioneer recycling and forestry, power systems (featuring generators, truck and marine engines) and rental services. Blanchard seems to provide just about everything Chipley needs for his machinery.
"It's great equipment, but hey, a lot of people build great equipment," he says. "What happens when it rolls off the lot? That's important for me. I have a local presence with Blanchard. Blanchard's made that investment at the dealership level to cover this state. Many of the other people have not. I don't need a piece of equipment that I can't get parts for in a week or two. I need it now, and Blanchard's got that covered with South Carolina. I can call my compact rep, Randy Broughman, or my heavy rep, Ross Carr, and it's handled."
It's hard to imagine Chipley Co. becoming more diverse than it already is as a contractor, while still retaining its size. The company is right-sized in the owner's eyes — 18 employees, a fleet of machinery, a 50-year reputation, a work radius of about 50 miles and sales that range from $2 to $5 million a year. With the right set of machines and the right set of skilled operators, Chipley thinks he can still stay small and be successful.
"Do I see myself growing bigger?" asks Chipley. "I'm not sure if bigger is better. What I really want is the absolute best team of people around. We're constantly training, so we don't have a single failure point in terms of operators. We've also picked the cream from other companies who might have gone out of business. Years ago each company had their cream of the crop — their top performers — and their not-so-top performers. In this downturn, we've reinvested in our top performers, alongside with our equipment. I've got people that perform at multiple levels — not just one task — just like my machines."
Being small, versatile and nimble also means staying high tech. The days of Chipley Co. advertising in the Yellow Pages are no more.
Chipley keeps his laptop in his truck, answering e-mails and sending and navigating digital documents on the spot. His iPhone makes a great digital camera. The company is constantly documenting what they're doing. When Chipley goes to meet a customer or a potential customer, he uses all of these digital tools to help sell.
"Obviously having a 50-year reputation in this business means a lot to people too," says Chipley. "They've seen our trucks. They don't know everything we do, but I make a case to ensure the engineers that are local know me. General contractors know me. We do a lot of work for other general contractors. They know when they hire us on a job that they've got one contractor rather than five. They also know when we're there that we'll bring'em in way ahead of schedule."
Chipley Co. is also not a change-order-driven company. That philosophy gets them a lot of jobs. Some contractors like to underbid a job, leaving expenses out, in hopes of expensing it with change orders later. That's one way to secure a job as the lowest bidder, but that's not Chipley's game plan. Especially working in the paving business, where asphalt prices constantly go up or down with the price of petroleum, being up front with the pricing variables is essential to customer satisfaction. 
"I'm not going to be asking for money that's not accounted for all throughout a project," he says. "I definitely try to give good advice along the way, and if it's something to do with asphalt, I help forecast the price. There's no magic to this. Everything's petroleum-driven. If you're trying to forecast a tonnage cost right now, you just have to adjust that when you pull the string to do the job. We can say asphalt cost $80 a ton when we bid it, and now it's $90, so we're going to ask for a difference of $10 a ton for every ton. They appreciate that kind of thing — that I have an understanding of what they're up against."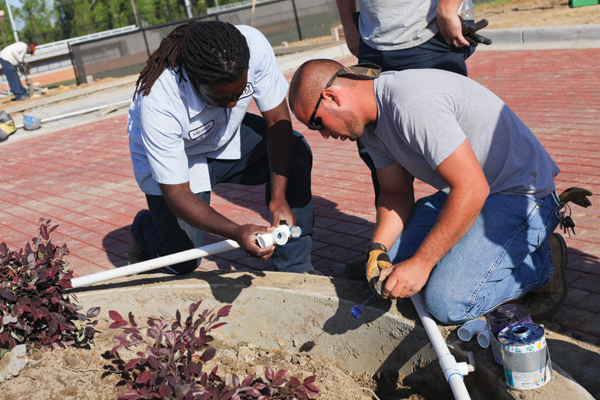 It's an attitude that gets repeat customers — from Francis Marion University to McLeod Regional Medical Center to South Carolina Bank and Trust. Chipley Co. definitely has a niche. These professionals are not highway contractors, laying 100,000 tons of asphalt a year. The company's niche is somewhere between that heavy-highway work and the small little driveway paving guys. The company covers a broad range between those two, from installing utilities to building baseball fields, but they are certainly not out there chasing DOT work. It's that in-between range of work that keeps the company business rolling — even if it often means jumping on a job at a moment's notice.  
"It's not like Field of Dreams, where if you build it, they will come," laughs Chipley. "It takes time for people to decide on whether they should or shouldn't spend the money on a building project. Sometimes I have to help a plant manager work on his budget to get something approved, and sometimes that process can take a year and a half or two years to happen. I'm patient, and I try to give him good advice along the way. But when it happens, you better be on your game, which means you need to have the absolute right equipment and absolute right people to go out there and perform."
Keith Gribbins is managing editor for Compact Equipment, based in Peninsula, Ohio. 
Tags:
Caterpillar