Earth movers need solid steel to tackle tough terra firma. The shovel, bucket, backhoe loader and excavator have all made an impact in the applications of digging and construction, but when it comes to in-between urban excavation, the backhoe attachment is an interesting alternative. Backhoe attachments can be fitted to many tool carriers (skid steers, track loaders and compact tool carriers), but in this article we'll specifically talk about compact tractors (those tractors mostly under 40 PTO hp).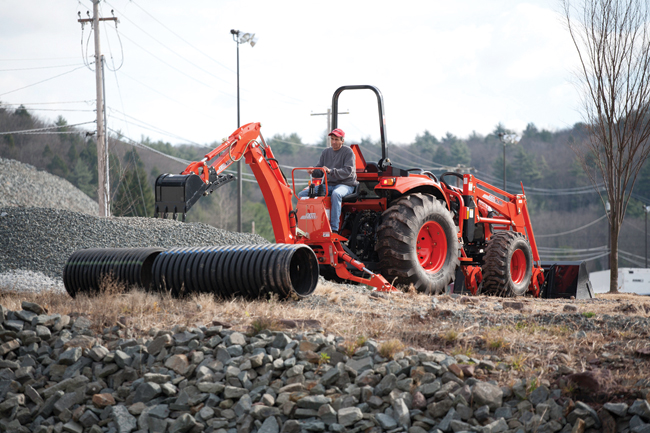 Backhoe implements for compact tractors are a popular category for commercial users, with a price tag that can range from $6,000 to $14,000. On tractors, backhoes are often used to dig small-sized projects quickly — utility trenches, irrigation lines, footings, landscape beds, waterproofing projects, retaining walls and residential and utility applications of all sorts. These backhoe implements are less expensive than say an excavator and can perform light and supplemental jobs that may not require or accommodate a larger excavator.
"Backhoe attachments for compact tractors can vary from simple, three-point-hitch-mounted units to more complex, integrated, frame-mounted models that mimic large backhoe loaders," explains Ron Parkins, engineering manager for loaders and backhoes at Woods Equipment Co. (an Oregon, Ill.-based manufacturer that specializes in attachments). "As you may expect, the frame mounts can be somewhat more expensive, but they provide a rigid attachment to the tractor and prevent undue stresses that can adversely affect the tractor chassis. Contrary to popular belief, frame-mounted models are often easier to attach to the tractor than three-point hitch mounts — after the initial installation."
The size of the backhoe and tractor will often determine the size and the attachment system for a backhoe. Smaller backhoe attachments often have easier on/off mounting systems that usually rely on the tractor having a swivel seat; John Deere's 260 backhoe attachment is such a unit. The 260 works with only smaller sub-compact tractors and only has a max dig depth of 6 ft, 2 in., but its unique RockShaft Assist mounting system lets one person attach the backhoe in less than five minutes.
The bigger the job, the bigger the backhoe implement. Most commercial utility tractors will take a backhoe attachment with a sub-frame design, which requires a bit more installation. The installation of integrated frame-mounted units can take an experienced mechanic between two and six hours, depending on the tractor and type of hydraulic system used. A well-equipped shop is a must, and an overhead hoist is especially helpful when first installing the larger backhoes.
The sub-frame consumes a decent amount of storage and trailering space as well, but gives the operator an attached seat and bigger dig depths. The 511 backhoe from Bradco is a good example, engineered with a sizable sub-frame, separate seat for the operator to sit, 9 to 12 gpm of hydraulic oil and 11 ft, 1 in. max dig depth.
The tractor usually supplies direct hydraulic power to the backhoe or provides power via a PTO to operate a self-contained hydraulic system within the backhoe. Buyers need to look at the specifications on all available products in the category, beginning with horsepower. It's important to compare gross horsepower, net horsepower and, most importantly, PTO horsepower. Also consider the hydraulic pump types, number of pumps and gallons-per-minute (GPM) output. Most sub-compact tractors have a single hydraulic pump that requires higher engine revolutions per minute (rpm) during operation to perform hydraulic functions. This system is acceptable for a novice operator, but not for the commercial operator.
A dual pump hydraulic system truly enhances the experience of the operator. Dual pumps are found on most compact tractors and larger tractor loader backhoe equipment. A dual hydraulic system allows the hydraulic attachments, loader and backhoe to function throughout all engine rpms.
"Most compact tractors ranging from 30 to 60 PTO hp have tandem pump designs utilizing open center hydraulic systems capable of producing hydraulic flows for accessories in the 7- to 10-gpm range," says Joel Hicks, product support service team manager for KIOTI Tractors, which specializes in making and selling compact utility tractors. "Cylinder sizing, stroke length and hydraulic flow are all factors that will determine how fast the backhoe will perform the various functions necessary to dig a ditch. If a backhoe is utilizing a PTO pump system, then there will be a small hydraulic reservoir mounted to the backhoe. To receive hydraulic power, the customer will be required to mount the pump to the tractor PTO shaft when installing the backhoe." 
Digging into Features
The boom assembly design is another feature of great importance. Some manufacturers use a straight boom assembly while others offer a curved boom. The difference between the two is that curved booms provide improved visibility and easier truck loading and straight booms utilize less welded plates to gain strength and tend to be less expensive machines. The curved boom craze began when backhoes started to mirror the design of hydraulic excavators that employ a curved design for added visibility beneath their booms. However, a tractor backhoe with a 10-ft dig depth isn't going to be moving mountains, so the curved vs. straight boom argument comes down to a matter of philosophy and personal opinion. Swing cylinders might be more important.
"Backhoe swing systems must not only have the power to move a loaded bucket from trench to pile, but also to help backfill the trench and cleanup the area," says Parkins. "In some cases, backhoe swing power may be used to reposition the backhoe and tractor. So, large swing cylinders are important for heavy-duty applications. Look for a pair of trunnion-mounted pins near the middle of the cylinder — just like swing cylinders used on large backhoe loaders."
 Buckets are the next item to consider when buying a backhoe implement. Some manufacturers weld the teeth onto the bucket with replaceable digging tips. These teeth can be broken off during excavating in rocky conditions and require welding to be repaired. The other option is bolt-on teeth. These teeth are designed to work in all soil conditions with increased rock-digging durability and easier servicing.
Most backhoe implement manufacturers offer a variety of bucket sizes ranging between 8 and 40 in. Buyers can expect max dig depths to range from 6 to 12 ft, dig forces to range from 2,500 to 3,500 lbs. If turf or land preservation is a prevalent factor, then unit weight and transportability will be important considerations. Efficient work in narrow spaces may be aided by a unit with a more compact design and superior reach, swing arc and fine-handling characteristics.
Several features have evolved that can boost the productivity and operation of a backhoe attachment. Features such as smooth joystick operation, swing speed control, automatic swing return, swing cushion and power shift (to conveniently reposition the compact tractor to deliver more digging torque) are just a few milestones in the push to expand competitive features.
"Novice operators need to remember that tractor backhoe attachments are not commercial designed and built units," explains Hicks. "Many people have the perception that the tractor backhoe attachment will do the same amount of work in the same amount of time as the larger industrial machines you see on the street corner replacing the water or sewer line of your hometown. That is simply not the case and owners need to remember that these units operate much slower with less force than their larger counterparts." 
Keith Gribbins is managing editor of Compact Equipment, based in Peninsula, Ohio.