Sometimes when you reach into your toolbox, you need a very specific tool. If you only have a hammer, then you tend to treat every problem like a nail, so it's best to be diversified. In the world of construction equipment, when it comes to ferrying construction materials or spoils around a project, an articulated dedicated dumper is the niche tool of choice when it comes to big loads, exact placement and increased cycle times.  
Wheeled site dumpers, commonly called dumpers, are relatively new to the United States, but are jobsite mainstays in Europe. For more than 40 years dumpers have been hauling everything from clay, stone, gravel, backfill, asphalt, turf and concrete, as well as traffic signs and cones to, from and around jobsites. Dumpers are an off-road vehicle perfect for handling medium volumes in the 50- to 1,000-yd range. When it comes to transportation of materials on the job, they close the wide gap between a skid steer bucket and big articulated trucks.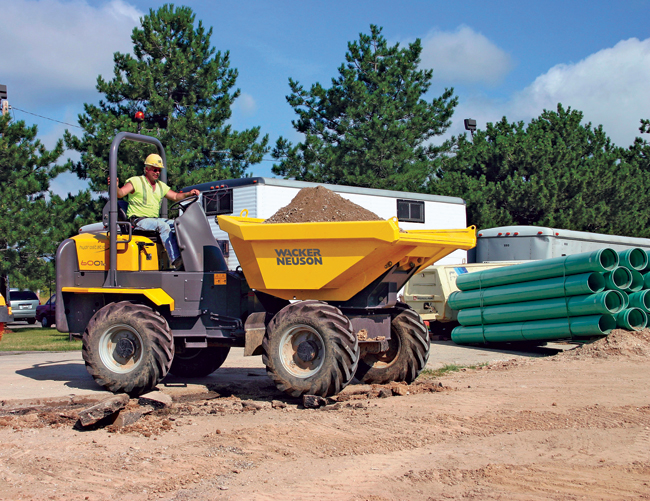 Now contractors in the United States are reaping the benefits of these proven machines.  To describe dumpers as versatile is an understatement. In a nutshell, dumpers can access tight areas, don't tear up the landscape or turf like large trucks, while their off-road maneuverability and ability to dump from both sides make them extremely functional. Because dumpers are relatively new to the United States, the Association of Equipment Manufacturers (AEM) does not track sales; therefore there is no industry standard to categorize them. Current manufacturers that sell site dumpers use maximum (metric ton) payload to classify these units. Dumpers range from 2,200 lbs (1 ton) up to 213,228 lbs (6 tons) in payload capacity; however there are even larger models found in Europe. Typically in the United States, dumper sizes range from smallest 0.69-yd3 (1-ton) to 4.2-yd3 (6-ton) heaped capacity. The most popular size currently in the United States is the 6,600-lb load capacity.
Dumpers have excellent maneuverability and work well in rough terrain conditions.  They are powerful enough to climb over dirt piles and handle steep inclines while carrying heavy loads of material. This is made possible by the permanent four-wheel drive for extreme off-road capability and high ground clearance for driving through extreme mud. Some manufacturers, like Wacker Neuson, feature a hydrostatic drive that has no gear box or clutch that can wear or break making them extremely rugged machines.
One might think that a small articulated dump truck could compete with a site dumper, but think again. A key feature allows the dump bucket, or skip, to swivel 180 degrees, 90 degrees to the right and left of center. This allows the unit to unload on either side of the machine. This side dumping matched with excellent visibility from the operator's platform make the unit ideal for spreading material. Utility contractors especially find this useful for backfilling trenches. The contractor can easily load the fill material into the dumper and then drive right next to the trench, turn the dumper bed toward the trench and drive along the trench dumping the backfill as it moves along. Specialized concrete contractors also find the side dump extremely convenient for delivering concrete to larger slabs, avoiding the use of concrete pumps.
Another time-saving factor in using a dumper is the simple concept of material loading once, not twice. While digging a trench, the contractor can load the dumper with material instead of setting it by the side of the trench for moving it later. With larger bucket sizes than wheel loaders and skid steers, plus the excellent maneuverability, the loaders can easily fill the larger dumper, saving trips back and forth on the jobsite. Dumpers are ideal for residential applications such as a basement addition on the backside of a house.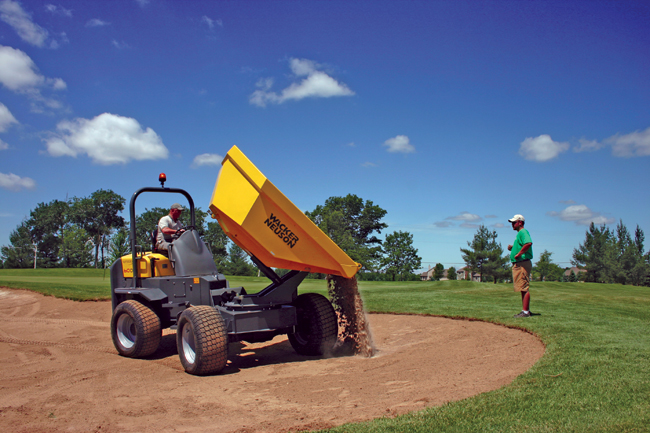 Typically, access is narrow and machines need to travel across a landscaped yard with mature trees. An excavator can dig and then place material directly into the dumper, which will take fewer trips across the yard, avoiding costly landscape restoration. In comparison, using a skid steer to remove excavation material is like going back and forth with a teaspoon numerous times and tearing up the lawn in the process.
Dumpers are also a great choice for many niche applications such as nurseries, golf courses, municipalities and cemeteries. Many of the national cemeteries are using Wacker dumpers because of the unique, compact design that does not tear up the turf and the units are able to maneuver between head stones. They are also ideal for golf course maintenance and landscaping for the same reasons of maneuverability and they do not tear up the greens and lawns. Many manufacturers offer turf tires specially designed for sensitive ground conditions such as golf course greens. The dumpers can travel across greens without disrupting the playing conditions, keeping maintenance repair costs down. Trail building is another excellent application for dumpers. The dumper can move gravel down a hiking trail 4.2 yd3 at a time, speeding up the entire job, compared to the many trips a wheel loader or skid steer would take to finish a project.
Contractor acceptance and demand for dumpers is growing steadily in the United States.  Wacker Neuson introduced this relatively unknown machine to the market about three years ago and has found that once a contractor uses a dumper, he or she is sold on the concept. Dumpers are great rental items and are often how contractors start experiencing the benefits of saving time and money on a job. For the rental dealer, dumpers are an excellent addition to any fleet. Because they are so easy and intuitive to operate, contractors and landscapers can just hop on and get to work. Being designed originally for the European rental market, the units are very tough, requiring very little maintenance, providing an excellent return on investment.
When shopping for a dumper, contractors should look for a variety of features that fit their specific needs. A few things to look for include four-wheel drive, a heavy steel bucket that can handle many big rocks over its life, the right tires (turf or tractor style), service access, wide knee protection made of durable material and
other special options such as enclosed heated cabs.
The list price for a 3-ton dumper is about $41,000 and a 6 ton lists for $51,000. Most dumpers come
standard with foldable ROPs, flashing beacon and reverse alarm options.  Some companies, like Wacker Neuson, even back its dumpers with a complete two-year bumper to bumper warranty. Shop the market and demo units before making your big decision.

Marcus Auerbach is the director of compact equipment at Wacker Neuson Corp., based in Menomonee Falls, Wis.
10 Reasons to Buy a Dedicated Dumper
Efficient material movers for mid-size volumes and ranges
Faster and more cost-effective than going back and forth with a skid steer loader
Reduce money and time on restoration costs
Access narrow sites without moving trees or other obstacles
Complete a job faster, move on to the next job earlier
Low maintenance and built tough
Fuel efficient, long lasting
Easy to operate
Cost much less than larger wheel loaders with same bucket capacity
Low operating costs