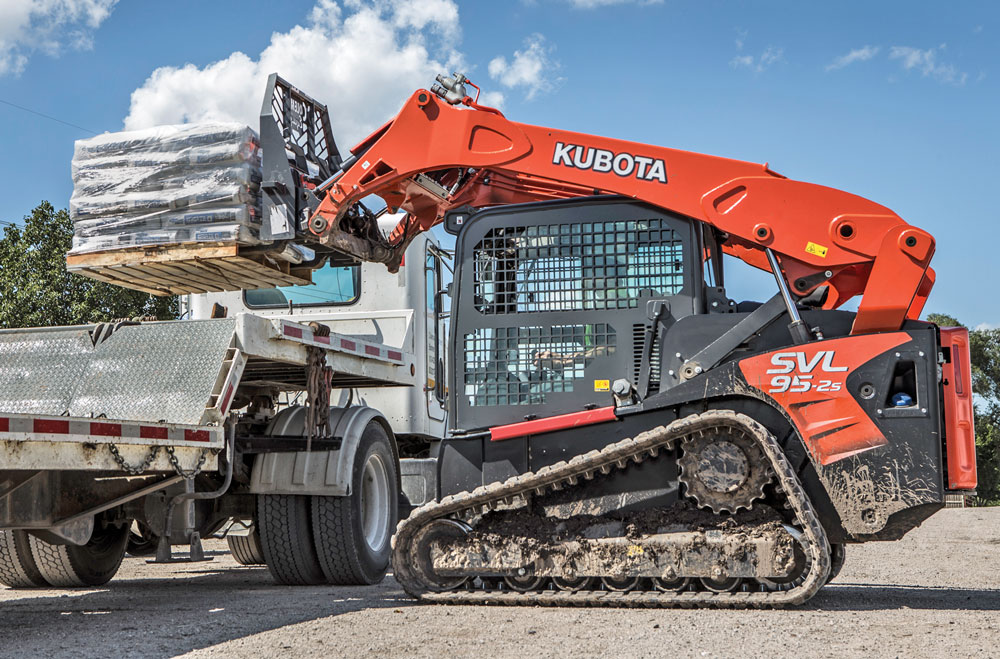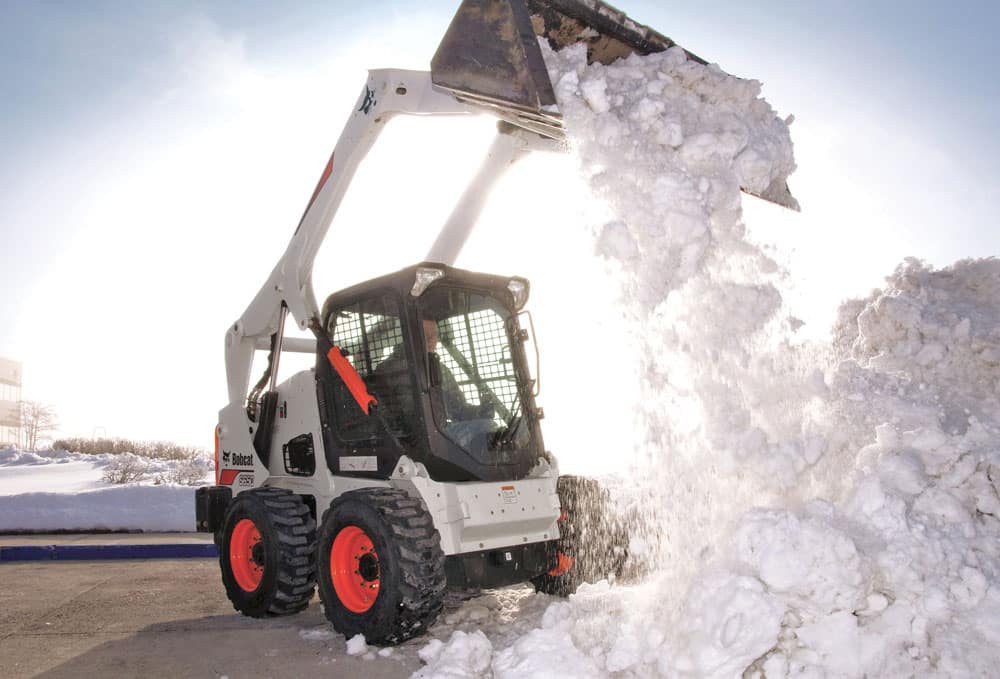 Skid steers and track loaders can be found in a multiplicity of markets. Farming. Road work. Landscaping. Snow removal. My personal favorite: Stevedoring — the loading and unloading of cargo ships — which can be done with a skid steer and a remote-control operating system in precarious aggregate-moving applications. The diversity of skid steers and track loaders comes from their ability to wield hundreds of different attachments (from breakers to brooms). Adding to that diversity is an expansive market of at least 16 major brands of skid steers and track loaders being sold in North America in 2019: ASV, Bobcat, Case, Cat, Gehl, JCB, IHIMER, John Deere, Kubota, LiuGong, Mustang, New Holland, Takeuchi, Volvo, Wacker Neuson and Yanmar.
Most of these manufacturers offer large product lines. Two quick examples: Bobcat offers 12 skid steers and nine compact track loaders, and Mustang offers 10 skid steers and six track loaders. The market supports a wide variety of models that come with a wide swath of technologies and options (attachments, boom orientation, high-flow hydraulics, backup cameras, joystick controls, grade control systems and onward). While the traditional wheeled skid steer has been a staple on jobsites for 60 years, today track loaders (engineered with a dedicated track undercarriage) are more popular in sales.
"In fact, sales for track loaders have surpassed skid steers three years in a row," explains Tim Boulds, product operations manager with Kubota Construction. "For the third consecutive year, skid steer sales volume was lower than compact track loaders industry-wide, and that gap will grow this year. Gains on specific markets for compact track loaders over skid steers have been in residential construction and agriculture. However, both markets still have a need for wheeled vehicles as we know wheeled units are a better choice for hard or aggressive surfaces. Also, there is a price gap for similarly sized wheel and track units, favoring the wheeled units."
A variety of unit sizes, reputable brands, high technologies and operator amenities keep owners and operators coming back to both wheeled and tracked units. Let's learn why.
A Size for Most Everyone
There is a large span of model sizes in today's skid steer and track loader market, usually broken into small-, medium- and large-frame categories. At the top, brands like Gehl and Mustang (each owned by French-based aerial lift equipment expert Manitou) tout "the world's largest skid steer." Gehl's is the model V420, and Mustang's is the 4200V. Both machines feature a powerful Deutz 97.2-net-hp engine and 4,200 lbs of rated operating capacity. With an operating weight of 11,665 lbs, these extra-large skid steer loaders utilize a vertical-lift path of almost 12 ft for excellent dumping and loading performance.
At the opposite end, brands like ASV are releasing some of the smallest track loaders in the industry. ASV's RT-25 is an awesome economical alternative for contractors, engineered with a 25-hp Perkins diesel engine, 5.1-mph top speed, 1,900-lb tipping load and an 8.4-ft lift height. The RT-25 measures just 48 in. wide. Yet…
"The largest portion of the skid steer and track loader market is still comprised of the mid-frame-sized loaders that are relatively easy to transport from job to job and have greater engine and hydraulic performance than the small frame units," notes Lee Padgett, product manager with Takeuchi-US. "The mid-frame loaders are able to run a wider range of hydraulically-driven attachments which makes them more versatile and valuable to a contractor."
That's one of the reasons Takeuchi launched its radial-lift TL6R track loader last year with a 65-hp engine, 7,400-lb operating weight, 5,269-lb tip load and max lift height of 9 ft, 6 in. The TL6R is under 6.5 ft tall, and it's only 5 ft wide — a mid-frame model with a great size-to-power ratio. The TL6R's 2,635-lb rated load capacity is a little bigger than the most popular size range, which is mid-frame skid steers and track loaders in the 1,750- to 2,200-lb rated load capacity category.
Hydraulics and Attachments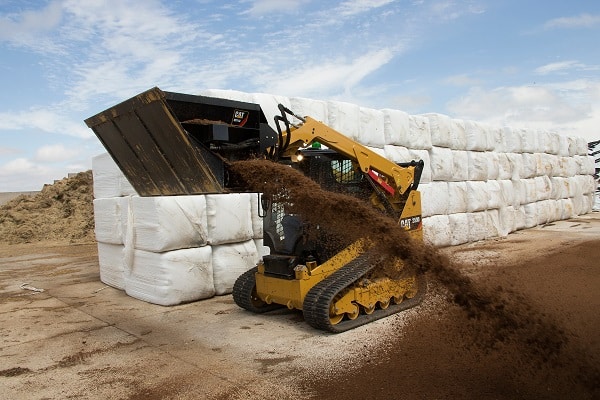 Pressurized oil and fluid mechanics (i.e. hydraulics) power skid steers and track loaders. Hydraulic flow to the auxiliary circuit and the attachment will be determined in gallons per minute (gpm) and as standard- and high-flow configurations. Skid steers and track loaders can boast up to 45 gpm on the largest "high-flow" models, powering aggressive implements like brush cutters, asphalt planers and trenchers.
"Attachment versatility continues to be an important consideration when buying a loader," says Jason Boerger, marketing manager with Bobcat Co. "As we know, these machines can do more than just dig. Attachments like brush cutters, planers and snowblowers can increase the types of jobs a machine can do, but contractors need to be cognizant of the engine horsepower and hydraulic flow. They need to make sure they know what jobs they will be tackling so they can ensure the attachments will be properly powered by the carrier."
There are hundreds of different attachments to choose from and then a zillion different sizes. Like Boerger mentions, the flow and pressure of the attachment need to be compatible with the machine or there is risk of damage, premature wear and poor performance. Some of the most popular attachment categories include buckets, breakers, brooms, augers, pallet forks, backhoes, mowers, grapples, planers, blades, snowthrowers, tillers and trenchers. Mulchers and grading systems are two of the trendiest categories for skid steers and track loaders right now, but the variety of implement choices is only limited by manufacturer and customer creativity.
"Caterpillar offers a box blade attachment designed for grading and leveling of large commercial properties, and it can be operated both manually and automatically with the use of laser or GPS grading systems," explains Kevin Coleman, product expert for skid steers and track loaders with Caterpillar. "To support the growing land management segment, Caterpillar offers a line of industrial brush cutters for our skid steer and track loader machines. A newer offering, our Cat side discharge buckets can efficiently collect, transport and discharge sand, sawdust, mulch or straw in applications where material is needed such as barns or stalls. Work tool attachments will continue to evolve to meet the ever-changing needs of the customer."
Cabs and Controls
Opulent cabs and high-tech controls are increasingly popular commodities on today's skid steers and track loaders. Cabs are now considered all-day offices with pressurized cabins, air-ride and heated seats, air and heat options, satellite radio and ergonomic controls that make operators feel like they are in the driver's seat of their own car. Some loaders even have the option of a backup camera. Low-effort, electro-hydraulic (EH) controls have grown in popularity with the ability to switch from ISO, H and foot patterns.
Joystick controls are offered on many loaders which provide fingertip controls enabling an operator to easily control numerous machine functions without letting go of the joysticks," says Boerger. "Some features may include speed management, which allows the operator to adjust travel speed independently from the engine speed for greater attachment control, or steering drift compensation, which keeps the loader on a straight path as an operator side-shifts certain types of attachments."
We highly suggest you read our following story focused on new skid steer and track loader technologies starting on page 28. Many of these new operator stations come with sophisticated digital control panels that allow for attachment and machine automation. Routine tasks such as boom settings, attachment speeds, hydraulic flows, wheel speeds, ride control and return-to-dig functions can be automated into your joysticks, which are engineered into the armrests, which can be adjusted for your perfect comfort level. Digital interfaces allow operators to individualize and save these machine settings, change languages and add security measures. Telematics systems can be installed to track and log all machine functions, spearhead maintenance schedules, perform security measures like geofencing and (eventually) help operators operate better.
"Our skid steers feature pilot controls, updated cabins with simple rocker switches for machine functions and new LED monitors that provide a great deal of information to the operator including machine vitals," says Padgett. "Additionally, we offer optional high-flow auxiliary circuits making them outstanding hydraulic attachment platforms."
So Much More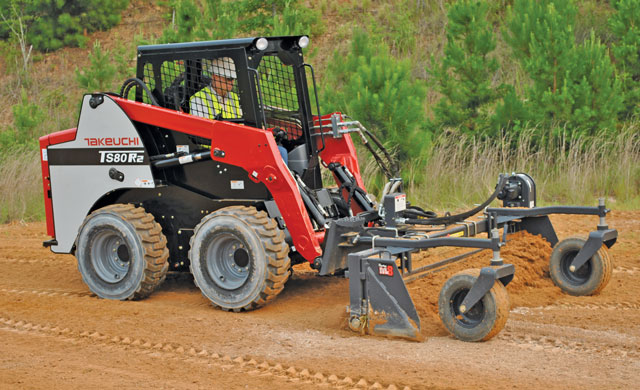 Unfortunately, we can only discuss so much in this article, but there are lots of other options for skid steers and track loaders such as two types of lift patterns.
"A radial-lift pattern provides a compact and simple linkage design that delivers a machine with good reach at mid-lift height and good performance in many applications — digging, dozing and finish grading," explains Coleman. "The radial-lift design also provides a lower weight and lower cost machine configuration than a vertical-lift model. However, the vertical-lift pattern provides additional value by providing higher lifting heights and extended reach at the top portion of the lift cycle, while preserving the excellent mid-lift reach found with radial-lift machines. Vertical-lift machines also offer higher rated operating capacities than comparable sized radial-lift machines. Material handling, truck loading, digging and stock piling are just a few applications where a vertical-lift machine excels."
A variety of skid steer tires range from pneumatic to solid to foam-filled to airless options like Michelin's Tweel. Then you have tire tread patterns like all-terrain, smooth, mud, turf and hard surface. For a track loader, overall undercarriage style including rigid, roller and torsion axle varieties should be a topic of discussion. Owners can choose from track treads with descriptors like general duty, turf, smooth, aggressive and premium bar or block. There are also wide and steel track options.
Tier 4 Final diesel engines will be engineered into all new skid steers and track loaders, so it will be important to discuss the aftertreatment technologies on these engines, including emissions-reducing exhaust filters known as diesel particulate filters, or DPFs, which require periodic cleaning (regeneration) and selective catalytic reduction, or SCR, technology on loaders over 75 hp that requires the use of an extra liquid called diesel exhaust fluid, or DEF, at about one-third the ratio of fuel.
Then, buyers should move onto understanding applications and specifications. Major spec categories include operating weight, tip load, bucket breakout force, engine horsepower, ground pressure, hydraulic flow and lift height and orientation. Consider the types of surfaces the machine will be operating on and the major applications planned. Operating a variety of machines is always smart, and rental is a great place to do that.
"In general, the rental market consistently makes up approximately 30 percent of the total market," says Boulds. "The smaller units lend themselves to a larger rental customer population of homeowners and small contractors due the ease of transport, while the larger units are often rented by larger contractors for an extra helping hand."
---
Working in Corrosive Applications?
"Skid steer and compact track loader customers using their machines in applications where corrosive substances are present are often looking for rust control to protect the machine investment and its components," explains Kevin Coleman, product expert for skid steers and track loaders with Caterpillar. "These customers can now take advantage of factory treatment of a corrosion inhibiting coating called EquipCoat. EquipCoat is a clear, coating with anti-corrosion additives that encapsulate machine surfaces to shield against the damaging effects of corrosive substances such as manure, fertilizer, salt and mining fluids. The coating will withstand power washing and soft brush cleaning with non-solvent based cleaners for long-term corrosion resistance. While EquipCoat will not eliminate corrosion completely, it will extend the useful life and appearance of equipment. Properly maintained, EquipCoat can last for several years protecting machine and components and may increase resale value."
---
Skid Steer vs. Track Loader
Three Things to Consider by Tim Boulds, Kubota Construction
1. Job Surface
Harder and abrasive surfaces are not very rubber track friendly, therefore the rubber tire machine vs. the rubber track machine is better suited for those conditions.
2. Ground Disturbance
Consider the application where ground disturbance may be important. Nurseries and golf courses, for example, lend themselves to rubber tracks where the lower ground pressure would cause less ground disturbance. When working on highway roads and bridges where road speed and the use of grinding attachments are essential, wheeled machines should be considered first.
3. Cost and Cleanup
It's important to understand that track units are more expensive, albeit that gap is lower than it used to be. Contractors should also expect that maintaining a compact track loader takes a little more time and effort than a wheeled unit with proper daily cleaning of the undercarriage.
Didn't get enough skid steers? Click here. For more track loaders, click here.
Tags:
Bobcat
,
Caterpillar
,
home
,
January 2019 Print Issue
,
Kubota
,
Takeuchi
,
Takeuchi-US