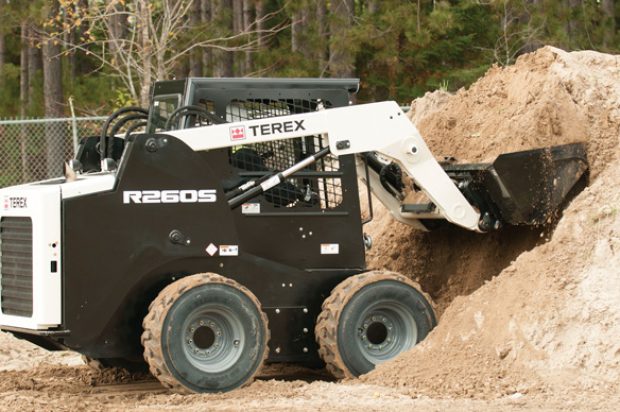 Seven Loader Tool Carriers from the Big Equipment Manufacturer
Terex introduced its line of skid steer loaders in January 2011 to complement its line of compact equipment, which includes compact track loaders, backhoe loaders, compact excavators and compact wheel loaders. Today, the Terex line of skid steer loaders includes seven models (four radial-lift path models and three vertical-lift path units), ranging from 1,600 to 3,500 lbs of rated operating capacity and 50 to 75 hp. The company's wide offering gives customers loader options for most any job they might encounter. Terex skid steer loaders have many unique features, including: 10 in. of ground clearance for pushing through rugged underfoot conditions; one-side daily service checks to make routine maintenance easy; mechanically faced axle seals to provide long life for the axle bearings; low tower design for visibility; high tractive effort to push harder; joystick control for smooth and easy operation; tilt-up ROPS to accommodate maintenance checks; low tower design for visibility around the machine; and an optional hydraulic quick-attach system. Terex also offers performance-matched attachments for these loaders.
All Terex models are equipped with Tier 4 Final engines for increased productivity at a lower operating cost. In addition to the features already mentioned, customers have said that Terex's skid steer loader cab environments needed to be more comfortable and intuitive for the operator, so the company began to offer features including pressurized cabs and more room for the operator. The open design of the loaders offers ease of access to all critical components, as well as a tilt-back cooler and ROPS for quick access to the hydraulic system and rear-door, hood and side panel access to the engine compartment. Terex skid steer loaders are also designed with load-sensing hydraulics to ensure that fuel and energy are not wasted on surplus hydraulic power, so operators can push material, dig, grade and drive through the toughest jobsite conditions, yet conserve power when requirements are less demanding.
Advice to Buyers
"A skid steer loader's productivity can be positively impacted by following a preventive maintenance routine," says Terex regional sales manager, Jonathon Ferguson. "A skid steer loader maintenance routine is based on the number of hours on the machine: Daily, or about every eight hours of work, 250 working hours, 500 hours and 1,000 hours. Even if it's not always convenient to take the time to perform routine maintenance duties, it's worth every minute if the skid steer loader continues to perform productively in the field."