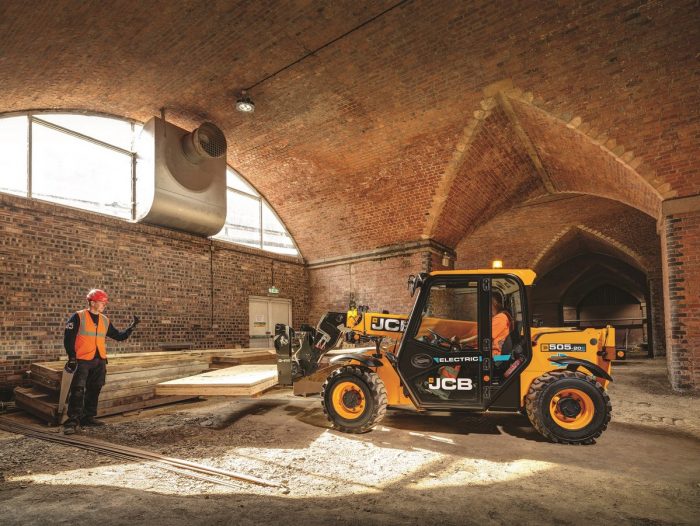 Reach, speed, comfort and control, compact telehandlers offer an impressive list of advantages. There's that long, telescoping, two-stage boom lifting 13 to 20 ft high, perfect for high level equipment applications. There's a variety of steering technologies (crab, all-wheel and four-wheel steer) for exact placement of product into those elevated environments. There's that spacious automotive feel of operation, and zipping around the jobsite (with caution, of course) is intuitive and fun. Plus, compact telehandlers take a variety of attachments — pallet forks, buckets, brooms, augers and beyond. Some even use a skid steer universal attachment plate, making them more than just pick-and-place machines like their bigger brethren.
While these nimble, high-lift tool carriers are more popular in Europe (especially in the ag industry), compact telehandlers are growing in popularity with American equipment pros. They can be found on large jobsites unloading trucks or they can be seen out on the farm moving and stacking bales of hay. That small size is the big advantage, as these machines can go from parking garage construction to use in agricultural barns with low overhead height requirements.
Of course, these machines are not cheap, may require a CDL to transport and do require certification to operate. As one of the more complex categories of compact equipment, we reached out to some of the industry's top product experts to offer a little advice and recommend a model to our audience. This is what they came back with.
John Boehme, Senior Product Manager, Telehandlers, JLG
Advice
The best advice for every telehandler operator, no matter the size of the machine he/she is using, is that you can't wing it — you must fully understand the capabilities of the machine you are using, especially how what you need to accomplish applies to the telehandler's load chart, including:
The type of material to be lifted and how much it weighs
How high the material needs to be lifted
How far the machine needs to reach to get the materials into place
What attachments you will be using and the proper load chart for each
With this information, the load chart will provide you with guidance to confidently utilize your telehandler, including details on: 1) The telehandler's operating range, which reflects minimum and maximum boom angles, as well as fully retracted and extended boom positions, and 2) it's operating envelope, relative to the load center position of the attachment being used.
Favorite Model
The SkyTrak 3013 ultra-compact telehandler was purpose-built for use in small spaces requiring up-and-over reach such as light construction, agriculture, landscape and hardscape work. This 3,000-lb class telehandler is well-suited for loading and unloading pallets from flatbed trucks, as well as lifting and placing materials at heights up to 13 ft. It weighs 5,300 lbs with a load capacity of 2,700 lbs and has a 4-ft, 6-in. x 8-ft, 9-in. footprint. In addition to its lightweight, compact profile, the 3013 comes standard with a universal quick coupler, allowing the operator to share attachments purchased for use on other equipment in a contractors' fleet, such as skid steer loaders. When compared to skid steers, this ultra-compact machine will offer better reach into truck beds and trailers and over obstacles, in addition to better lift height for single story houses and dump trucks.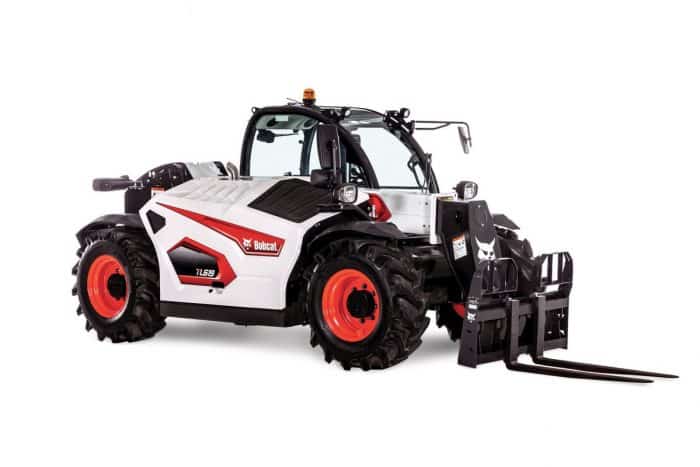 Advice
When determining which telehandler model to add to your equipment lineup, it can be tempting to look at the highest capacity telehandlers that you can afford. But it's important to realistically determine what makes sense for your most common applications and let that dictate your approach. We encourage customers to avoid over-compensating (and then, over-paying) for a machine that may be more than you'll need. Instead, invest in a variety of telehandler attachments to make your equipment more versatile. As you consider your needs, take a long-term approach. For example, maybe your growth plan for your company will allow you to take on a larger variety of jobs. Make sure the telehandler you consider will offer what you need down the road, not just today. For specialty, short-term or one-off jobs, consider renting equipment to accomplish the task — this approach will be much better to your overall ROI.
Favorite Model
The new R-Series TL619 telehandler is the perfect tool carrier for material handling applications. It's compact size, three different steering modes and attachment versatility make this agile machine a natural choice for projects that require increased lift height, reach and capacity. The TL619 leads with an operator-centric design with optimal visibility, excellent ergonomics, an efficient HVAC system, enhanced attachment operation and easy-to-read and an automotive-style instrumentation. This newly-redesigned model features several enhancements over prior generations, including a redesigned cab for greater comfort and simplified operation, a more efficient turbo-charged engine, enhanced serviceability and an optional, add-on counterweight for greater loaded reach capacity. The TL619 has a load capacity of 5,500 lbs and a lift height of 19 ft for excellent productivity with every lift cycle.
What can we say? We love rental. So much so that we published a Digital Rental Guide covering everything you need to know when renting a machine. Check it out here!
Rebecca Yates, Material Handling Product Manager, JCB North America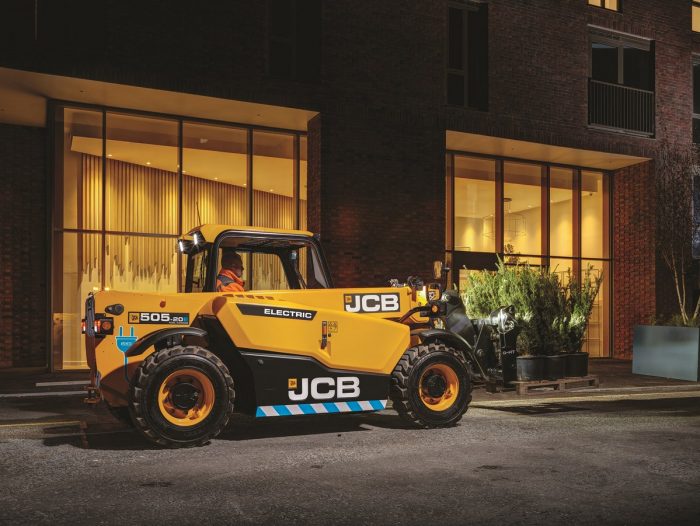 Advice
Get in the cab. That's always one of the first things to consider in a compact telehandler. How's the space? Is it comfortable? A manufacturer should be working hard to make sure a compact machine doesn't mean cramped space in the cab because we know that's important to operators. Look for upgraded features like a soft keypad for cab functions (lights, beacon, joystick cut off), easy-to-read display screen for battery and heated windows. Also, check the front-end coupler. Does it use a hydraulic skid steer front end, allowing operators to use their skid steer attachments and stay in the cab to switch them. Lastly, don't forget to consider your application. An electric machine offers the potential for a large variety of applications increasing an operator's productivity.
Favorite Model
Take a seat, shut your eyes and let the rest of your senses tell you you're experiencing something different. The sound of quiet electric operation. The smell of a zero-emission machine. The 505-20E, JCB's full-electric, zero-emission telehandler, performs like its diesel counterpart. And building on its success. You can bring the 505-20E into more locations. You can do quiet early-morning or late prep work. You can work around food or animals. If you've worked in confined spaces like a parking garage, you understand the value of quiet operation. It has the same compact footprint and similar performance as its diesel counterpart, 5,250-lb capacity, 20-ft lift height, skid steer coupler. It's powered by Junheinrich 96V lithium-ion battery for zero-emissions. It has multiple charging options, including 110v or 220v on-board and off-board rapid charging, and a full battery will perform for a full 8-hour workday, running 3.5 hours continuously
Amalija Kopac, Product Manager, Genie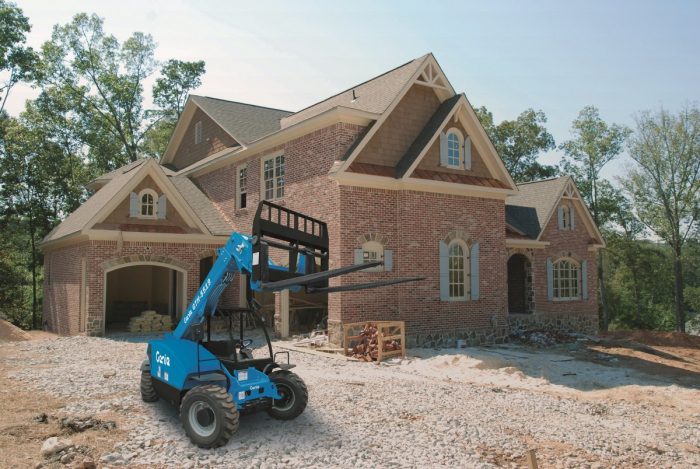 Advice
Before operating a telehandler, it's important for an operator to make sure they have the right load chart available, and that they understand how to read it. The load chart not only specifies the telehandler's weightlifting capacity, but also where the telehandler can lift that weight. Because attachments can impact the load capacity, load height and reach, it's also important to make sure the load chart being referenced corresponds with the attachment being used. All Genie telehandler load charts are based on a horizontal load center that is 24 in. from the front vertical surface of the fork arm. Operators should always center the load on the forks and position the load against the back of the fork frame. Fork length should always be at least two-thirds the load length. For loads with a load center exceeding 24 in., a reduced load capacity chart should be used for the specific load zone. Refer to the manufacturer's instructions for how to calculate reduced load capacity. To learn more about interpreting Genie telehandler load charts, visit this link.
Favorite Model
With a compact size and variety of attachments, the Genie GTH-5519 is a versatile, multi-purpose tool on the jobsite — which explains why it often arrives onsite at the start of a project and stays through the finish work. At just 6 ft, 6 in. tall and 12 ft, 3 in. long when stowed, the GTH-5519 is easy to transport and navigates congested work sites with ease. Contributing to its maneuverability is four-wheel drive, four-wheel steer and limited slip front axle differential. Interchangeable attachments and tires add to the GTH-5519's versatility. In addition to standard carriage and forks, the Genie GTH-5519 also offers rotating carriages, material buckets and a Universal Skid Steer Adaptor. I also love that you can swap out the tires as the site evolves, enabling users to equip it with rough terrain tires when working in mud and dirt, then later switching to non-marking or turf tires as the jobsite evolves to sensitive ground surfaces.
One of the best parts of small equipment is the variety of attachments. From buckets and breakers to mowers and plows, click here to see what's out there.
Rafael Bazzarella, Product Manager, Skyjack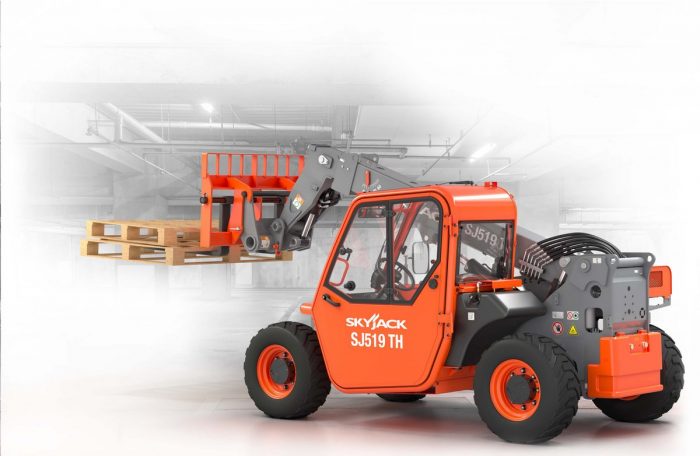 Advice
To optimize your compact telehandler performance from a powerful pick-and-carry workhorse to an onsite multitasker, you can simply add the skid steer adaptor and use a number of ground-engaging attachments to get more done with just one unit. Attachments such as augers, sweepers and cutters will help prep the jobsite and keep it organized during its various stages. With the auxiliary hydraulics flow control, you will have full control at your fingertips. Also, keeping your machine in proper working condition will maximize your performance and that is why we offer a service package that allows for convenient greasing of your axles in a central location and a clean drain oil valve, removing the need to crawl under the machine and sample a task that's sometimes overlooked.
Favorite Model
Our only compact telehandler at the moment is the SJ519 TH, but it is still my favorite. Its maximum lift capacity of 5,500 lbs, powerful Deutz 74-hp engine with no DPF or DEF, a top speed of 15 mph and its roomy FLEXCAB make it a fun, reliable performer. When combined with the skid steer attachment plate and available 66-in. bucket you simply transform this agile carrier into a multifunctioning workhorse and improve the jobsite's overall efficiency. Other features such as the FLEXDRIVE that allows operators to reduce drive speed while maintaining function speeds the same, auxiliary hydraulics with flow control and all-steel cowlings help the SJ519 TH offer the rental industry's best life cycle value making it a customer and my favorite.
Keith Gribbins is publisher of Compact Equipment.
Tags:
Bobcat
,
Bobcat Co.
,
Genie
,
JLG
,
JLG Industries
,
Skyjack