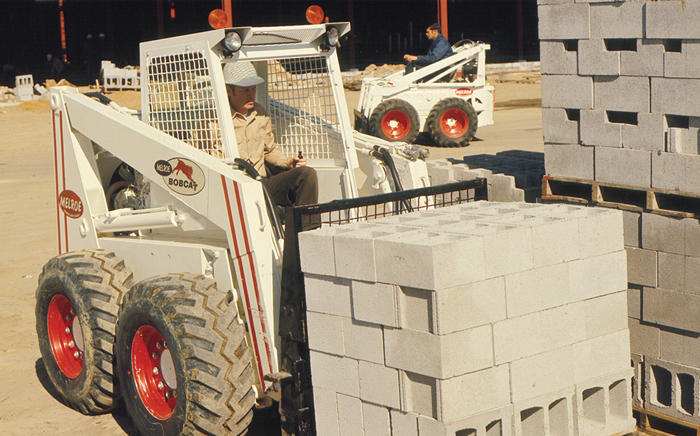 America has a rich history of inventive entrepreneurs — from Henry Ford to Bill Gates. In fact, if you go to Washington, D.C., to the Smithsonian's National Museum of American History, you can actually explore the Division of Work and Industry collections, which is a selection of artifacts, documents, photographs and oral histories that educate and preserve the history of American industry. In that collection, there are 56 cubic feet of records on Bobcat Co. (donated in 2009), celebrating the company's rich history in equipment manufacturing, with a special focus on its greatest invention — the skid steer loader.
"We're very proud to have pioneered the skid steer loader, because it truly is the machine that started the compact equipment industry and we take that very seriously," says Laura Ness Owens, Bobcat Co. director of communication. "We feel the same way about being the first manufacturer of compact excavators in North America. How the compact loader and excavator have changed the way people work is rooted in our innovation, and we consider it our responsibility to continue to improve performance, comfort and serviceability features of the machines, while making them more versatile with attachments. We want to continue setting the industry standards."
What began as a simple piece of utility equipment plowing around farms has evolved into a small, but powerful, alternative to large equipment and manual labor. Small business owners and million dollar contractors alike are utilizing the compact size, brawn and light footprint of skid steers in their equipment fleets — especially in the ever-shrinking environments created by urban sprawl, busy city centers and the crowded quarters of industry. Their popularity has emerged around the innovation of major manufacturers brands like Bobcat, Mustang, Gehl, Case, Caterpillar and New Holland. These equipment titans have led the industry for five decades, but the story of the skid steer actually starts with humble beginnings in a small town in Minnesota in the late 1950s. In the City of Rothsay, two brothers with a knack for machinery, invention and vision built an industry with a piece of equipment they called the Keller Loader.
The Keller Brothers and Beyond
In the summer of 1956, a pioneer in the turkey and farming industry came to Louis and Cyril Keller with a problem. The brothers ran Keller Mfg. in Rothsay, Minn., fabricating some of the original models of snowblowers in the United States. A client of theirs named Eddie Velo approached the brothers seeking a practical solution to the unpleasant task of cleaning the manure out of his turkey barns. His standard tractor loaders were too heavy to operate on the barn's second story and too cumbersome to turn corners and clean around poles.
Intrigued, the brothers began searching through local junkyards for materials and ideas. Within a year, the two came up with a design for a three-wheeled, self-propelled loader. The machine, not yet a skid steer, moved on two drive wheels in the front and a small caster wheel in back. It was powered by 6.6-hp Kohler engine with a rope starter and was steered by independent right and left control levers. In an interesting note, the Keller brothers used a few steel bars from the local Rothsay jail to make the fork tines for the front scoop.
"The largest concentration of early loaders is on display at Bonanzaville, USA, which is a history museum complex of the Cass County Historical Society in West Fargo, North Dakota," explains Ness Owens. "More early three-wheeled Melroe loaders, original Keller loaders and some of the first Melroe four-wheeled skid steer loaders and Bobcat-branded machines are on display at various locations around North Dakota and Minnesota — where the Keller and Melroe families resided during the early years of the loader. The first Keller loader, built for farmer Eddie Velo, is on display at the Otter Tail County Museum, Fergus Falls, Minn. We also have historical units at company offices and factories, and some Bobcat dealers around the country have preserved machines for display at the dealerships and to use for local events and parades."
The brothers manufactured seven Keller Loaders for sale; each could be purchased with small array of attachments, which included a utility scoop, manure fork, snowblower and sweeper. But because of cash flow problems, production on a large scale became an obstacle. That is, until the Kellers met up with Les Melroe, one of four brothers who operated Melroe Mfg. Co. in Gwinner, N.D, which one day would become known as Bobcat. The Kellers' uncle had shown Melroe the loader, and the machine prompted him to invite the brothers to display it in the Melroe booth at the 1958 Minnesota State Fair.
Because of its popularity the pair went to work improving their machine at Melroe — enhancing the engine, boom configuration, maneuverability, size, frame and even its look. The M-200 was the first commercial three-wheeled Melroe loader. In 1960, the M-400 Melroe Self-Propelled Loader hit the market as the first true skid steer loader. The brothers removed the caster assembly and added a second axle, giving the machine four-wheel drive and the ability to pivot and skid as it turned. The M-400 set no sales record, but through constant design improvements the loader found its way into all types of farming and load-and-carry markets. Two years later, an ad agency for Melroe Mfg. coined the term "Bobcat," noting the machines were tough, quick and agile — descriptors that the skid steer loader has prided itself on ever since. It didn't take long for other manufacturers to realize what they were missing out on.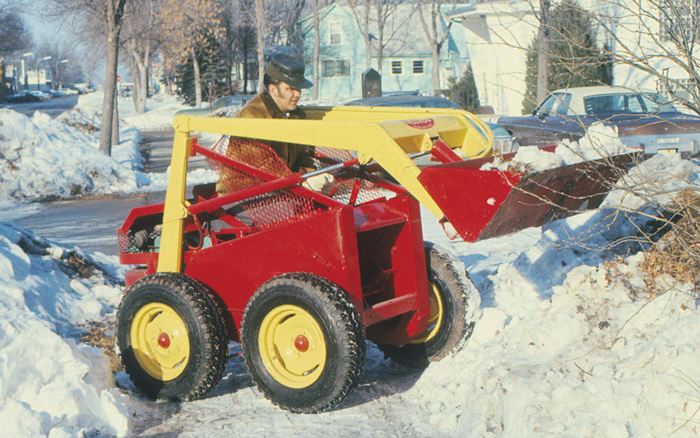 "Mustang entered into the skid loader business in 1965 as means to diversify its agricultural product line with a first model 1000 skid loader," explains Kelly Moore, Manitou Group product and training specialist for skid and compact track loaders; Mustang and Gehl are both sister brands under the Manitou corporate umbrella today. "It was a basic, radial-lift machine with 1,200-lb capacity and a 30-hp air-cooled Wisconsin engine. It had a special attachment bracket on it to fit only the initial Mustang designed buckets and forks. Customers were small family farms with livestock — dairy, beef and hogs. The pricing on this first loader was around $5,000."
In 1969, Case bought out Universal Loader Co. and began offering its 1500 Series of loaders; Gehl began to manufacture its first compact-size skid loader through the previous Erickson Corp., a Minneapolis company, that same year. And New Holland eventually moved into the market with the first in its series of Super Boom skid steer models in 1972. Over the next 50 years, these five companies (and eventually lots more) designed and redesigned their machines to be more powerful, comfortable, maneuverable, efficient, versatile, safe and productive. Here are a few of the innovations that have made the skid steer industry what it is today.
Diesel Power and Tier 4
Power has played an important role in the modernization of skid steer loaders. In the past, consumers often opted to sacrifice comfort and cost if it meant they'd be able to get the job done with a little extra power, especially in a compact class machine. But today's machines are larger, with longer wheel bases and bigger engines. The first 1000 Series skid steers from Mustang barely boasted 30 hp. Today, Mustang has the vertical-lift 4000V skid steer, which claims to be the world's most powerful skid steer loader in the world. The 4000V boasts a rated operating capacity of 4,000 lbs, a true vertical-lift height of 144 in. and an industry-leading 99 hp/326 ft-lbs torque from its Cummins engine. Mustang shares that "biggest-most-powerful" claim with the "KING" V400 skid loader manufactured by its sister company Gehl.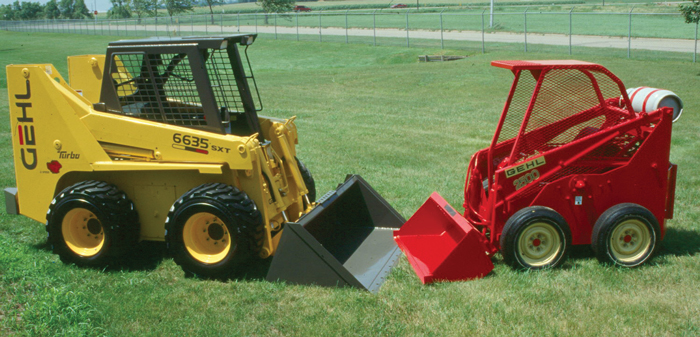 "Gehl and Mustang first introduced the largest capacity and highest horsepower skid loaders in 2001," says Moore. "Going to these large models leap-frogged all others in the market to firmly provide high performance, high lifting and loading capacity machines for the larger application needs. Today, these latest generation machines continue to provide outstanding performance to large agricultural applications as well as larger contractors looking for more productivity in a skid loader machine as opposed to a wheel loader at considerably less cost. Pricing on these large loaders will range from approximately $68,000 to over $80,000 depending upon optional equipment and attachments."
The advent of the liquid-cooled diesel engine played a major role in the rise of skid steer power. Gas engines were replaced by diesel in the '70s; diesel really took off in the '80s when skid steers started entering more and more construction markets. Diesel is more fuel efficient, has good torque characteristics and works well with ever evolving efficiencies in hydraulics; better hydraulic drive motors, hydraulic pumps and auxiliary hydraulics have enabled more oil flow to operate bigger units, larger attachments, heavier loads and multiple, simultaneous tasks.
Today, Tier 4 emissions-compliant engines are the next big trend in off-highway diesel engines for skid steers. Since the '90s, diesel engines have been evolving to comply with ever-stringent emissions regulations from the EPA (called Tiers). The last phase, called Tier 4 Final, is fast approaching skid steer engines, and now these diesel power plants have been re-engineered with high-tech electronic controls, ultra-precise injection systems and next-gen after-treatment devices that burn fuel and transform exhaust with near zero pollutants. Of course, the cost of these new Tier 4-compliant engines is also cranking up the price for skid steer loaders, but manufacturers see it as an improvement in the long run.
"Tier 4 Interim and Final regulations have given manufacturers opportunity to improve other performance aspects of the machine," says Warren Anderson, brand marketing manager with Case Construction Equipment. "We have taken this opportunity to provide contractors improvements in operating factors such as fuel savings, breakout force, torque and hydraulic flows. Models featuring more than 75 hp will be required to transition to Tier 4 Final in 2015. Each manufacturer is addressing it differently, typically with either a CEGR and diesel particulate filter [DPF] system, or a CEGR with a catalyst-only solution. As we work to create improvements beyond the emissions mandate, the inclusion of technologies such as the catalyst-only solutions are typically maintenance free and provide extremely efficient operation."
Lift Configuration
The choice of a vertical- or radial-lift skid steer is one of the most important decisions when buying a new skid steer today. After all, matching the machine to your tasks is the path to a wise investment. The original design, radial lift, is better suited for heavier digging and attachment applications, while the vertical-lift configuration, is popular for forklift-type and loading applications. Today, vertical lift is actually the most popular style on the market, and you can thank New Holland for that.
The story of the New Holland Super Boom skid steers and vertical-lift-style booms really begins in 1960 when Larry Halls, a New Holland engineer, was working on hay equipment. Halls was assigned the challenge of designing a simple, reliable device that would drive the knife-head of the sickle mower in a linear fashion. The unique four-bar linkage he created was patented and is still being used on New Holland mowers today
"When I came up with a linkage for straight line motion," says Halls, "we didn't have computers. It was a lot of work drawing the motion on paper, so I worked with cardboard cutouts, using strips for linkages, thumb tacks for pivot points and erasers to hold them together."
Like any good inventor, Halls looked for another use for his idea. When he put the cardboard model on its side and ran it through its whole range of motion, he noticed the linkage came up and forward — the concept for Super Boom had been born. The company gave the go-ahead to build a prototype with Halls' revolutionary lift linkage. In 1962, a rather primitive-looking skid steer loader prototype affectionately called the "Flintstone Buggy" was built and tested.  Unsure of market demand, the company kept it on the shelf for 10 years before deciding to put the L35, New Holland's first skid steer loader, into production. When the loader was launched in 1972, it was an immediate hit. Other manufacturers saw how efficient and innovative the design was that today most every brand offers both radial- and vertical-style units.
"Vertical lift design is extremely important in today's marketplace — so important, in fact, that all major skid steer loader manufacturers now have a vertical-lift offering in their product line," explains Tharen Peterson, construction product marketing specialist with New Holland. "The vertical lift linkage provides unmatched dump height and reach, which allows operators to load material into the center of high-sided truck boxes and hoppers, places others cannot reach."
Attachment Takers
Versatility is what sells skid steers. The ability to employ hundreds of different attachments allows these machines to work in all types of applications. Attachments for niche operations are as plentiful as the operators that can think them up. The market really became practical in 1970, when Bobcat's Bob-tach system was introduced. It allowed operators to change attachments without leaving the machine. When that patent expired in 1988, the attachment business really exploded, as the Bob-tach system slowly became the industry standard. With all companies employing the same mounting system, third-party manufacturers got a chance to enter the skid steer market.
Advancements in hydraulics have also given skid steers more options when it comes to running bigger and better attachments. High-flow hydraulics, which surfaced in the '80s and is a popular option on many of today's models, give skid steers the ability to operate more powerful niche attachments. Planers, used to scarify and improve asphalt and concrete, were some of the first high-flow hydraulic attachments to be used on skid steers.
"When selecting high-flow tools, customers should consider the system that powers these tools," explains Kevin Coleman, senior project engineer with Caterpillar. "Look for auxiliary hydraulic systems that provide additional flow and additional pressure to help run these power hungry tools. In addition to high-flow tools like snowblowers, trenchers, augers and brush cutters, which provide additional performance and productivity, there are some other tools which provide solutions in different applications. The wheel saw is a tool which can provide a unique trench cutting solution in a variety of hard or compact surfaces, such asphalt, reinforced concrete and rocky or frozen ground. Due to the emergence of the land management segment, hydraulic mulching heads have also become very popular as a high-flow attachment."
The steely heart of a skid steer is a diesel engine, but that diesel power plant pumps energy to all of the machine's many wheels, tracks, loader arms and attachments using fluid power called hydraulics. In the belly of the beast, this diesel engine transmits its energy to a set of hydraulic pumps bolted directly to the output of the engine. A total of up to four hydraulic pumps hooked up to the engine power the loader arms, hydraulic drive motors, auxiliary hydraulic circuits and the unit's attachments.
Today there are two types of flow systems for skid steers — standard-flow auxiliary hydraulics range from 16 to 25 gpm and optional high-flow auxiliary hydraulics range from 26 to 40 gpm. These flows and attachments work in congress with many high-tech, control features found on premium units today — hydraulic quick-couplers, switchable electro-hydraulic control patterns and attachment automation through digital interfaces (where operators can set constant or creep speeds, power ratings and security codes).
The Future
Every year, more and more customers realize the benefits of skid steers and compact track loaders. The skid steer may have started off as a barn cleaner in the Midwest farming industry in the 1950s, but today, it's the benchmark for the compact hydraulic tool carrier category of equipment. Here's to (at least) 50 more years of innovation.
Keith Gribbins is managing editor of Compact Equipment, based in Brecksville, Ohio.
Tags:
Caterpillar
,
Gehl
,
Trenchers