The value and popularity of skid steer cold planer attachments is becoming increasingly more evident because of the variety of jobs they can assist with. In addition to small milling jobs in which large milling machines can't efficiently be used, cold planers are an effective tool for asphalt and concrete pothole and frost heave repair, curb cutting, pavement texturing for improved skid resistance and the removal of traffic lane stripes and roadway around manholes. Manufacturers design them to require minimal maintenance. Unfortunately, this has led to many operators completely ignoring most maintenance functions with their cold planer. And, as with almost any attachment, this neglect leads to reduced efficiency and increased wear that creates the need for unnecessary repairs during its life.
Production Starts and Ends with the Picks
The most critical maintenance function on a cold planer is the proper analysis and replacement of its picks, also known as teeth. The picks fit into holders welded at different angles on the cold planer's drum. While the drum is designed to promote even wear, typically the outside picks wear first as they cut through the asphalt or concrete, and eventually, this wear starts to affect the cold planer's overall performance. Check the picks before each use to ensure they aren't broken or severely worn or "bald" looking.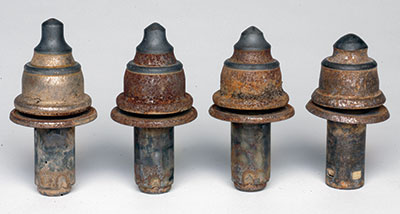 Pick wear and replacement time depends on the type of material being cut and the pick quality. Typically, picks last between 50 to 150 hours for asphalt applications and 10 to 30 hours for concrete applications. One way to achieve maximum life out of your picks is to rotate the outer and inner picks when they start to show wear. This does not affect the overall performance of the cold planer. It will wear the picks evenly so the operator achieves the ideal cut. Adding a water kit to your cold planer reduces dust and can increase pick life by up to 30 percent. Replace missing picks immediately or it will cause the surrounding picks to wear at a much faster rate. Picks should rotate freely in their holders or they will wear faster. Choose picks that are designed for your application; while there are hundreds of different pick types available, the two most common are "universal" picks that excel in more than 90 percent of applications and concrete picks designed specifically for concrete.
While pick replacement is critical, it's not the only maintenance check that should be performed on cold planers. Here are some other simple things to be aware of. Ensure all nuts, bolts and other fasteners are in place, properly tightened and performing their specified function. Check all hoses for wear and/or damage and ensure there are no leaks.
Inspect all quick-disconnect areas for damage. Clean debris from all valves and hoses to avoid hydraulic system contamination. Ensure that the case drain coupler is completely engaged and the hose is not kinked or crushed; a restricted case drain flow can blow the shaft seal on the motor. Ensure the skid steer hydraulic system is at an adequate level of hydraulic oil. Keep as much outside debris out of the drum as possible.
For every 40 hours or periodic maintenance: Grease all moving parts, including wheel bearings, hydraulic cylinder pivot points, side shift wear areas like flat bars or side shift rods and the depth plates (also known as skids); always wipe off excess grease from fittings because it will collect dirt and increase wear. Check the planetary for leaks and call your dealer immediately if a fix is necessary.