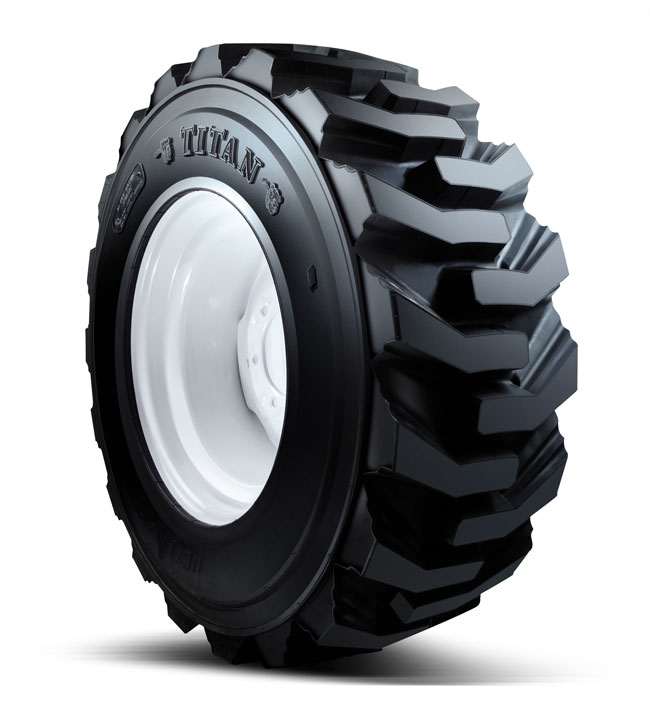 Apparently, today is all about tires. After our Slime-filled blog below, we just learned that Titan (as their name implies, a heavyweight in equipment tire technology) has just launched the "ultimate skid steer tire," designed for superior durability and exceptional traction for the demanding skid steer market. Titan Tire Corp. said its Ultimate tire line is designed to provide extra long life with up to twice the tread depth of conventional skid steer tires.
"The Ultimate line of skid steer tires was designed to provide extended life," said Jeff Vasichek, vice president of sales and marketing for Titan Tire Corp. "They also offer the lowest possible cost per hour delivered by a specialty compound and industry-leading tread depth."
Superior damage resistance is accomplished due to an extra-heavy sidewall and a larger rim guard, while the high void-to-lug ratio offers exceptional traction. The Ultimate skid steer tire is available in two sizes — 10-16.6 and 12-16.5.
Titan tires are manufactured by Titan Tire Corp., a subsidiary of Titan International Inc. For more information on Titan tire products or to locate a dealer near you, visit the company's Web site at http://www.titan-intl.com/titan-tire or e-mail Titan International at sales@titan-intl.com.