There's no substitute for rolling up your sleeves and working with people who can make a difference. "In many businesses, you do things to save money or make a return on investment, but saving lives is so much more rewarding," says Bob Quinn, vice president of Unmanned Systems at QinetiQ, the global defense technology conglomerate.
Quinn and his company have been developing life-saving technologies for the military for decades — today as QinetiQ (the global defense rollup) and before that as Foster-Miller (a famed military robotics manufacturer). The company's Unmanned Division includes products like the futuristic Dragon Runner, developed for the U.S. Marine Corps — a 14-lb remote-controlled robot on tracks that uses cameras, sensors and arms to provide reconnaissance, set up perimeter security and spearhead improvised explosive device clearance (those notoriously dangerous IEDs).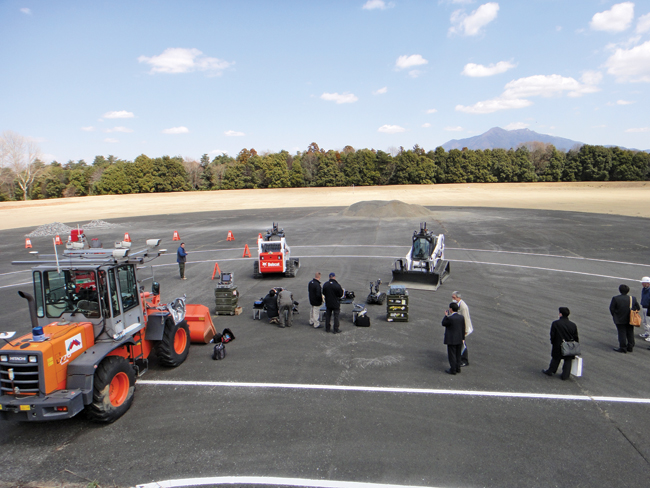 QinetiQ's robots are focused on replacing the human element in the dangerous job of global security and reconstruction. It's a mission statement that has so much potential beyond military applications — specifically general construction and disaster relief have lots of needs for robotic machinery. It's the reason Bobcat Co. teamed up with QinetiQ a few years ago to create unmanned skid steers and track loaders for eventual use on construction jobsites. It's also the reason Bobcat remote-controlled loaders are being used in Japan right now, helping with the containment and decommission of the Fukushima I Nuclear Power Plant.
"There are clear examples at Fukushima where it's just too dangerous for humans to be in the cab of a vehicle while moving radioactive material," explains Quinn. "Humans are always better than machines, but there are times when the human should be controlling a machine away from the situation. There are many scenarios where you actually want both options — the ability to train in the cockpit or cab of the loader, but then during emergencies step out and do it remotely."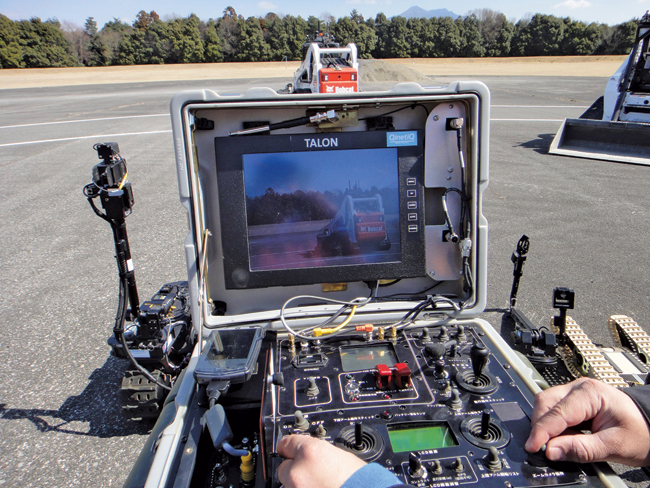 That's just what QinetiQ and Bobcat produced — a technology that quickly makes a regular piece of construction equipment unmanned in minutes. It's called a Robotic Appliqué Kit, and it turns compact equipment into remote-control vehicles in less time than it takes for a quick lunch break.
"As soon as you start talking about how you can make a machine unmanned in 15 minutes, you have to see it to believe it," laughs Quinn, "because it just isn't believable. But when you see it, it really creates that a-ha moment. The conversation quickly goes into what other commercial applications you can use this for."
Showcasing the versatility and usefulness of this idea, QinetiQ North America announced in April that the government of Japan has accepted its offer to provide unmanned equipment and associated training to aid in Japan's natural disaster recovery efforts. QinetiQ North America agreed to send two types of military robots, its TALON and Dragon Runner units, as well as two brand new Bobcat T300 track loaders (donated from Bobcat), outfitted with QinetiQ Robotic Appliqué Kits, to help start the massive recovery operation of Fukushima.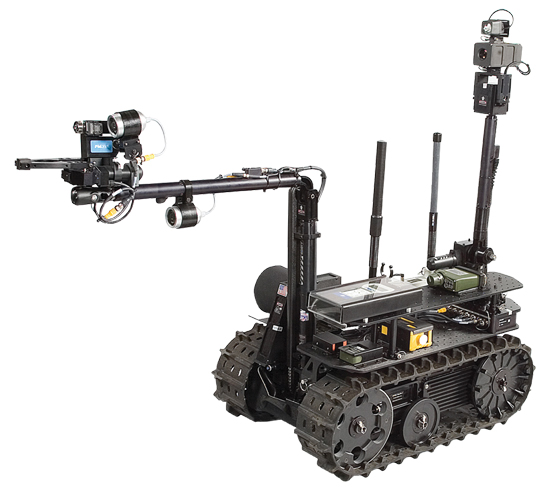 The Technology
It all started about three years ago, when Bobcat Co. began making loaders with CAN-bus controls — a "drive-by-wire" system that uses embedded microprocessors to replace hydraulic and mechanical systems. The CAN-bus replaces bulky wiring harnesses and hydraulic actuators with electronic sensors connected to the vehicle's computer controls. The drive-by-wire system used on Bobcat skid steers and track loaders uses low-effort selectable control joysticks, which allow you to manipulate all machine functions with your hands. Two joysticks control microprocessors that manage speed, track movement, hydraulic lift and essentially all the control you have sitting in the cab.
"Only a small percentage of Bobcat loaders use selectable control joysticks," explains Quinn. "What we do is place an electronic box with its own embedded microprocessors that sits on the roof of the loader [the Robotic Appliqué Kit] and it plugs into the Bobcat's CAN-bus. What we're doing very simply is plugging into the Bobcat's microprocessor computer control. Our own electronic box takes the place of the two joysticks that the human uses to drive the Bobcat. Instead of sitting in the cab, we're operating with an Xbox controller up to a mile away."
Oddly enough, the ubiquitous Xbox controller (featuring two analog sticks, a pressure sensitive directional pad and a host of action buttons) makes the ideal platform for remote-controlled situations — especially for generations reared on gaming. Using your left index finger is like wielding your left hand in the cab, controlling the tracks forward, back and side to side. Your right finger is the right joystick hand, controlling the hydraulic lift and the attachment in front of you.
"When we trained the 20 employees at Tokyo Electric Power Co., they kept getting younger and younger," says Quinn. "The 20-year-olds are so adept at using Xbox controllers with great hand/eye coordination, being in a virtual world with video and sound. As they continue to use it at Fukushima, it's going to be the young people who really make a contribution. The passion you talked about for saving lives is also the passion for being useful. These kids were really, really passionate about using this equipment remotely with these Xbox controllers."
QinetiQ's Robotic Appliqué Kits even permit remote operation of all 70 Bobcat vehicle attachments such as shovels, buckets, grapples, tree cutters and tools to break through walls and doors. To see the action, unmanned Bobcat loaders are fitted with seven cameras, night vision, thermal imagers, microphones, two-way radio systems and radiation sensors. They can be operated up to a mile away to safely remove rubble and debris, dig up buried objects and carry smaller equipment.
The electronic box that sits on the roof and plugs into the CAN-bus transmits all this data through three different radio signals to a Toughbook laptop robotic controller. All that data (video, radiation sensors and even microphone sounds) is displayed on the laptop, giving operators using the Xbox controller visuals to navigate the industrial jobsite of Fukushima. The entire Robotic Appliqué Kit is powered from the Bobcat itself.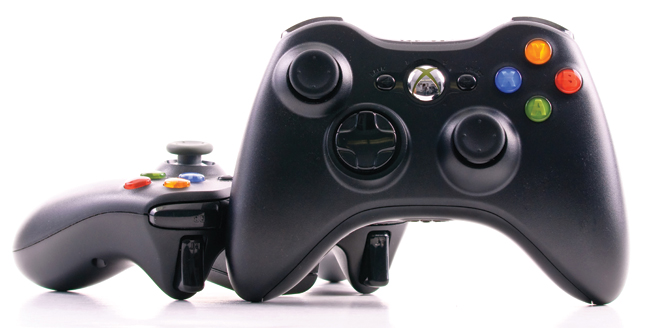 "You literally plug in a plug and you're able to get the software talking to each other," says Quinn. "There's encrypted software in the Bobcat and in our control unit that's based on our working agreements with Bobcat. We share those software codes."
The Disaster and Beyond  
On Friday afternoon, March 11, the Tohoku earthquake struck 43 miles off the Japanese coast with the magnitude of 9.0 — one of the five most powerful earthquakes since modern record-keeping began in 1900. The seismic event triggered extremely destructive tsunami waves (some 128 ft in height) that struck the Oshika Peninsula of Japan (some traveling 6 miles inland). In addition to the loss of life and destruction of infrastructure, the tsunami caused a number of nuclear accidents, of which by far the most serious is the ongoing disaster of the Fukushima I Nuclear Power Plant (categorized as a Level 7 event on the International Nuclear Event Scale, the highest and most dangerous grade).
Since March, officials from the Japanese government and the Tokyo Electric Power Co. have been pooling resources from around the globe to help shutdown and recover the four boiling water nuclear reactors.
"The hydrogen explosions in reactors one and three and the fire in reactor four burped out a tremendous amount of debris and highly radioactive material all around the reactors," explains Quinn. "So for employees of Tokyo Electric Power to get close to the reactor buildings, you first need to be able to remove the debris."
In mid-May, Tokyo Electric Power Co. completed a shielded command and control truck, so that they could begin to spearhead remote-control operations into the power plant. Behind lead shields inside a truck equipped with roof-mounted antennas, teams began to use the robots provided by QinetiQ and Bobcat. The T300 track loaders are outfitted with gnarly grapple attachments that are used to pick up highly contaminated debris. Working in a two-robot team, QinetiQ's TALONs, which are military robots used for reconnaissance, communications, hazmat, security and rescue, help the operator of the Bobcat see and pick up contaminated debris, using another set of eyes.
"The TALONs will also find and map the hotspots using radiation sensors, so they'll know where the highly radioactive materials physically are," says Quinn. "Then the Bobcat will go and pick them up and move them to a controlled area that has more shielding. The track loaders will also move shielding blocks which are heavy concrete blocks to create a barrier or shield once some of the debris, particularly the highly contaminated debris, has been isolated."
The work at Fukushima continues today. Teams are using unmanned systems to help reconstruct a project site that is too dangerous for humans to physically operate from inside their machines. The Robotic Appliqué Kits engineered by QinetiQ and Bobcat for compact equipment are just finding their first uses at the disaster site and with the United States military, but in the not-so-distant future both companies have their sights on commercial applications for these technologies. As the proliferation of selectable control joysticks on construction equipment continues (be it in a skid steer, wheel loader or mini excavator), the ability to easily and cost-effectively make unmanned machines is a growing possibility.
"We've started with Bobcat, but it's our intent to create a universal appliqué kit, and we think a universal kit can apply to multiple platforms and brands," says Quinn. "It will ultimately be less expensive because that means higher volumes for everybody. We really enjoy our relationship with Bobcat and intend to do a lot more with them, so for skid steers and track loaders in the size that they produce we are working with them exclusively … But do I see the day when you can be sitting in a chair in your living room, using your Xbox controller to clear snow out of your driveway with a loader and snow blower attachment? Yeah. I definitely see my grandkids doing that."
Keith Gribbins is managing editor of Compact Equipment, based in Peninsula, Ohio.
Bobcats Are Big for Disaster Relief
Seventy-five Bobcat loaders were provided to Bobcat of Fargo (Swanston Equipment) and Bobcat employees to help with the Fargo, N.D., flood prep in March 2011. Trucks brought sandbags to the neighborhoods once it stayed above 32 degrees at night, and were then dropped off in neighborhoods where the Bobcat loaders were stationed. The loaders carried the pallets of sandbags to the backyards of many homeowners who live near the Red River or the creeks that flow into the river. It's just one of many great examples of how small machinery like skid steers and track loaders make excellent disaster relief equipment.