Since their inception in a small town in Minnesota, skid steers have grown in stature — as compact, efficient and valuable machines for worksites of all shapes and sizes. From construction sites and landscape projects to farms and rental lots, contractors have seen an increased need for smaller, more affordable and more versatile machines to conquer their ever-evolving jobs. Simply put, skid steers and their tracked counterparts compact track loaders are the bedrock of the North American tool carrier category (compact loaders that take attachments).  
These machines have a lower price point, but that no longer reflects a lack of power and sophistication. Skid steers and compact track loaders can now handle tasks that were once reserved for larger equipment. Horsepower, operator usability and comfort have been priority upgrades for manufacturers over the past several years. Both skid steers and track loaders boast more creature comforts and automation features. In the cab, pressurized cabins, adjustable seats and ergonomic controls make operators feel like they are in the driver's seat of their own car. Routine tasks such as boom settings and wheel speeds can be automated with electro-hydraulic (EH) joysticks. Other timesavers include quick-catch mechanisms that allow the operator to change attachments without leaving the comfort of the cab.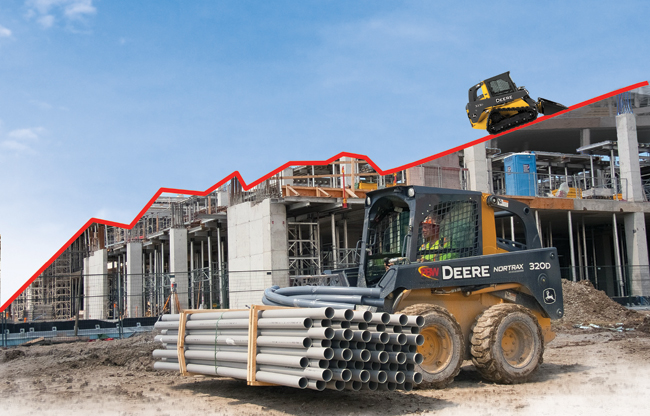 Skid steers and compact track loaders can now be equipped to run for longer hours and feature agility enhancements such as track and bucket speed settings. Speeds can be set to match the performance of an attachment, like a trencher or cold planer, with the push of your fingertips thanks to EH controls. Like skid steers, compact track loaders (CTLs) also have settings that can be customized for the individual operator based on his or her skill level and the task at hand.
In addition to comfort and ease of use inside the cab, the exterior of the CTL is also built to take on the dirty work. With their track loader design, CTLs can roam the jobsite year-round. The low ground pressure track design enables the units to work on softer surfaces and more diverse terrain without damaging the machine.
These added values have not gone unnoticed. Since 2009, sales of skid steers and compact track loaders have increased 50 percent and 80 percent, respectively. More manufacturers in the industry are diversifying models and product offerings, allowing customers to purchase the machine that is right for their needs and price point. Construction sales make up the majority of the increase, while landscape, agriculture and rental businesses are a close second. Traditionally the Midwest, the birthplace of the machine design, has seen the most sales volume. During positive economic waves, coastal regions such as New York, California, Texas and Florida have pulled ahead in sales due to new construction and growth. This growth waivers with the state of the economy however, and ultimately the Midwest reigns in sales.
Looking ahead, sales are projected to increase both in the United States and abroad. Econometric data suggests skid steer sales will be up more than 30 percent in the next year. While skid steers have been most popular on a global scale, with four to five skid steers sold for every one compact track loader, that difference is projected to narrow. With increased efficiency in design and versatility, compact track loader sales are projected to increase by 50 percent in the next year.  
Gregg Zupancic is the John Deere product marketing manager for skid steers and compact track loaders, based in Moline, Ill.