Steady work gives contractors the bankroll to buy new machines, while the lack of a backlog leads to renting equipment and holding onto aging fleets. Over the last few years of uncertain work, buying new equipment has been increasingly challenging. Revenues are down. Work is patchy. Credit lines are tight. And construction machinery overall is getting more expensive with the addition of pricey, new Tier 4 engines to the off-highway diesel segment.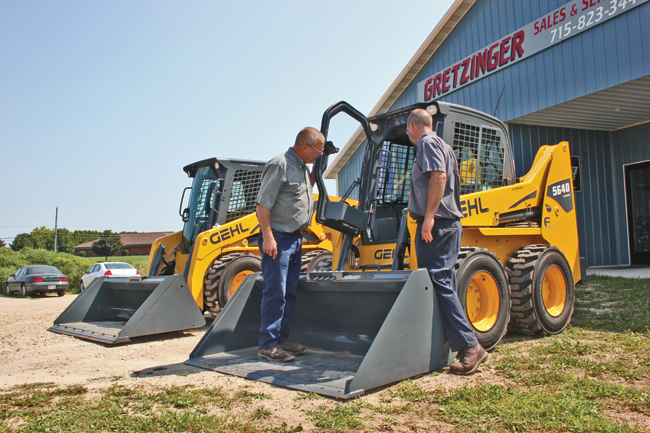 There are signs of a recovery surfacing, generating a buzz about new machine sales. In July, President Obama signed a two-year, $105 billion transportation bill, bringing an end to a three-year fight over road and transit spending. Residential construction is coming back led by 30-plus percent growth in multi-family housing. Healthcare, energy and communications construction are all on the rise, and these niche surges are giving contractors the confidence to consider buying new equipment again. Of course, a lot has changed in the financing industry since the recession that started in 2008.
"Financing now is actually much better than a few years ago during the banking crisis," says James Elwood, who manages construction vendor programs at Bank of the West (which has $65 billion in assets, rated as one of the strongest banks in the world). His business unit provides construction equipment manufacturers and dealers retail subsidy programs so they can offer their financing with competitive rates to contractors.
"Many banks went out of business, and lending rates were high," he continues. "The cost of borrowing money has become more competitive, so lending companies are doing more to attract customers. There are more options for financing now, and capital is becoming available to all kinds of customers. The economy in the construction space is becoming a little healthier."
According to the Equipment Leasing and Finance Association (ELFA), equipment financing is a $628 billion industry in the United States. Construction equipment accounts for about $10 billion of that amount. Not surprisingly, the ELFA has seen "drastic declines" in new construction equipment sales over the last few years, with folks favoring used equipment to the point that resellers reported shortages. The trend has continued into 2012, and while credit is still tenuous, leasing has become a popular alternative. Renting and auction purchases are at an all-time high, and more than ever before, banks, dealers, manufacturers, equipment finance companies, asset based lenders and brokers are finding new ways to customize loan deals for contractors who need to acquire new or used construction equipment. The equipment finance industry has changed, which means owners, fleet managers and purchasing departments will definitely need to read this new bird's-eye overview (which starts below).
Sometimes Lease Is More
Smart individuals and businesses today raise, allocate and utilize their assets over time in a process called financing. Using techniques that balance income and expenditures, most big contracting firms, small businesses and even private users can finance a skid steer, tractor or mini ex to fit their workload and pocketbook.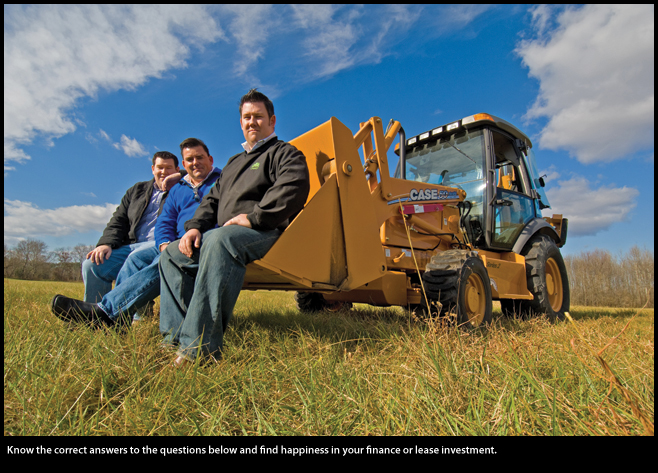 Financing for ownership is the traditional method for acquiring new equipment because payments can be structured over a specified term. If owning equipment is important and buying the equipment outright is too expensive, traditional financing or a loan is the best way to go. Alternatively, for those who do not need or necessarily want to own equipment, which puts more assets on the books, leasing offers many advantages. It is also a better option for those who want to conserve cash flow, because the up-front costs and payments are generally lower when compared with a loan (though they may pay more in the long run). Lease programs can come in many forms such as:
• Equipment finance agreements or capital leases
• Municipal tax-exempt leases
• Operating leases
• TRAC leases
• Capital lease purchases
• Lease lines of credit
The equipment manufacturers, their dealers and company credit divisions are great places to start looking for both traditional financing and loan options. Most can offer fixed-rate financing for construction equipment loans with fixed terms that typically can extend up to 60 months.
"Not surprisingly, more than half of all equipment financed in the United States today is done by leasing," says Ed Dahlka, president of Cole Taylor Equipment Finance, a wholly-owned subsidiary of Cole Taylor Bank that provides equipment financing domestically. "There are still many options for financing. Both dealers and manufacturers provide vendor financing and are sources contractors frequently use. Large finance companies also provide financing, but by far, the top 18 banks do around 85 percent of the $625 billion of all types of equipment financed in the U.S. today. A big part of that is leasing."
Dahlka has seen the industry change. He's served as past chairman of both the ELFA in 2003 and the Equipment Leasing and Finance Foundation (ELFF) from 2009 to 2011. Dahlka says lease options are definitely on the rise. The primary advantage of leasing equipment is that it allows contractors to acquire assets with minimal initial expenditures. Because equipment leases rarely require a down payment, you can obtain the goods needed without significantly affecting cash flow. Also, some lease payments can usually be deducted as business expenses on a tax return, reducing the net cost of the lease. Leases also have more flexible terms than loans for buying equipment, and leasing allows businesses to address the problem of equipment obsolescence.
Of course it does have its disadvantages. Leasing an item is almost always more expensive than purchasing it. Contractors don't build equity in the equipment, which can actually be an advantage if the equipment becomes obsolete. Yet, contractors will be obligated to make payments for the entire lease period even if they stop using the equipment. With leasing, the leasing company owns the asset, which means they enjoy the tax benefit of its depreciation.
Leasing can offer an advantage over a typical three- or five-year term loan, because lease packages are developed for the specific project with terms that tend to be determined by the economically useful life of the asset and the value of the asset at the end of the lease. Leases are often formulated in advance and every transaction is customized. Dahlka says it is typical to propose three or four sets of terms with different pricing, depending on how much the equipment will be used.
"There are almost infinite ways to finance," says Dahlka. "If you need financing for 100 percent of the asset, over a long term, leasing may be an option to consider. If you want to pay your equipment purchase off quickly, then leasing may not be a good choice."
When financing new equipment, contractors tend to involve leasing companies early in the process, so when the equipment is ready to be delivered, the proceeds will be available.
The volume of leased equipment declined in 2008 and 2009 and grew in 2010 and 2011, according to ELFA's What's Hot/Not Equipment Leasing Trends Survey.
"Now, I think the market has relaxed some," says Dahlka. "You still have to have good credit. No one wants to take credit losses, but the market has begun to offer more competitive prices compared to the spikes we saw during the crisis."
Loans, Auctions and Renting
While leasing has increased in popularity in the last few years, it's not the only way to buy. Equipment ownership usually comes through the form of a loan. Simple term loans are the most common type of loan for purchasing new equipment, but there are other loan structures available such as:
• Specialized loans with balloon or seasonal payments or floating rate structures
• Factoring, a form of loan based on receivables that haven't yet been collected
• Business cash advances
• Working capital loans
According to Elwood, there is a wide range of financing loan options for construction equipment ownership, depending on the contracting company's needs. "There are many attractive programs with subsidized rates out there right now. Even if contractors have a line of credit at their local banks, they may be better off considering the low rates offered by manufacturers rather than drawing down their own credit."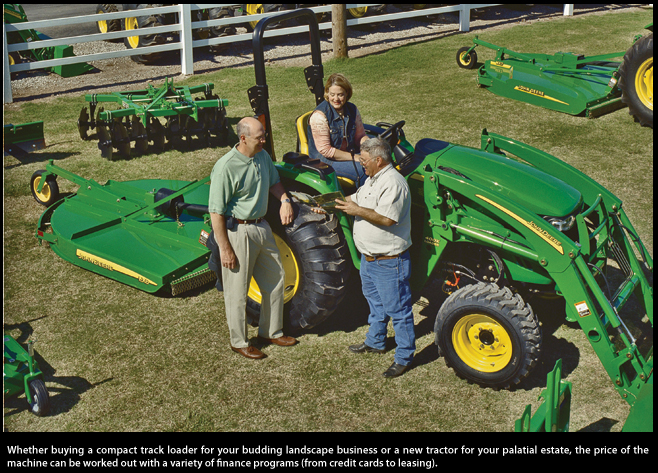 Another option Elwood mentions for acquiring construction equipment is renting from dealer-owned rental fleets or independent rental companies. "Renting is becoming a very large part of the construction space partially due to the recession and hard-to-find equipment," he says. "Companies with shorter contracts or that don't have long-term commitments rent for shorter periods of time."
If the business does well, dealers may offer the option to purchase the rented equipment at the end of the rental period with credit for a percentage of the payments already paid towards the purchase, Elwood says. Some dealers may work with banks or outside finance companies as well.
Auctions are also a source for contractors to acquire used equipment. Large auction companies specialize in construction equipment and may have repossessed or off-lease equipment for sale as-is. Elwood says that banks seldom finance equipment purchased at auction, but they may provide a loan or a bank line of credit for existing customers who specifically outline the equipment they know they want. But, he says, the auction companies themselves typically provide financing at the auction site. Some auction companies partner with credible finance companies and can approve applicants on the spot.
Of course most pros like working with a particular dealer, so the process for obtaining new or used construction equipment will often go to the favored local distributor.
"The dealer will request you submit an equipment finance application," says Elwood. "Ours is only one page long, and asks for information about the company such as the years in business or if they are a closely held company, information to check the contractor's individual credit. After the credit check is complete, if it is approved as submitted, the dealer will work together with you and direct you to their preferred finance company to structure the deal to obtain the equipment. It could be your own bank or whomever you are interested in working with."
By exploring all of the available options, contractors can save money, efficiently obtain necessary equipment and get the work done. The last few years have brought about changes in many areas, including equipment finance. As the industry continues to move ahead, new leasing choices can help smooth the road.
Debbie Sniderman is a contributing editor to Compact Equipment, based in Charleston, S.C. She can be reached at www.vivllc.com.
Before Speaking with Finance Experts
Some contractors opt to speak with equipment finance sales agents before locating a specific brand, make and model to purchase. Finance professionals who specialize in equipment or construction equipment can be found at banks as well as at companies dedicated to financing equipment. Whether approaching them earlier or late in the process, they act as consultants to help a company determine the best procurement method for its specific need.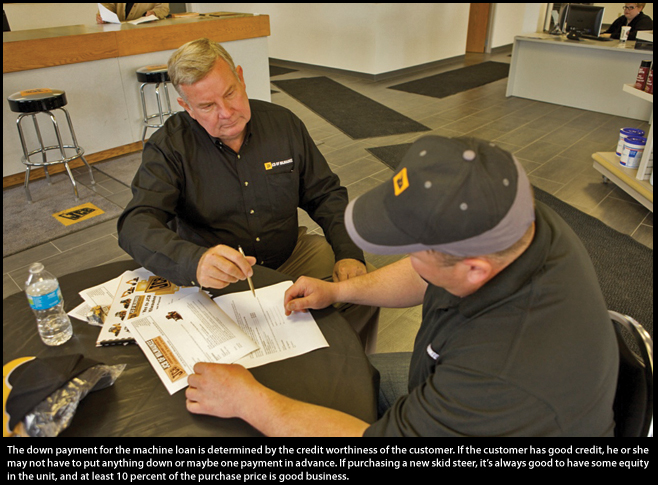 When deciding what type of financing is most suitable for the purchase, here are the types of questions contractors should be able to answer about their current and future needs:
1. Does the company need funds solely for equipment, working capital or a combination?
2. Is it important to own the equipment after completing a specific project?
3. Is the project's client a municipality or investor-owned utility?
4. How long will the company use the equipment?
5. How much will the company use the equipment?
6. If the equipment will replace another company-owned vehicle, how old is it?
7. How well did the company do last year? Does it desire the tax benefits of ownership?
8. Will the company also require funds for additional costs related to the equipment purchase, such as shipping, taxes, transportation, training or service contract fees?
9. Will the company have future one-of or ongoing projects that should be considered now?
Finance Factoid$
Loans Grow, Capital Shrinks
As economic conditions slowly improve, demand for business loans will continue to grow, according to the Equipment Leasing & Finance Foundation's Quarterly Update to its 2012 Equipment Leasing & Finance U.S. Economic Outlook. Also, supply constraints for large businesses should ease further. However, small businesses are reportedly having some difficulties in accessing capital.
Construction Leasing Overall Ranks No. 7  
According to the Equipment Leasing and Finance Association's  2012 What's Hot/Not Equipment Leasing Trends Survey of 162 lessors: Asset-based lenders, financial advisors and service providers rated construction equipment leasing as the 7th highest category, behind medical, oil/gas/energy, high-tech/computers, trucks/trailers and rail. Survey respondents expect the volume of leased equipment to continue to increase during 2012.
Online Auctions Get Popular
Online auction sites for buying used construction equipment are becoming increasingly popular. Finance companies and other independent companies post photos and descriptions of equipment available for auction on the internet. Contractors can see the number of hours a machine has been used online, and typically call to find out more about the equipment or travel to perform pre-purchase inspections.
Tags:
Financing
,
Gehl