Gorman-Rupp Line of Prime Aire Plus
The Gorman-Rupp line of Prime Aire Plus pumps employs the same venturi/compressor priming system as the Prime Aire line. Increased head, flow and enhanced maintenance features are additional benefits. Models feature up to 8-in. flanged discharge sizes, provide flows up to 4,950 gpm, heads to 475 ft and are suitable for both clear liquids and liquids containing large solids. All PAH Series pumps are available coupled to the latest EPA Tier-compliant engines or premium efficiency electric motors. Features and benefits include: externally adjustable running clearances (on solids-handling models); integral seal oil chambers; ductile iron body and impellers; two lip seals and atmospheric vents to assure bearing protection; oil-lubricated vs. grease-lubricated bearings; the ability to fit other pumping installations; and even fuel level monitoring systems. For more info, visit www.GRpumps.com.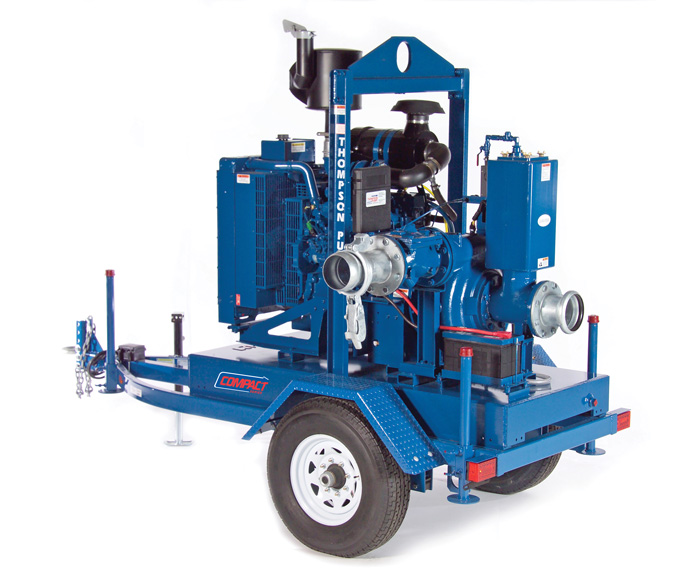 Thompson Pump Compact Series
Thompson Pump now offers the Compact Pump Series with all the benefits of the popular Thompson Pump JSC Series and the new benefits of a smaller compact size, including lighter weight, fewer parts, less maintenance and lower price. The Thompson Compact Pump is 35 percent smaller and 20 percent lighter, but offers the same great performance as a standard size pump with 24-hour run time fuel tank. Available in the most common diesel-drive portable pump sizes of 4 and 6 in., the Compact Series offers an economical alternative to similar size portable pumps — a significant savings compared to standard 4- and 6-in. compressor-assisted pumps. Best of all, Thompson Pump's Compact Pump Series includes the revolutionary Enviroprime system, which keeps the pumpage (water and wastewater especially) from discharging into the environment. For more info, visit www.thompsonpump.com.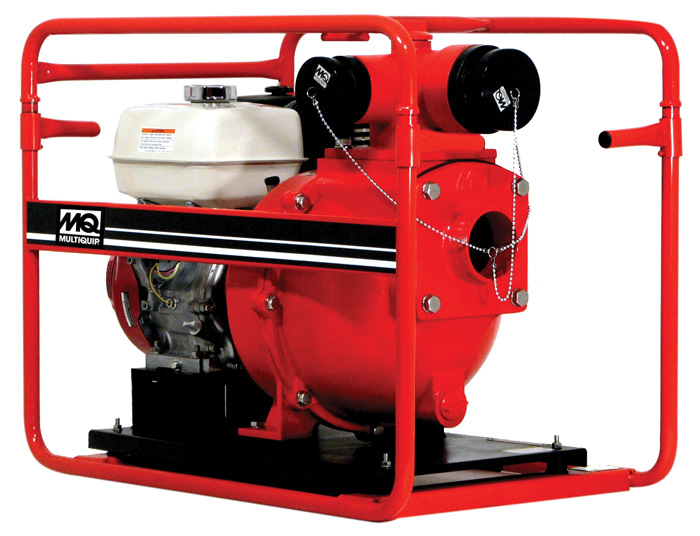 Multiquip High-Pressure Dewatering Pump
Multiquip (MQ) provides a full family of compact high-pressure pumps to meet your requirements. When very high head, high pressure and significant flow are essential, the MQ 4-in. QPT405SLT delivers, says product manager Bruce Coleman. Much of the performance of the QPT405SLT is attributed to its impeller assembly as it utilizes a Twin-Closed Impeller design and a compact volute assembly (diffuser) to generate high discharge pressure. This impeller type is enclosed on both sides by a cover plate or a shroud, and by design, does not handle the passing of solids. The pump is powered by a Honda GX390 gasoline engine and delivers an impressive 377 ft of head, 210 gpm flow, at 163 psi. These pumps support: water jetting, irrigation, sprinkler systems, large equipment wash down, dust control, water-main testing, CFR requirements and other high-head/high-pressure applications. For more info, visit www.multiquip.com.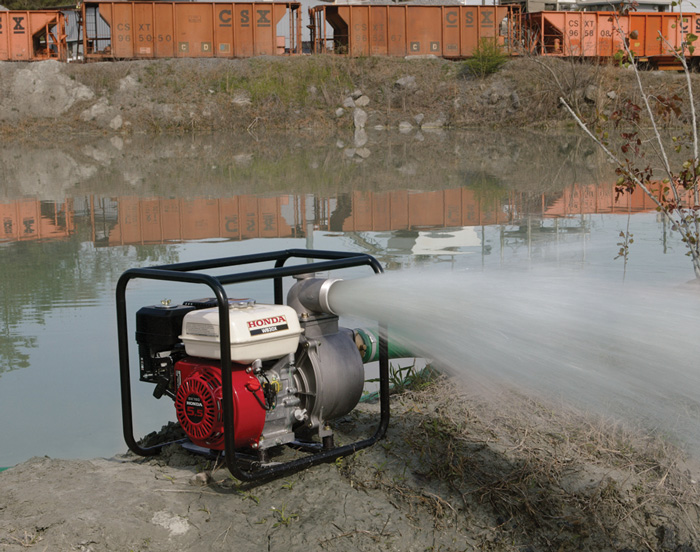 Honda General Purpose Pumps
Honda's WB Series pumps offer the best features at a value price, says Honda. The WB20 and WB30 pumps are powered by the Honda GX Series commercial grade overhead valve (OHV) engines that are easy-to-start, fuel efficient and protected by the Honda Oil Alert to help prevent damage due to oil starvation. These pumps are also equipped with rugged full-frame protection with anti-vibration mounts, a fixed-mounted cast iron volute and impeller with a silicon carbide seal. This combination of features provides impressive performance and durability in the toughest conditions. Honda Power Equipment products include engines, generators, lawn mowers, pumps, snowblowers, tillers, trimmers and marine engines, which are assembled in Honda plants in the United States and around the world. For more info, visit www.powerequipment.honda.com/pumps.
Wacker Neuson Trash Pumps
Wacker Neuson's complete line of centrifugal trash pumps have been successfully dewatering jobsites around the world. The 2-, 3-, 4- and 6-in. pumps continue to prove themselves rental and jobsite tough. Manufactured at Wacker Neuson's Menomonee Falls, Wis., facility, these self-priming, high-performance pumps are built for the demands of construction, mining, municipality, farm and marine applications. The 2-in. PT 2 Series models are versatile, lightweight pumps that can pump up to 172 gpm with solids up to 1 in. The PT 3 3-in. Series is also available in gasoline and diesel models. All PT 3 Series pumps are capable of handling up to 356 gpm with solids sizes up to 1.5 in. The PT 3 weighs 140 lbs and is powered by a 9-hp WM Wacker Neuson engine. The 4-in. PTS 4V weighs 360 lbs and can pump up to 689 gpm with solids up to 2 in., and the PT 6LT (trailer) and PT 6LS (skid), 6-in. models can pump up to 1,300 gpm with solids up to 2 in. For more info, visit www.wackerneuson.com.
Global Pump
The Global Standard Trash Auto Prime Series (GSTAP) of pumps is designed for handling large volumes of water and waste with solids. The pumps range in sizes from 4 to 18 in. with flows of 400 to 12,000 gpm and solids handling up to 4 1/2 in. Practical applications include (but are not limited to) sewer bypass and liquid transfer. Available with diesel engines or electric motors, the GSTAP Series of pumps can be skid- or highway trailer-mounted. In addition, any model of GSTAP can be delivered in a sound attenuated enclosure, ideal for operations in residential and other areas where noise reduction is an important consideration. Offering superior corrosion resistance, the 12-gauge galvannealed steel enclosure is insulated with a water-, fire- and mold-resistant closed cell acoustical foam barrier that helps reduce noise emissions to no more than 70 dB at 30 ft. For more info, visit www.globalpump.com.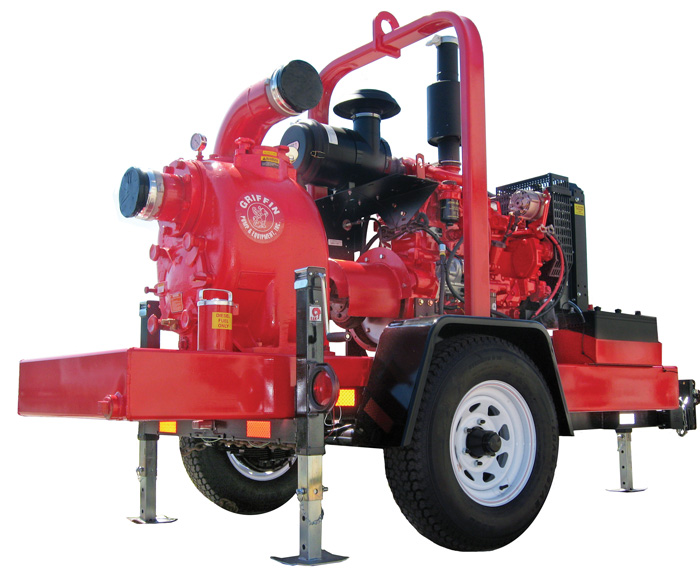 Griffin Dewatering Pumps
Griffin offers both dewatering pumps with electric and diesel engines that are available in 4- to 24-ft models. These pumps are capable of handling flow from a few gallons per minute up to 20,000 gpm. Griffin offers electric submersible dewatering pumps, electric driven trash pumps and electric driven wellpoint pumps. Voltages available for Griffin's electric dewatering pumps are: 120 volt, single phase, 60 cycle; 230 volt, single phase, 60 cycle; 230 volt, three phase, 60 cycle; and 460 volt, three phase, 60 cycle. Custom pump fabrication is Griffin's specialty. Depending on the requirements and desires of its customer, Griffin Dewatering even works as a partner, a provider of engineering solutions, a subcontractor or an equipment provider. For more info, call Griffin at 866.770.8100 or visit www.griffindewatering.com.
---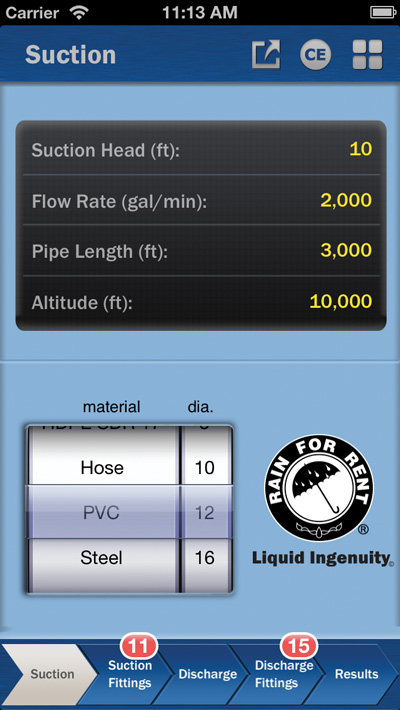 Rain for Rent, a leading provider of temporary liquid handling solutions and rental pumps, tanks, pipe, filtration and spill containment, has launched RiteFlo, a free app that offers a comprehensive suite of hydraulic estimation tools designed for water and wastewater professionals. Ideal for use on the jobsite, RiteFlo includes a Gravity Flow Logger to measure the flow in gravity-driven sewer lines. The tool provides immediate calculations based on observed pipe conditions and makes it possible to attach photos to each measurement.
"RiteFlo is a new tool that makes field calculations faster and easier, and it's one of the many ways we're sharing Rain for Rent's Liquid Ingenuity with the world," says John P. Lake, vice president of Rain for Rent. "The industries we serve are becoming more mobile, and wastewater professionals are taking on more responsibility. That's why we invested in RiteFlo and are offering it for free, so anyone can make flow calculations onsite and on-the-fly."
Another key feature is a robust database that facilitates flow monitoring in multiple lines over time. The RiteFlo suite also includes a TDH calculator, a pipe friction loss calculator and a pump selector. The calculators work together to help determine the flow and the pump capabilities. The pump selector takes user data from TDH calculations and allows the user to plot the duty point dynamically on pump curves to yield a pump recommendation.
Based on early App Store reviews, users appreciate RiteFlo's user-friendly interface design as well as having a new tool that's more intuitive than a spreadsheet. Users also like the convenience of being able to track multiple projects and e-mail images and data to anyone directly from their device.