A cold planer is one of the gnarliest attachments for skid steers and compact track loaders. These implements eat up concrete and asphalt, removing road stripes, mating uneven pavement surfaces, cutting drainage in parking lots, milling manhole edges, tapering road edges and cleaning up around larger milling machines. Easily maneuverable around obstructions, cold planers are excellent options when larger, heavier milling machines are either not needed or just won't fit on the jobsite. With a range of sizes available for both skid steers and compact track loaders, cold planer attachments are an affordable and sensible choice to cut and mill concrete and asphalt in a controlled removal process.
"Our LT Series cold planers are suitable for making full depth utility cuts and milling frost heaves around manholes, and they are able to side shift up to 24 in. left or right to cut next to obstacles," says Jerry Hutkowski, product marketing manager for construction attachments at Case Construction Equipment. "The high-flow models feature a planetary gearbox drive for increased torque and durability, and an optimized pick pattern provides a faster cut by maximizing the horsepower per pick."
Effortless Efficiency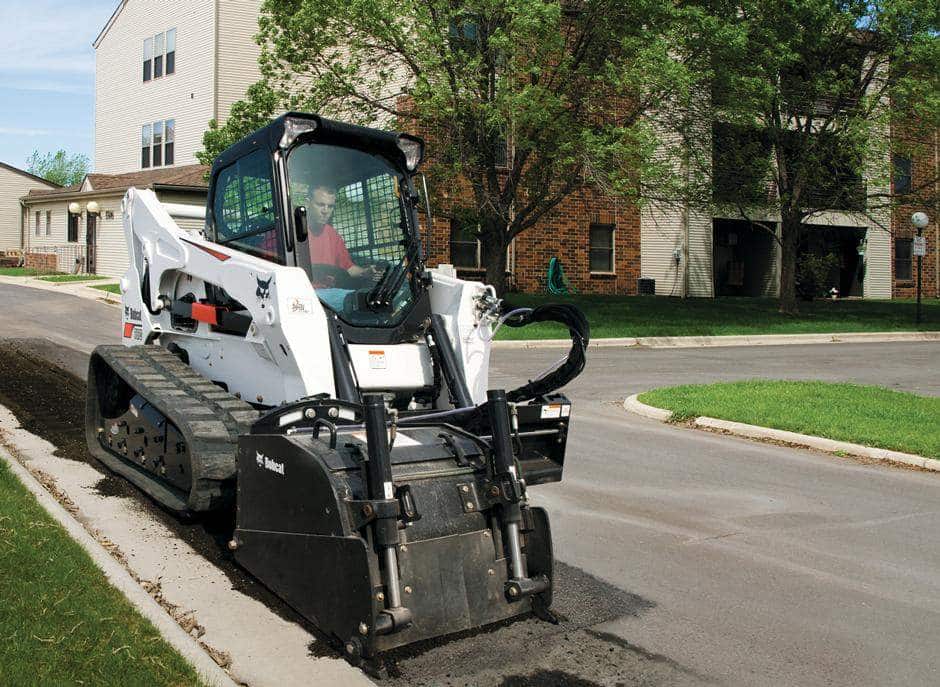 Some loader manufacturers produce their own planing attachments, others partner with independent toolmakers and third-party planers are widely available. In each case, companies go to great lengths to properly mate a skid steer or track loader with a planer. The planer drum — inside of which cylindrical or bladed carbide teeth bite into concrete and asphalt pavements — come in widths usually ranging from 12 to 40 in. For patch jobs and other spot applications, narrower drums will suffice. For bulk production jobs, however, contractors commonly use drums in the 30- to 40-in. range.
Skid steers/track loaders with standard hydraulic flow rates (10 to 30 gpm) can handle narrower cold planer attachments, but larger machines with high-flow hydraulics (31 to 41 gpm) are needed for the wider drums. When looking for a planer attachment, there are certain features to look for, says Michael Koehler, senior director of national sales at Blue Diamond Attachments. "The side shift function is essential for cutting close to curbs," Koehler says. "A larger side shift such as on the Blue Diamond planer allows it to shift to the right side, moving the cut line to the outside dimension of the tires or tracks."
Compact track loaders are the most popular category of compact equipment in America. Learn why with loads of track loader features right here.
The tilt function, which varies in degree depending upon the width of the drum, is also important for feathering cuts or working around obstacles such as manholes or sewer drains. Case's cold planer attachments, available in standard- and high-flow configurations, have a number of productive features.
"Some features that you'll see throughout the lineup include independent pivoting heads for better contour tracking, T1 steel construction in high wear areas, as well as removable wheels for planing next to curbs and other obstructions," says Hutkowski. "These attachments are ideal for milling transition or repair areas, planing frost heaves and expansion joints and removing lane markings."
Choosing Your Carrier
So, should you use the attachment with a skid steer or a compact track loader? That depends, says Gregg Zupancic, product manager for skid steers, compact track loaders and attachments for John Deere.
"From our perspective, in terms of performance, our largest, highest horsepower track loaders would provide the most productivity with the cold planer because of their hydraulic capacity," Zupancic says. "Such as if you're looking to use a cold planer as a production piece. Some of our customers measure how many feet of cold planing per hour they can accomplish, and they have a pretty good idea and understanding of productivity and return on investment. For customers who are trying to get the job done quickly, I would recommend a larger machine with a high-flow option."
Zupancic says both skid steers and compact track loaders work well with cold planer attachments. However, if you're working on harder surfaces, consider the cost. "Rubber tracks are more expensive to replace than tires, so if you're working on hard surfaces all the time, there's going to be more expense and wear," he says. "However, sometimes customers are okay with the added costs because of the added stability and smoother ride."
Since tires wear better on harder surfaces, asphalt contractors have typically favored wheeled machines. However, tracks do not tend to break traction while traveling over milled asphalt and provide high linear production, so compact track loaders are gaining in popularity.
Whether you prefer a skid steer or compact track loader, knowing how to properly engage the attachment will not only help you get the job done faster, it will save wear and tear on the attachment. Always start the rotation of the drum first, and then engage the ground. If you have picks on the ground first, that will result in "bounciness," says Zupancic. Begin moving the drum first, and then slowly adjust the depth. Ensure the teeth are in good shape so they don't have to work excessively hard to make the cut.
Koehler recommends running the carrier machine at full throttle but take it slow. "This will ensure full oil flow and pressure to the planer," he says. "Let the planer work at its own pace. Do not force it, or the drum will stall and reduce production. Sometimes, slower is faster."
Reviewing the ROI
Renting cold planer attachments is extremely budget friendly, costing as little as a couple hundred dollars a day or between $1,500 and $2,000 per month. With that in mind, when do you make the decision to buy?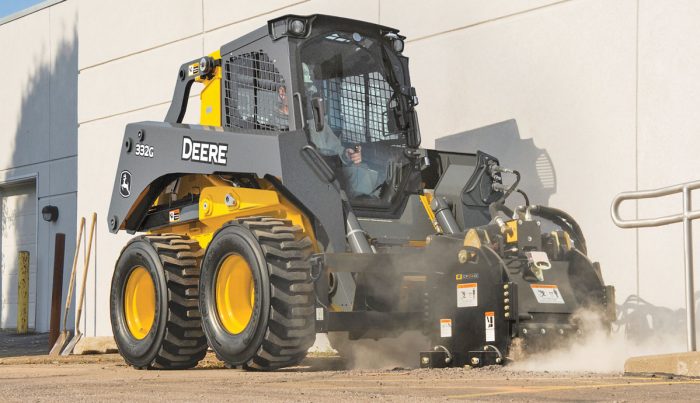 It's all about keeping track of the numbers, according to Gregg Zupancic, product marketing manager with John Deere. "If you're thinking to yourself, 'it's costing me this amount of money, so I might as well own it.'" Standard flow 12-in. cold planer attachments start at around $10,000, and you can spend $25,000 for a 30-in. high-flow model. Depending on the size, configuration and brand, some larger high-flow models can cost around $40,000. That's why it's important to be thinking about standard- vs. high-flow attachments when you spec your machine.
Mastering Maintenance
As with most attachments, proper maintenance is critical to performance and efficiency. With cold planers, though, pick wear can mean a world of difference in productivity. Koehler recommends checking the cutting teeth every hour or two during operation to ensure they do not need replacement and that they are able to spin freely. Providing water to the cutting teeth will reduce airborne dust, help wash granular material out of the area between the tooth and the holder and promote rotation.
Check the driveline for hydraulic leaks and look for wire or string that might be wrapped around the drum's driveline, which could cause a seal failure. Leaks can also be caused by worn hoses, so be sure to check them for abnormal wear. Choosing an attachment with an access door on the top is preferable, as it simplifies maintenance. It's important to ensure your attachment has adjustable side plates with replaceable wear pads that can be easily changed out when needed. With respect to durability, thicker drums produce higher drum weight, which equals less vibration.
Also take care to check and secure the connections and couplers, says John Deere's Zupancic. "Each time you connect your hydraulic line to your machine, inspect them and make sure there are no leaks," he says. "Flat-faced couplers attract a lot of dirt and dust, so it's important to wipe them off so you're not driving dirt and debris into the hydraulic system of your machine, where you could potentially cause a lot of damage. When you disconnect, plug the connectors in together to store them. The hydraulic system is the lifeblood of the machine."
Amy Materson is a freelance writer for Compact Equipment.
Tags:
Blue Diamond Attachments
,
Case Construction Equipment
,
John Deere
,
Manitou
,
March 2021 Print Issue