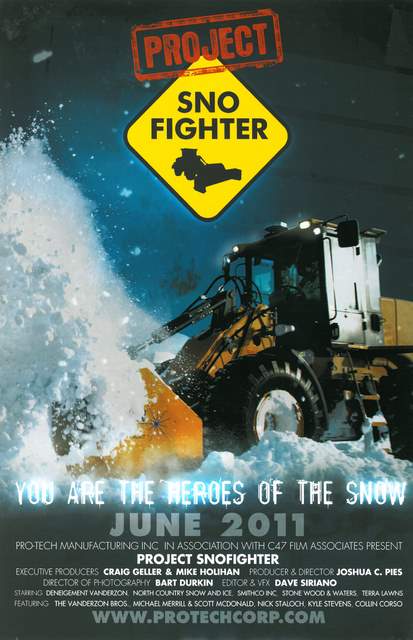 The Machine Works blog reported on the awesome idea of the Pro-Tech "Project Sno Fighter" documentary way back in April. Now Pro-Tech Manufacturing and Distribution is making its "Project Sno Fighter" documentary available to the public. The film premiered at the Snow and Ice Management Association's (SIMA's) Symposium on June 22, 2011, and now the company is sharing the video on its website, www.protechcorp.com/snofighter1, as well as giving away a limited number of DVDs.
Sponsored by Pro-Tech and produced by award-winning filmmaker Joshua C. Pies of C47 Films, "Project Sno Fighter" pays tribute to snow and ice professionals by highlighting the lives of five contractors throughout the U.S. and Canada. The participants were chosen based on their ability to depict a diverse and accurate picture of the industry, and filming took place from January through March 2011.
"'Project Sno Fighter' belongs to the people of the snow and ice industry," said Jeff Luke, director of marketing for Pro-Tech. "We encourage everyone to view the video online, and to share it with friends, family and colleagues."
Founded in 1991, Pro-Tech is the industry-leading manufacturer of commercial-duty containment plows. In addition to these products, the company now offers an extended line of snow removal attachments for skid steers and compact tractors, including blowers, brooms and blades. For more information, contact Pro-Tech Manufacturing and Distribution visit www.protechcorp.com. If want to see how epic this "Project Sno Fighter" documentary is, watch the awesome trailer below.