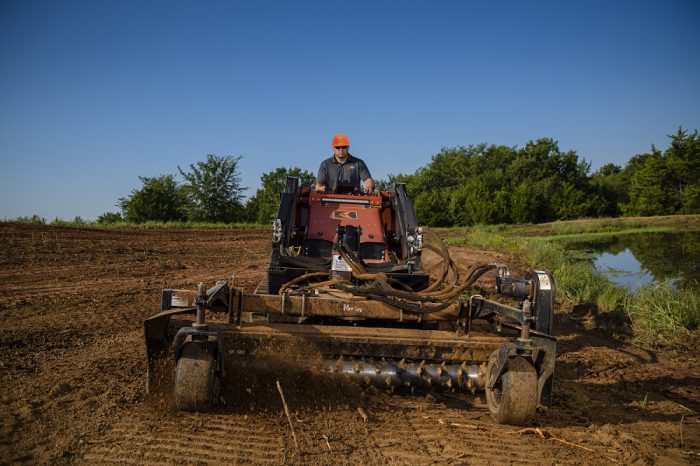 There is a ton of training out there for construction equipment operators — even for the small stuff — skid steers, backhoes, excavators, wheel loaders and a lot of the attachments they wield. Of course, there is always the exception. Right now, there isn't a crazy amount of online or in-person training opportunities for compact tool carriers.
We're talking about those stand-on or walk-behind machines on tracks or wheels that operate hydraulic and non-hydraulic attachments off the front. Nobody calls them compact tool carriers, including Ditch Witch (stand-on skid steers), Toro (compact utility loaders), Bobcat (mini skid steers), Vermeer (mini skid steers) and soon Kubota (releasing a unit this fall called a mini track loader). Nobody can quite agree on a category name, and since these units are ultra-small, no one's really offering a dedicated module or online training course specifically for compact tool carriers. I mean, you can get some in-person training at a dealership or rental house if you're buying one and Bobcat does house a cool 10-minute training video on its website (bobcat.com/owners/safety-training/resources/courses), but not much besides that, till now.
More in depth and interactive, a new certified training module from Ditch Witch caught our collective eye for its focus on compact tool carriers or stand-on skid steers. The training is free, for starters, only requiring registration of a MyDitchWitch account (visit ditchwitch.com).
"Our stand-on skid steer module is our newest, and it's only been available for probably 30 days," said Brian Grim, product training and development manager for Ditch Witch, which boasts five stand-on skid steer units in 2020. "As of today, we have approximately 350 completed certificates on that course. So, it was fairly obvious that people have been hungry for some training on stand-on skids because that's a pretty good number in just over a month."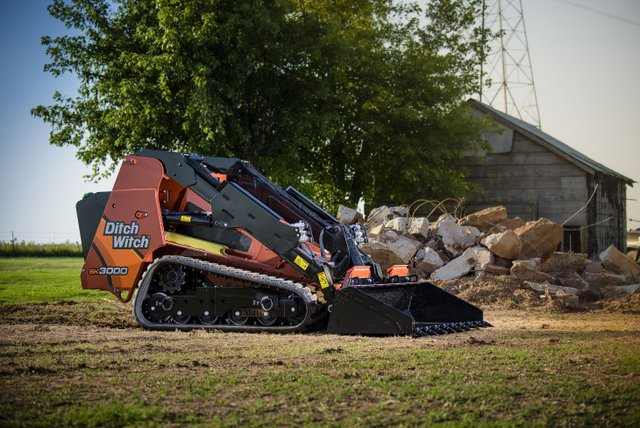 Ditch Witch is also offering new training modules on its walk-behind trenchers, ride-on trenchers and the Roto Witch drilling attachment, all welcome additions to the compact equipment training pantheon. Ditch Witch has been spearheading similarly excellent earthmoving equipment training for decades.
"I have actually been in the training department for over 20 years now," said Grim. "I think we saw the huge surge in training when HDD directional drilling equipment really hit the market. Now what we're seeing is the reverse. We're looking at things that could be made better, something as simple as a trencher or a stand-on skid steer."
Ditch Witch's stand-on skid steer training module (all modules in fact) are designed to be delivered both online or in person, but clearly in these times of pandemic, the online version has become attractive. It also doesn't take terribly long. "Depending on the individual, it can take 10 minutes to complete, but it gives all of the basics to properly and safely operate the unit," said Grim.
The Course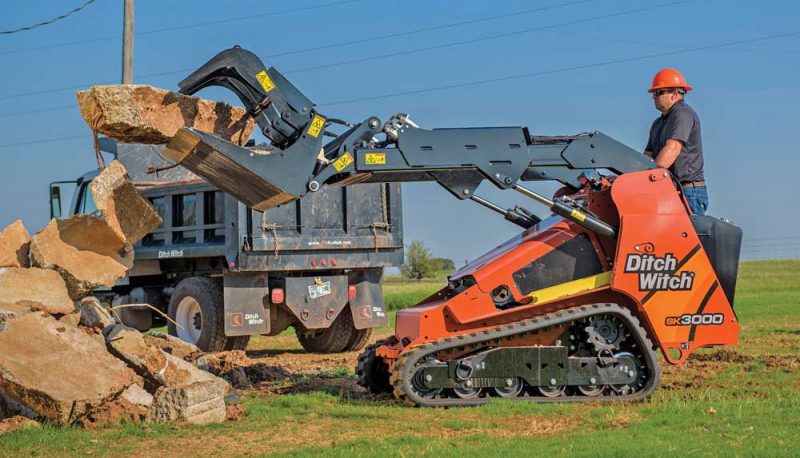 The module itself consists of information that will be narrated to the learner with multiple instructional videos. It begins with preparing the operator and then moves into preparing the equipment and the jobsite. Trainees will learn to evaluate the terrain and wear appropriate personal protective gear (hard hat, safety glasses, long pants, safety shoes and ear protection). Operational insights will include ensuring the drive is in neutral and the parking brake is engaged before starting the engine and to only start the engine from the operator station. Make sure to not exceed the rated operating capacity of the unit (it will become unstable) and to understand and locate the pinch point areas marked on the unit and attachments and avoid them. Before digging, have the area marked for underground utilities. When on slopes, operate up and down with the heavy end of the unit uphill (an empty bucket may make the rear the heavy end).
"It's very important to understand how weight distribution works, especially on unlevel or unstable ground," explained Grim. "It's a small machine that we're standing on. We need to understand how that affects the machine itself. We don't see folks these days reading operator's manuals as frequently as they should, but it's extremely important. We spend a lot of time filling those manuals with usable data and information, and something as simple as reading a manual can greatly help not only the safety of the operator, but the production of these pieces of equipment."
Of course, each attachment will present new operational and safety protocols for a compact tool carrier or stand-on skid steer. Bucket, breaker, pallet forks, trenchers, broom, auger and every implement will require familiarization and training. Start off by reading each attachment's operator's manual. Then, learn how to actually attach implements.
"The first protocol is to stay slow," advised Grim. "We watch so many operators that feel that everything has to be done at full throttle and as fast as they can go. Ideally, it would be to lower the throttle and remain slow as you're attaching or detaching from an attachment. Second thing that you always want to keep an eye on is to ensure that the attachment device, regardless of how it works, engages. Confirm that it has completely engaged and is connected to the machine."
"Our No. 1 goal with trenching attachments is to keep people away from the digging end of the machine," noted Grim. "For some reason, when a trencher engages, people want to flip around to the other side and see what it's doing. So, keeping people away from the trencher is the most important rule still today. The operator needs to stay on the platform, so he or she is as far away from the attachment as they can get."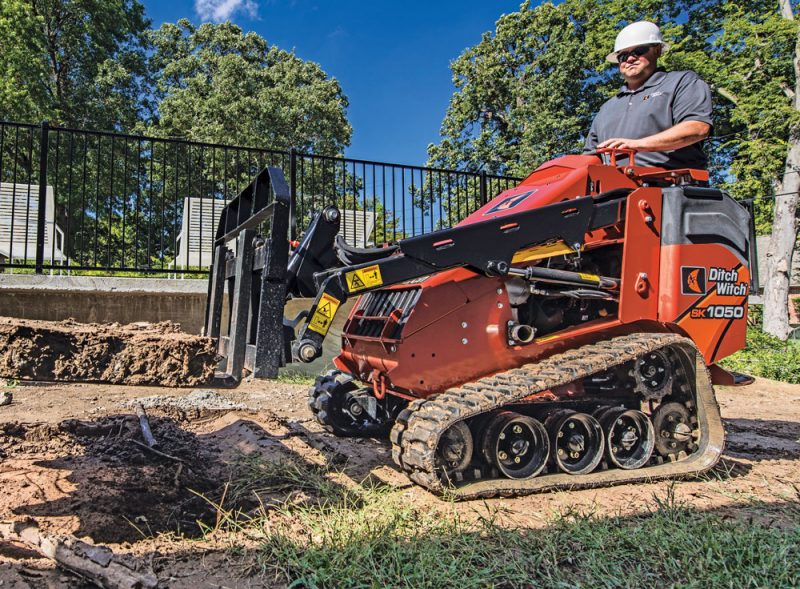 Pick an attachment, and there will be ground rules to follow. When sweeping with the angle broom, never discharge material toward bystanders and always clear the sweeping area of objects (like bottles and rocks). For a breaker, avoid blank fires, don't hammer in the same position for over 30 seconds and don't use the breaker to pry and move material. For a bucket, always carry loads close to the ground and not with the arms raised. For trenchers…
Small Equipment Still Needs Adequate Training
This type of online training can always be paired with hands-on training sessions from the actual contractors. Trainees can be required to perform a pre-operational inspection and operating control demonstration (say, a work assignment must be performed using the loader bucket in a variety of applications), complementing the Ditch Witch module.
Such training is certainly becoming more needed. Both busy, congested jobsites and diesel-powered off-highway construction require safety-first operations. That includes compact tool carriers and stand-on skid steers. All equipment makers offer excellent operator's manuals, and that's a great place to start, but it's also nice to see machine makers investing extra time into even the smallest of compact equipment categories with free safety.
"Our next goal is to break down more specific portions of the operational process," said Grim. "Our next course will cover microtrenching, which is somewhat of a newer concept of underground installation. We hope to have that done by October."
Hilti Unveils Wearable Exoskeleton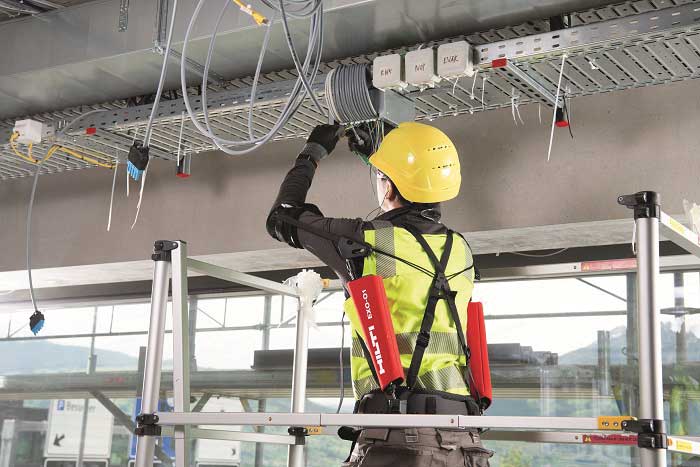 Hilti North America recently announced a new innovation that is more connected to its customers than any tool it makes — the EXO-O1 wearable exoskeleton. Hilti's new human augmentation device will help commercial contractors, tradesman and management alike tackle health and safety as well as labor shortage challenges. Wearable systems like exoskeletons will help reduce strain and fatigue for both experienced and novice users, at a time when the industry is managing a workforce shortage challenge. To create the EXO-O1, Hilti Group partnered with Ottobock, the global leader in prosthetics, orthotics and exoskeletons that help people increase and retain their physical independence. Hilti is currently in real-world jobsite testing and will be bringing the exoskeleton to the market later this year. For more info, visit hilti.com.
Six Ways to Improve Equipment Safety
Have a Strong Maintenance Plan in Place Mechanical failure can cause massive safety issues and is undesirable for other reasons — like putting equipment out of service and delaying work. A regular maintenance schedule is essential to keeping heavy equipment in good condition.
Consider Advanced Maintenance Tech For companies willing to adopt some advanced tech, they may consider predictive maintenance, which can be more cost effective and efficient than preventative maintenance. Wireless telematics systems track operational data like alerts, heat, lubrication and speed.
Implement Robust Equipment Safety Training Training is the best way to ensure workers know the potential risks and dangers of compact equipment. Even something as straight forward and necessary as requiring workers to have training in any relevant Occupational Safety and Health Administration (OSHA) standards.
Make Communication a Top Priority Machine operators and spotters should constantly communicate, both with each other and the workers around them. This is the best way to ensure all employees in the area are aware of a machine's movement, the operator's plans and potential safety risks.
Establish Pre-Planning Methods That Cover Site Risks Before a construction company uses any equipment, it should make sure it has considered all possible site risks. Power lines, uneven grading and water can make the safe operation of compact equipment much more difficult.
Adopt Advanced Safety Technology In some cases, advanced safety tech may help construction companies manage some of the risks of using compact equipment. GPS tracking software can give site supervisors an instant picture of a site. RFID tags in clothing or hand tools can be tracked by safety systems, helping to prevent backup accidents.
Megan R. Nichols is a technical writer and blogger who covers industrial and scientific topics.
Tags:
Bobcat
,
Ditch Witch
,
home
,
Kubota
,
September 2020 Print Issue
,
Toro
,
Vermeer