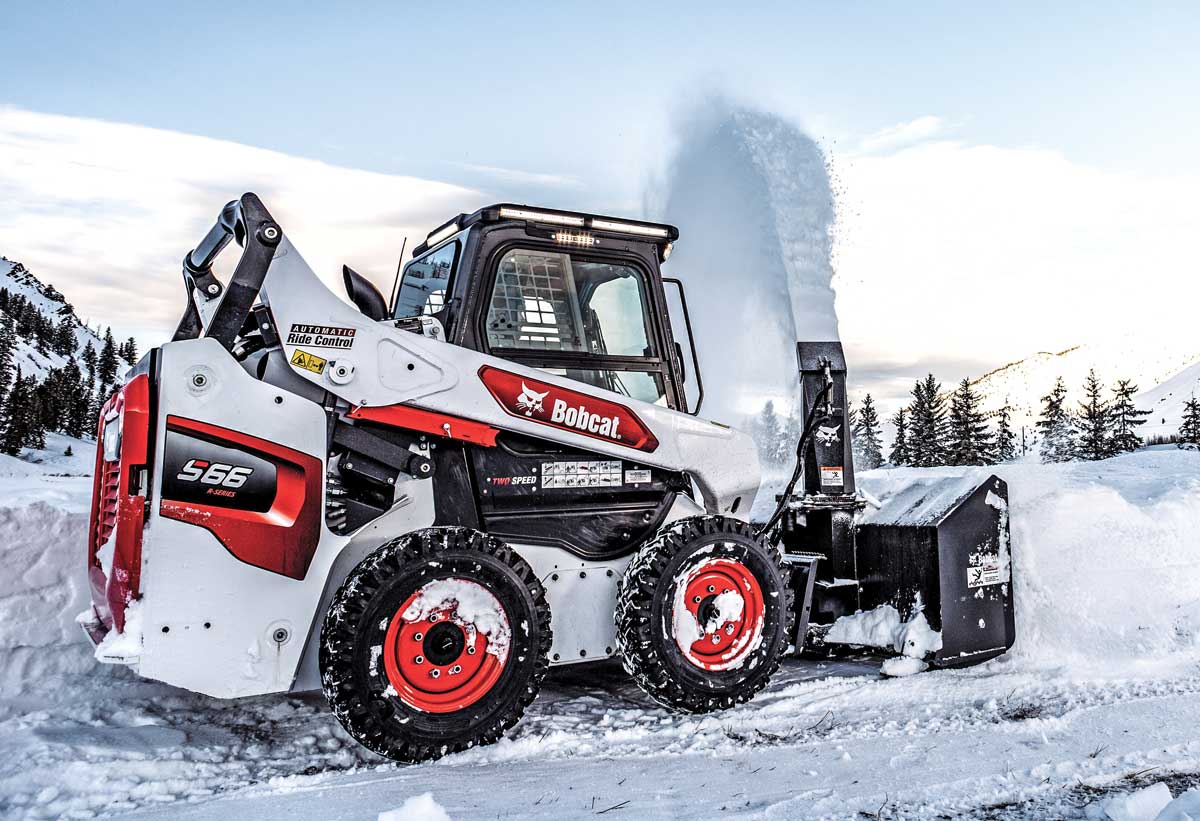 How important is the skid steer loader to American culture? Well, the Smithsonian's National Museum of American History acquired 56 cu ft of records from Bobcat Co. way back in 2009, which it at one point put on display, honoring the compact equipment manufacturer, specifically its and Melroe Mfg.'s invention of the skid steer. So, it's Smithsonian-level important.
But no matter how good an idea is, someone is always going to try and do it better. In the mid-'90s, another small Midwestern equipment manufacturer called ASV decided to build a rubber-track version of those small loaders; Japanese-based machine maker Takeuchi was also building one at the same time. These machines, dubbed compact track loaders, quickly grew in popularity thanks to the increased flexibility their undercarriages gave. Today, tracks greatly outsell rubber-tired variants — something like 80,000 track loaders vs. 30,000 skid steer units a year — noting that we've heard there's been an uptick in skid steer sales due to supply chain issues making it difficult to source more popular machines.
So, if you're looking for a new machine this new year, track loaders are more popular but sometimes harder to find. Still, each unit has its place. Rolling on rubber or (on rare occasions) steel tracks with a dedicated undercarriage, compact track loaders can spearhead operations and navigate jobsites with more flotation than wheels — especially in the wet weather months, heavy brush conditions and low-ground disturbance applications. A dedicated undercarriage also gives added tractive power (great in dozing operations) yet dispenses the weight of the entire machine through multiple track contact points for a lighter footprint than a skid steer.
Want Wheels?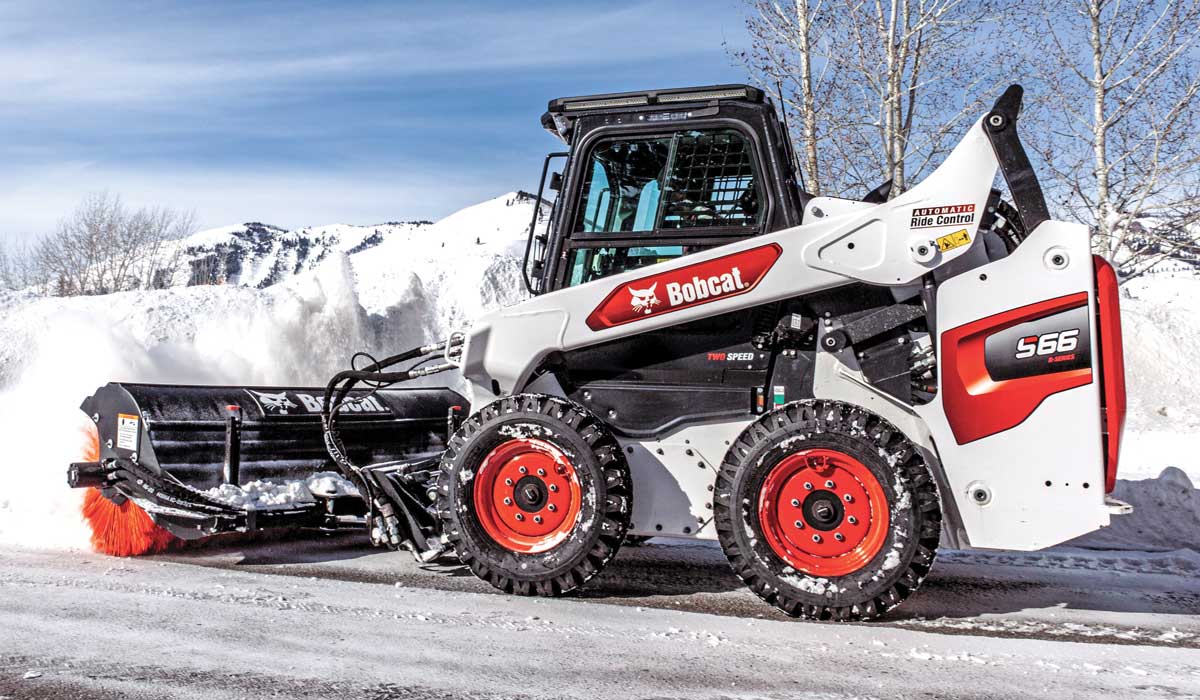 Bobcat S66 Skid Steer
Bobcat's S66 R-Series skid steer is engineered to take on your toughest jobs, even when working in tight areas. This 74-hp, vertical-lift-path machine comes standard with two-speed travel and Bobcat Super Float tires for precision turning, skidding and maneuverability with minimal soil disturbance. Bobcat also touts the S66's powerful lifting capabilities, fast cycle times, ergonomic controls and in-cab display featuring machine information and corresponding performance data, which help to maximize productivity. Plus, an inline engine and durable direct-drive system, lift arms with cast-steel construction and an improved cooling system make even your most challenging workdays easier.
WOC Exhibitor Booth #3177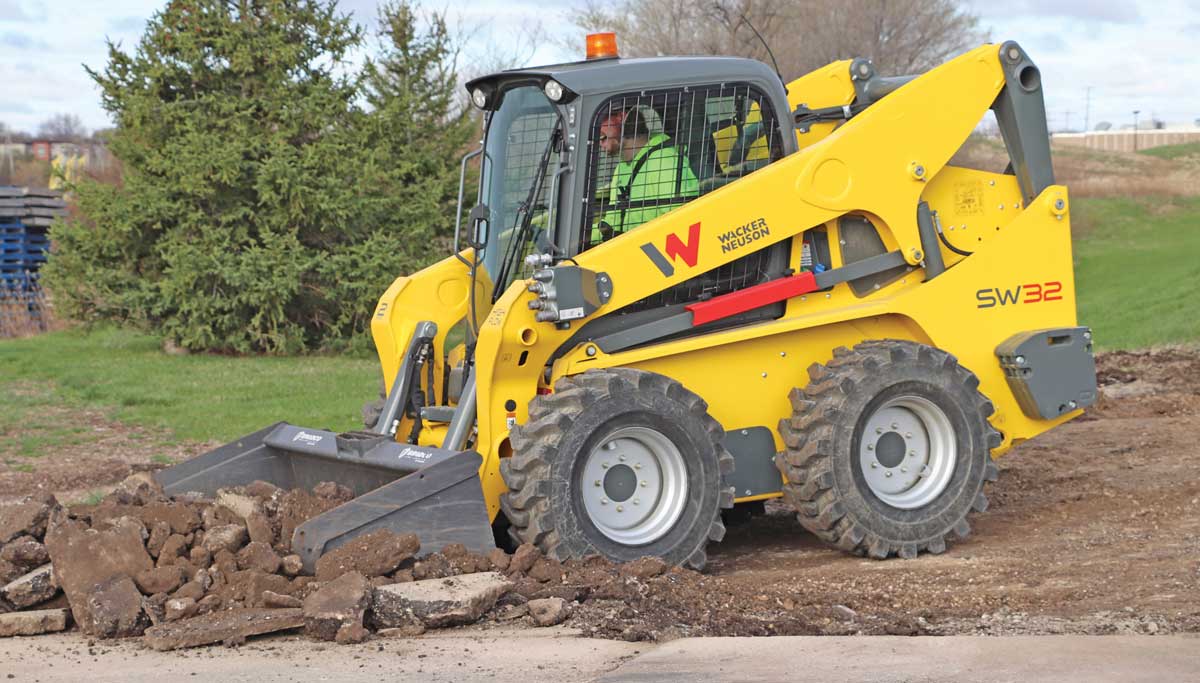 Wacker Neuson SW32 Skid Steer
Powered by a 100-hp Kohler KDI 3404 engine, Wacker Neuson's SW32 brings maximum power and efficiency to any jobsite. The SW32 skid steer offers a rated operating capacity at 50 percent of 3,200 lbs and the vertical-lift arm provides a hinge-pin height of 134.8 in., which is ideal for using pallet forks and loading high side trucks. Wacker Neuson's SW32 offers a standard two-speed transmission that increases travel times on the jobsite giving the operator more time throughout the day to get more tasks completed. The large 40-gal fuel tank gives the operator more time in the comfortable cab and less time spent refueling.
WOC Exhibitor Booth #W3905
"We wanted a machine with the abilities a skid steer loader offers, but one that could work in more places and in more difficult terrains," says Buck Storlie, product manager at ASV, describing the genesis of the category. "Today, we feel we have a strong argument that a tracked machine offers contractors way more value in its ability to do so many more things. There are no flat tires, rain and mud aren't problems and all that means contractors can get way more usage out of the machines."
Good insights, but counterpoint: Skid steer loaders still reign supreme on a plethora of curbed concrete, asphalt and paved jobsites. "Skid steers are best suited for applications when working on stable or hard surfaces," agrees Luke Gribble, solutions marketing manager with John Deere Construction and Forestry. "They also tend to have higher top end speeds, so larger jobsites can benefit if the machine is having to go from one end of the job to another throughout the day."
A skid steer loader also weighs less than a comparably sized track loader, allowing for more flexibility in transport. That's key in rental. Skid steers are also often preferred in applications like concrete and asphalt work, snow removal and agricultural tasks. As they say…
Application Is King
Although those two categories seem well defined, there's still a lot to contemplate when it comes to selecting the best machine for your business, cautions John Dotto, product application and training specialist at Wacker Neuson. "In reality there is quite a bit of complexity when considering these two machines because of how advanced the modern loader has become," Dotto explains. To help determine which one is the best fit, he suggests considering these critical questions:
What do I need from a performance and dimensional perspective — horsepower, pushing/tractive forces, lift height, lift orientation (vertical vs. radial), reach, ground clearance, cab height and width?
On what types of surfaces and jobsites will the loader perform best? Tracks vs. wheels?
What attachments do you need? There is a huge variety of types and sizes to choose from.
Is daily and periodic maintenance easy to access and perform? What type of aftertreatment systems are available, and which types provide the most efficient worry-free operation?
Is my dealer trained and certified by the machine and engine manufacturer so that more complex systems can be diagnosed quickly to keep the loaders on the job?
What are the different control systems available? Manual, servo or pilot controls? Selectable joystick controls with ISO or H patterns?
What type of amenities and technologies do you require? Heated- and air-conditioned cab, automatic ride control, auto idle and telematic services?
By the way, how much will all this cost?
"Your application will naturally dictate your list of must-haves and deal-breakers," Dotto adds. "But, as a general rule, the more versatile you can make an individual piece of equipment, the more potential earnings you can make on your machine investment."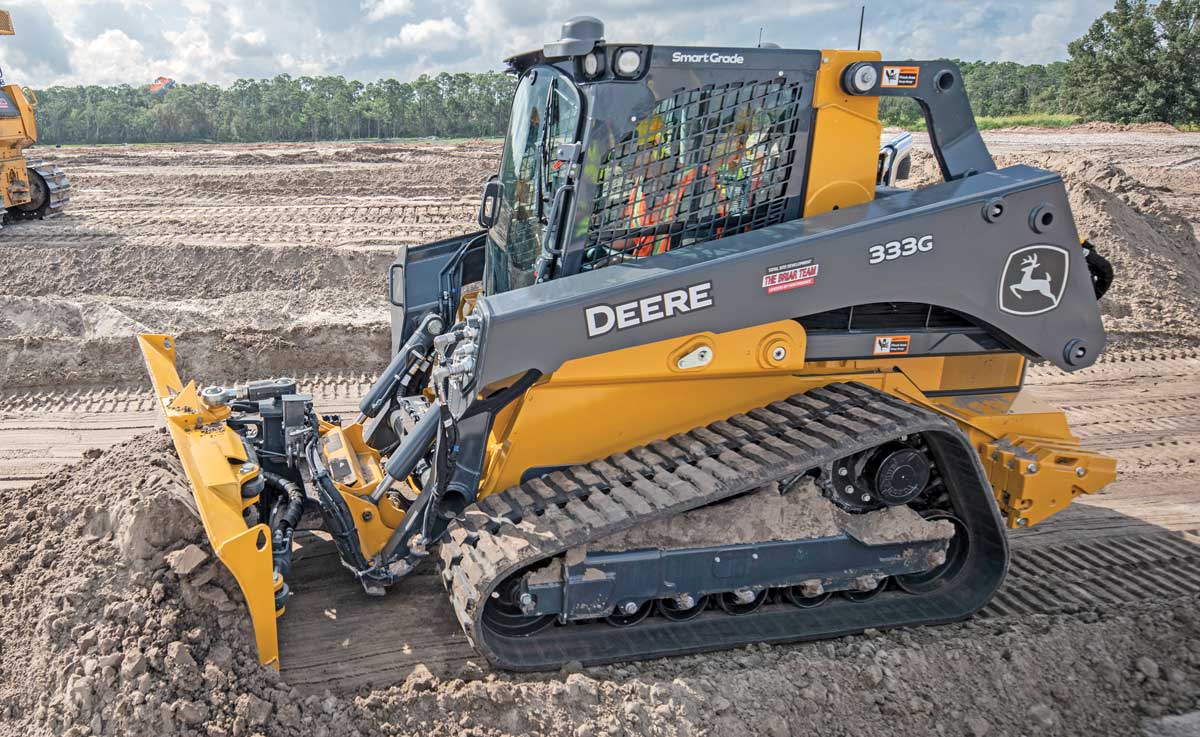 Compact track loaders can spearhead operations and navigate jobsites with more flotation than wheels.
Implements and High Tech
Versatility starts with attachments. Choosing the right type and size of attachment will depend on the job and category of attachment, which range from buckets and breakers to brooms and bale spears. Let's take trenchers as an example. A light- to medium-duty trenching job will most likely require a standard-flow trencher attachment with a 2- to 3-ft dig depth, while a heavy-duty trenching job might need a 3- to 5-ft dig depth trencher featuring hydraulic side-shift for trenching close to buildings, dual augers to move spoil away from the trench and high-flow hydraulics to cut with speed. Plus, there's decisions on teeth, chains and beyond. The point is: There's a lot to consider with each type of attachment category.
Here's a big key: Definitely understand flow (gpm) and pressure (psi). Operators will need to match the attachment to the tool carrier with the corresponding specs. Sticking with our trencher example: Typical trencher flow and pressure requirements for small skid steers and track loaders can range from 8 to 20 gpm with hydraulic pressures ranging from 1,750 to 3,000 psi. Trencher and flow and pressure requirements for mid-size to large skid steers and track loaders can range from 10 to 50 gpm with hydraulic pressures ranging from 2,000 to 4,000+ psi. Work with a dealer. Skid steers and track loaders can also be equipped with high-flow hydraulics to operate the most powerful attachments (like an asphalt planer or brush cutter). High flow or standard flow, each attachment category will require its own research project, and the rental houses and dealer lots are always willing to help.
Sarah Peckskamp, product marketing manager at Doosan Bobcat North America, says a lot of contractors are going for more auxiliary hydraulic performance. She notes Bobcat encourages contractors to think through what they may need and then consider buying a machine that outmatches it. "This provides an opportunity to think through future jobsite needs," she says, "and purchase a piece of equipment that can help grow their business into the future."
These attachments are being enhanced with more output and high technology. Via sophisticated digital control panels, operators can automate routine tasks such as boom settings, attachment speeds, hydraulic flows, wheel speeds, ride control and return-to-dig functions. There are visibility enhancements like backup cameras and deluxe LED lighting outputs that are helping companies stay productive longer. Telemetry systems can be installed to track and log all machine functions, spearhead maintenance schedules and perform security measures like geofencing.
"At Bobcat, we encourage owners to think about the most frequent work challenges they deal with," says Peckskamp. "For instance, do they often run a planer or a trencher attachment? Then we encourage them to learn about the benefits of speed management and steering drift compensation technology in our selectable joystick controls, which are designed to maximize attachment performance. Or do they haul costly materials day in and day out? Then they should consider opting for performance features like automatic ride control and dual direction bucket positioning that help save time and money by minimizing material spillage."
Skid steers and track loaders come in all colors, sizes and configurations. Serving this expansive market are at least 12 major brands of skid steers and track loaders in North America in 2022: ASV, Bobcat, Case, Cat, Gehl, JCB, John Deere, Kubota, LiuGong, Mustang by Manitou, New Holland and Wacker Neuson. There are a lot of different types of machines on the market. The Bobcat brand alone offers 12 different sizes of skid steers. John Deere offers five different compact track loaders, including its new 333G SmartGrade compact track loader — a machine specifically designed for grade control automation. The 333G SmartGrade is an example of forward-looking manufacturers designing more market-specific machines, upfitted with features and technologies for focused applications, as opposed to traditional do-it-all utility units. So, times are changing.
Thinking Tracks?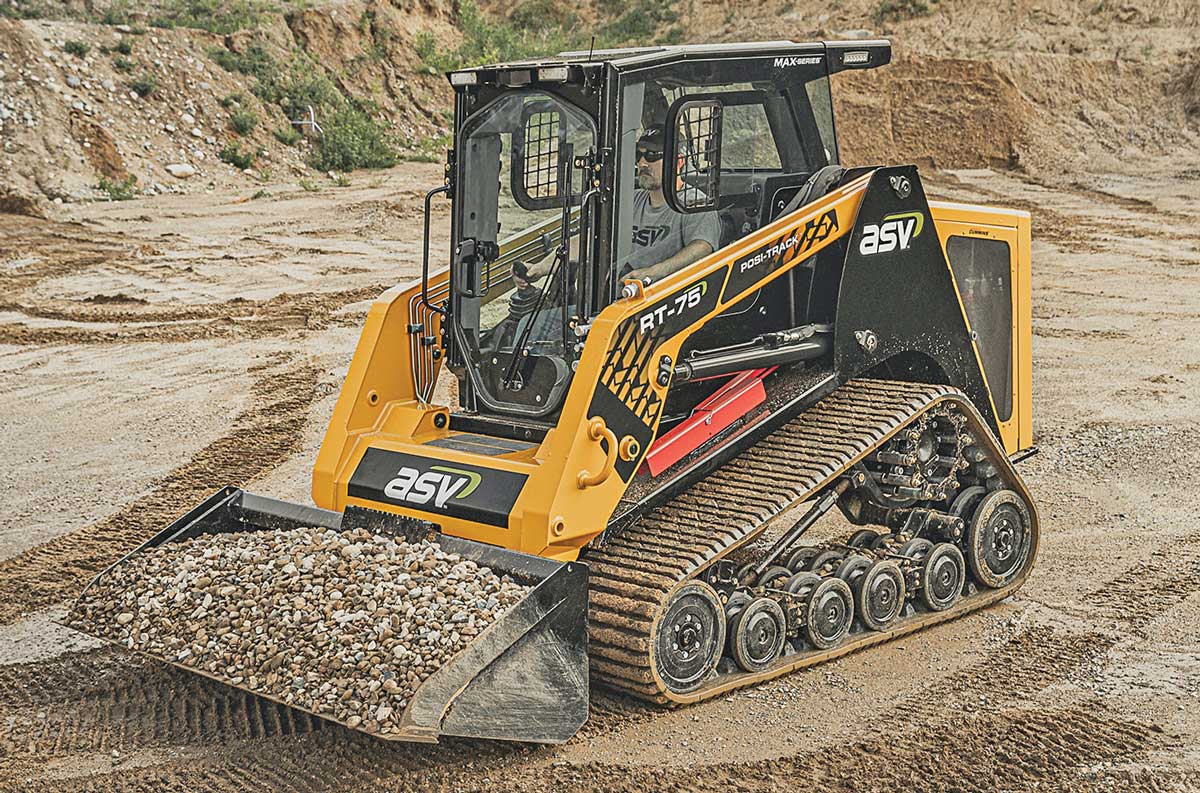 ASV RT-75 Compact Track Loader
ASV's RT-75 compact track loader features a Cummins 2.8-liter turbocharged diesel engine churning out 75 hp and 221 ft-lbs of torque. ASV says that's 13 percent more than the machine's 80-hp predecessor. The torque is transferred to the ground through direct-drive hydraulic motors. And there's a Heavy-Duty version of the RT-75 that delivers maximum power, without compromise, during high intensity jobs. The RT-75 also features ASV's next-generation Max-Series features, patented Posi-Track technology, longer run time and less maintenance.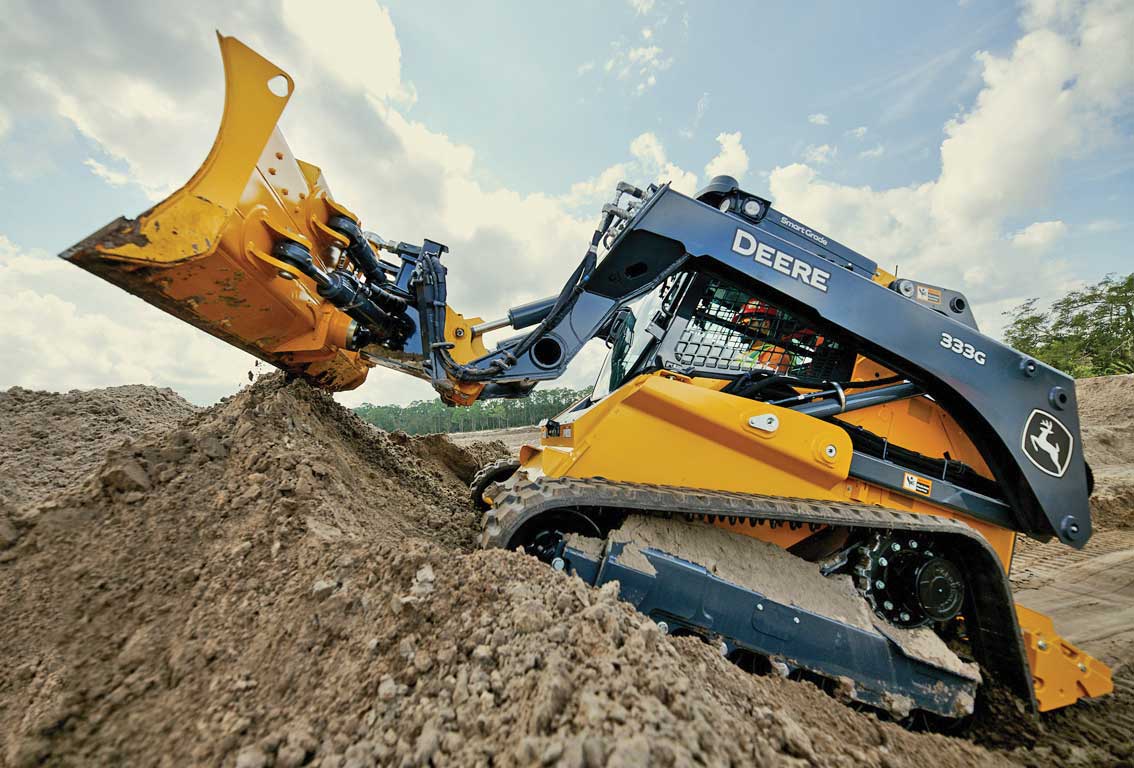 John Deere 333G Compact Track Loader
Currently, the 333G is John Deere's largest compact track loader model. It features more power under the hood and increased lift height, reach, stability and breakout force than previous generation Deere loaders. Deere has also added several ergonomic features to the machine, such as an optional heated seat, side lighting and rearview camera. The 333G is also the first Deere compact track loader to feature the company's SmartGrade fully integrated 3D grade-control technology. A new "Beast Mode" powertrain setting delivers extreme pushing power, and bucket breakout forces deliver the tractive effort and leverage to carve out clay, power through piles and handle heavy loads.
WOC Exhibitor Booth #W1540
Of course, the biggest choice might simply be, wheels or tracks?
"We're known for CTLs, but we still make skid steer loaders, too," ASV's Storlie says. "Because they still have a place on many jobsites. That said, skid steers are a little bit more of a niche machine today. But there's no question they're the right choice if you spend a lot of time working on asphalt or concrete surfaces or want to do snow removal work because they have both the ground speed and the traction to do so."
According to Gribble, knowing the typical ground conditions you will encounter is one of the more important factors to consider when choosing between a skid steer and track loader. "When you need lower ground pressure or better flotation, a tracked machine is the way to go," he says. "Compact track loaders are also going to provide a lot more stability and allow you to work on steeper slopes. And, if you know you are going to be lifting heavy objects or doing a lot of clearing or demo work, a track loader is a great option to consider as they typically have a higher lifting capacity and more pushing power than skid steers."
They both have their place on jobsites. Careful consideration — and a few trial rentals — can quickly help you determine which one is the right machine for your business.
One final trend we'll mention: Both categories are getting larger and offering more engine and hydraulic power. Here's the perfect example: Case Construction Equipment and sister company New Holland Construction introduced the TV620B and C362 compact track loaders, among the largest and most powerful track loaders ever built. The specs are the same for each brand — a 114-hp, 6,200-lb rated operating capacity loader delivering best-in-class breakout forces — stuffed with loads of standard features (adjustable electro-hydraulic controls, high-flow hydraulics, auto ride control, one-way self-leveling, hydraulic coupler, auto-reversing fan, LED lights and a one-year subscription to SiteWatch telematics).
With all of that in mind, I highly suggest you read more with our digital edition right here.
Jack Roberts is a freelance writer for Compact Equipment. Tags: ASV, Bobcat Co., January 2021 Print Issue, John Deere, Wacker Neuson