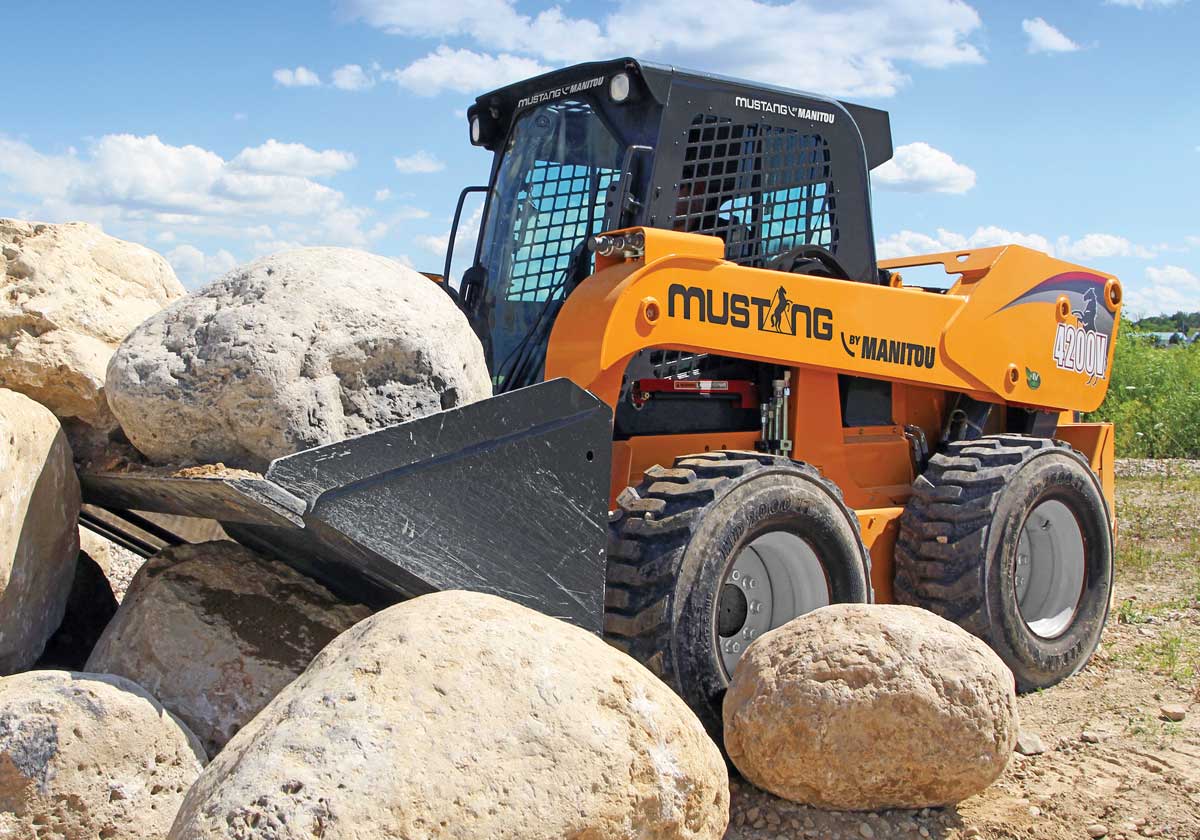 Building High-Performance Skid Steers for More than 50 Years
Mustang by Manitou began in the 19th century as the Owatonna Mfg. Co., an agricultural implement manufacturer that has since grown into a 21st century compact equipment powerhouse. Mustang by Manitou is among the first skid steer loader manufacturers in the world.
Mustang by Manitou currently offers a broad range of nine skid steer loader models. Raw power, which is considered a Mustang by Manitou hallmark, is provided by high-output, high-torque engines on every model. Hundreds of attachments are easily interchangeable to expand the uses of a Mustang by Manitou skid steer loader. The small- to medium-frame Mustang by Manitou skid steer models include the 1050R, 1350R and 1650R. With rated operating capacities ranging from 1,050 to 1,650 lbs, these radial-lift skid steer loaders are characterized by their high performance in a compact frame. With engines rated from 34.7 to 69.9 gross hp, there is ample power to complete the most demanding applications, says the company.
Mustang by Manitou 1900R, 2200R, 2600R, 2700V NXT2, 3300V NXT2 and 4200V large-frame models complete the skid steer loader range. These workhorses are loaded with features that other manufacturers consider optional, says Mustang by Manitou. Standard hydraulic self-leveling for performance and mechanical suspension seats for comfort are two examples of many. Mustang by Manitou models 1900R, 2200R and 2600R are radial-lift-path models, while the 2700V NXT2, 3300V NXT2 and 4200V are vertical-lift-path models.
The 4200V is the newest and most powerful Mustang by Manitou skid loader. With an operating weight of 11,665 lbs, it is one of the largest skid loaders offered on the market today. A vertical-lift path of almost 12 ft provides dumping and loading performance, while Mustang by Manitou's trademarked Hydraglide system delivers a smoother ride with less material spillage. Performance is enhanced with high-flow auxiliary hydraulics that offer hydraulic flows up to 41 gpm. The Mustang by Manitou 4200V is the ultimate tool carrier — coming standard with the features needed to operate attachments such as mulching heads, cold planers, rock wheels and much more, says the company.
All Mustang by Manitou loaders are equipped with universal, mechanical, quick-attach plates for accepting a range of attachments. A hydraulic Power-A-Tach system is optional to facilitate easy change-overs. High-flow auxiliary hydraulics are standard, as is self-leveling, on many models. Operator comfort and safety are provided through a standard Level 2 ROPS/FOPS structure. The roomy, quiet operator area can be configured to operator preference through a variety of options, including heat and air conditioning. With a wide variety of Edge attachments available, Mustang by Manitou skid loaders are easily transformed for any project need.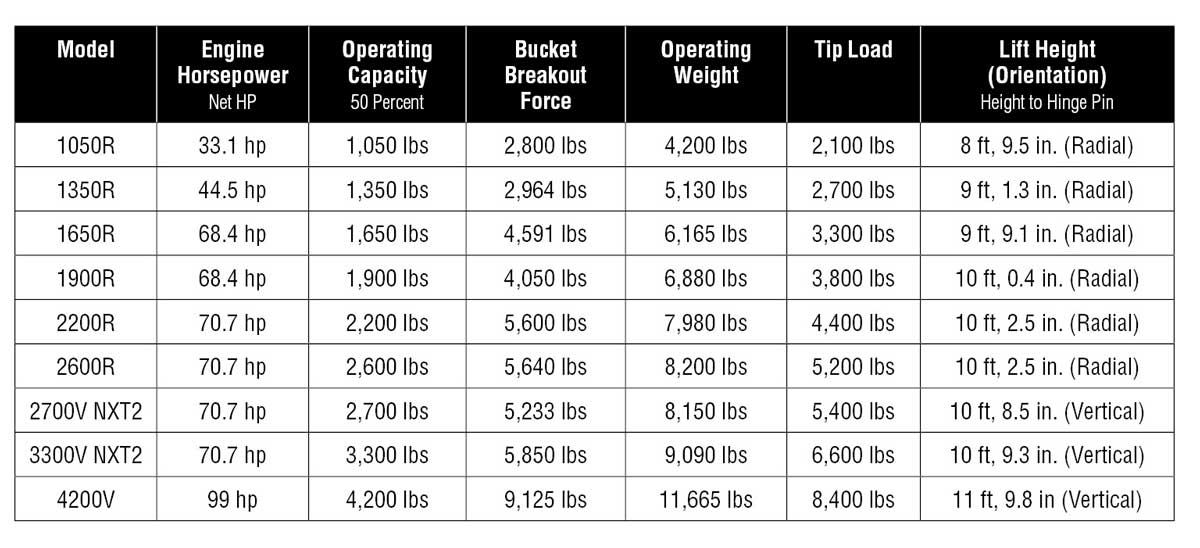 Advice to Buyers
"Skid steers work in a wide variety of environments and the factors that go into making purchase decisions must account for several variables," says Nathan Ryan, product manager of Mustang by Manitou skid and track loaders. "For example, for use in highly congested areas, the buyer must strike a balance between machine dimensions and overall performance in order to select the proper model for the job."
Tags:
July August 2021 print issue
,
Mustang by Manitou
,
Spec Guide
,
Spec Guide 2021