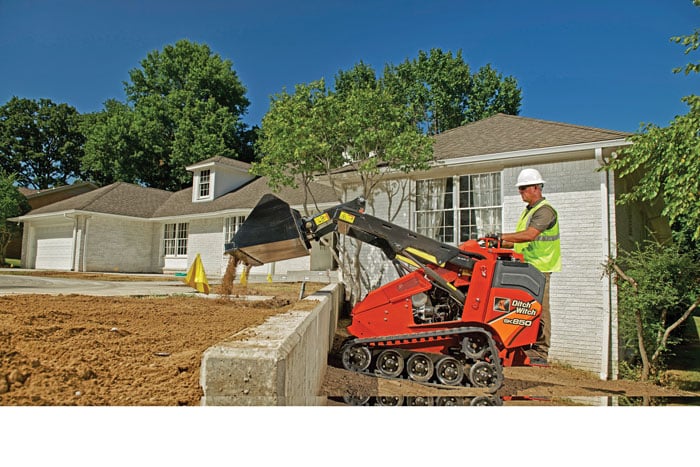 Compact tool carriers are tiny compared to construction site behemoths that shake the earth when they pass. But don't be fooled: Development of the compact tool carrier (a.k.a. compact utility loaders, mini track loaders and mini skid steers, depending on the manufacturer's brand) and its array of attachments have been one of the major equipment stories of recent years in construction and utility industries. Just ask Dave Lowell, who manages the landscape construction division of Snow & Sons Tree & Landscaping.
"We cannot imagine working without one of them now," says Lowell, who for nearly two decades has been moving materials, rock, and, yes, snow at Snow & Sons in Greenfield, Mass. He was there a dozen years ago when the company purchased its first compact tool carrier, a Toro Dingo. "A fellow landscaper in town that we worked with had bought one. When we first saw it, someone said it was a $15,000 wheelbarrow on tracks. It didn't take us long to appreciate it. We saw what it could do and where it could go and we went out and bought one," he recalls. "Then we bought a second one."
That summarizes the short history of Snow & Sons compact tool carriers, the Little Machine That Could. It quickly demonstrated that it not only could carry a wide assortment of tools to a job, it knew what to do with a tool when it arrived. Actually, the dismissive description of the machine as a "wheelbarrow on tracks" wasn't far off in the beginning, but manufacturers have evolved with both walk-behind and platform-ridden machines. Current brands include Vermeer, Bobcat, Boxer, Ramrod, Powerhouse Prowler and Toro's aforementioned Dingo. Ditch Witch is also one of the biggest brands in compact tool carriers today — its "mini skid steers" and its "Zahn" models have become an industry favorite for small, versatile attachment-takers.
All of the machines and their attachable tools have in common the ability to reduce crew size. "People ask, 'Why not use a bigger machine?'" Lowell says. "Well, the smaller machines enable us to work efficiently in spots we would not be able to work with full-size machines. We otherwise would be depending on a lot of labor to get those jobs done."
"It is 100 percent because of the savings in labor costs that a contractor gains by working one of these machines," says Dan Beauregard, greater Boston area sales representative of Ditch Witch for equipment supplier Jesco Inc. "From what I hear from customers, the mini is replacing two to three guys in their labor force."
Costing two-thirds less than a full-size skid steer loader, a compact tool carrier has become the handier, cost-effective choice for numerous tasks that skid steers previously were cranked up to do. Its popularity is driven by its numerous attachments, coupled with a size that lets it work in tight spaces. Beauregard says the mini is steadily growing in use among a core group — landscape contractors and tree removal firms.
"Tree removal companies working in backyards cut down trees, carve off limbs and cut the trunks into sections," he says. "Then they use a log grapple attachment on a mini and carry the brush from the backyard to the chipper in the street and load it directly into the chipper. After the trunks are cut in 8-ft sections, the mini loaders pick up the pieces and carry them to the truck on the street."
Snow & Sons is definitely a believer in the compact tool carrier. In the company equipment yard are two full-size wheel loaders, two mini excavators and two compact track loaders. But also in the mix are five compact tool carriers — four ride-behind SK model Ditch Witch tool carriers and a walk-behind trencher. The four SK units were each mated to a snowblower attachment in January and February and liberally employed after New England snow storms. The units were carried to the properties of commercial and residential customers to clear smaller driveways and pedestrian crosswalks.
That's the machines' winter work. In growing and building seasons, Snow & Sons use Ditch Witch SK compact tool carriers with an assortment of attachments to perform several tasks. They are fitted with an irrigation trencher attachment or a vibratory plow so they can slice through sod and subsoil to insert irrigation lines. Lowell says the SK 755 has "plenty of power" to drag the implements through New England soils. When a new lawn is ordered by a customer, Lowell turns loose an SK to loosen and level the ground by pushing and powering a Harley box rake across it.
"It does a beautiful job preparing the soil," he says, with the platform-riding operator leaving behind conditioned dirt void of rocks and debris. If a backyard slate patio is ordered, the tool carrier's buckets are the rock-mover of choice.
For a customer contracting with Snow & Sons for gardening service, the SK mini machine buckets remove unwanted soil and haul in new soil and plants. If a new pool is being relined in a poorly accessible backyard, Snow & Sons compact tool carriers fitted with forks cart away old materials and deliver new to poolside.
Lowell runs five construction crews at Snow & Sons, where crew foremen typically operate the compact tool carrier. However, other crew members are trained to operate it, a process made easier by intuitive control systems. Few safety issues are involved in running the machines, Lowell says, though operators are taught that carrying buckets high while traveling on slopes tempts the rollover gods. The otherwise slow-moving machine also can pivot surprisingly quickly. Conceding the value of the mini's nimbleness, Lowell nonetheless says it is the tools that are the critical difference.
"We have so many attachments, which make the machines unbelievably versatile," he says, rattling off a list of attachments: buckets of different sizes and types, trencher, power rake, snowblower, snow plow, a broom for dirt, snow or sand removal, vibratory plow and grapple. What is even sweeter, the construction manager says, is that the attachments for the Ditch Witch machines are interchangeable between SK650 and SK755 models. "So when we got the newer machines, we didn't have to purchase new attachments."
Ditch Witch says its compact tool carriers will accept more than 70 attachments, but Beauregard says only a few are regularly sold. A bucket and a pallet fork are most often requested, with a trencher, auger and grapple also popular. "Once they started using the grapple, that market grew very rapidly. The Harley rake has been a good one from the start."
Aftermarket suppliers like Paladin and Bradco periodically introduce something new, but Beauregard says "unless you can prove instantly that it is going to save labor, it takes a while for a new attachment to get popular." Some contractors often do their own thing: They conceive of something that might work on their compact tool carrier, buy a blank attachment plate and fabricate their own attachment.
It has been years since people chuckled when first seeing a compact tool carrier, Beauregard says. "Now, it is quite the opposite. Now they are the focus of a trade show. We highlight the compact tool carriers to draw people in."
Giles Lambertson is a freelance writer for Compact Equipment, based in Uvalde, Texas.
Tags:
Bobcat
,
Boxer
,
Ditch Witch
,
March 2015 Issue
,
Mini Skid Steers
,
Powerhouse Prowler
,
Ramrod
,
Snow & Sons & Tree & Landscaping
,
Toro
,
Vermeer