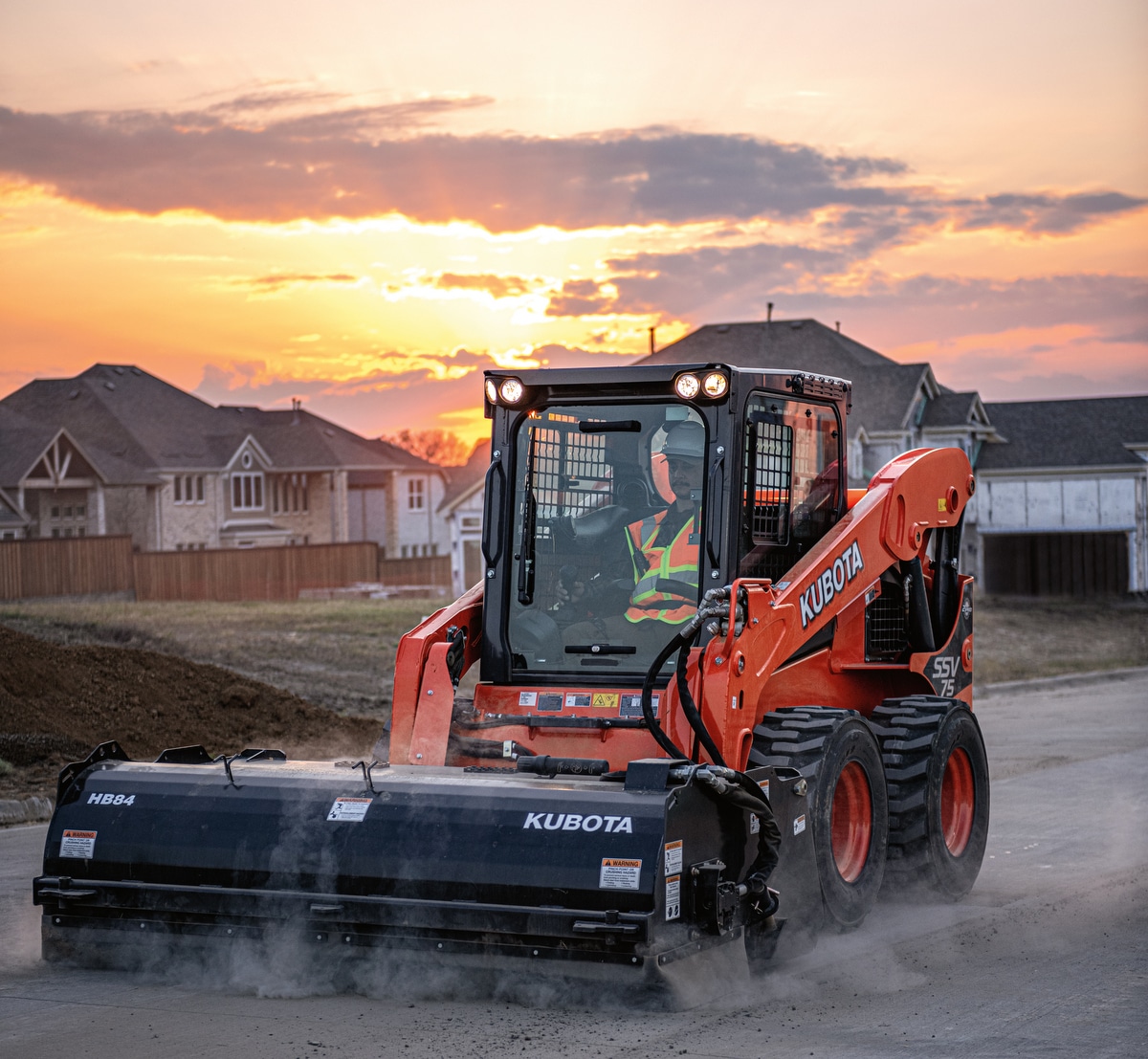 Getting the Job Done with Maximum Efficiency and Comfort
This post is a part of Compact Equipment's annual Spec Guide. View other brands' product and spec info by clicking this link. View the magazine version of these summaries by clicking right here. Sign up for the print edition right here. Now enjoy!
Kubota's SSV Series brings skid steer power and versatility to the company's core rental, construction and agricultural segments. The SSV Series includes the 64-hp SSV65 and the 74-hp SSV75. This line is complemented with a line of Kubota-branded attachments, including pallet forks, tillers, power rakes, augers, sweepers, snow blades and snowblowers.
Several innovative features on the SSV Series set it apart from competitor models, meeting the needs of construction, rental and agricultural customers, says Kubota. For example, standard on all Kubota SSV cab models is a unique, slide-up, front-entry door that rises overhead instead of swinging out. This design allows the door to be opened regardless of loader position, so that the operator can enter and exit the machine even when the skid steer is in a tight position. Other standard features include a spacious, dust-resistant pressurized cabin with an optimized climate control system and side lights that allow better visibility and safer operation at dusk. The SSV65 and SSV75 feature hand-and-foot controls, and an optional multifunction lever feature is available, allowing for fingertip control of major machine and implement functions. An optional on/off self-leveling and ride-control package is also available.
The SSV Series is powered by an EPA Tier 4-certified, four-cylinder Kubota diesel engine. With standard two-speed travel and optional high-flow hydraulics, Kubota's vertical-lift skid steers meet the needs of customers across construction, rental and agriculture segments, delivering performance when loading trucks. The SSV65 boasts a rated operating capacity of 1,950 lbs and bucket breakout force of 4,839 lbs. The SSV75 has a rated operating capacity of 2,690 lbs and bucket breakout force of 5,884 lbs. The loaders on the SSV-Series are easily capable of dumping into a dump truck with 10-ft sides. Borrowed from Kubota's compact track loaders, the proven loader arm design with vertical geometry can push and dig as good as a radial machine. It's reinforced in all the right areas, including critical connections to the coupler and rear cross bar — expertly designed to be a workhorse.
On a jobsite, contractors strive to minimize downtime, and the SSV Series helps to do just that. Kubota engineered its skid steers to be easily serviced and maintained. For example, the battery on the SSV models is positioned so that it is readily accessible for service and inspection. Oil and fuel filters are placed in easy-to-access locations where drips will not leak on electrical components during changing, and bolt-on access handles were added to the cab so they can be easily replaced if damaged.
In addition, the large 26-gal fuel tank is located in the rear door for quick, clean and easy refueling, and it has enough fuel capacity to work all day. The fuel tank is well protected by the heavy-duty door with an additional inch of void between them. By taking that volume out of the engine compartment, the free space makes the daily maintenance checks less intimidating and easier to do.

Advice to Buyers
"Understanding the importance of versatility is a key component when contemplating the purchase of a new skid steer," says Patrick Baker, product manager at Kubota Construction Equipment. "Along with some of the fundamental specs such as width, weight, lift capacity, tipping load and hydraulic capabilities, it' s important to consider how a skid steer purchase can position your organization to grow and expand into business opportunities."