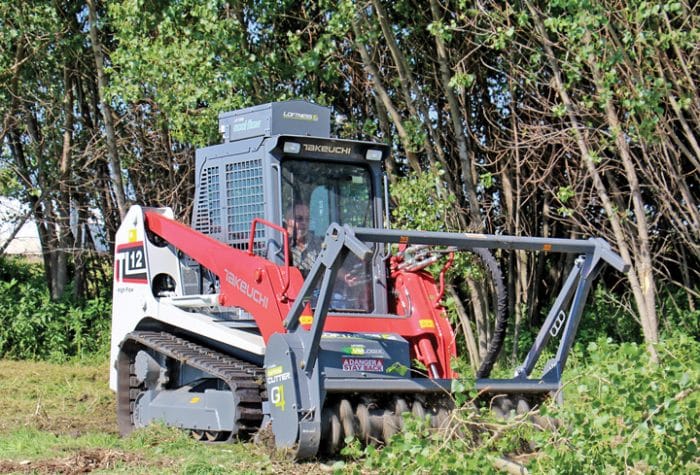 High temperatures, high-flow attachments and demanding jobs can all play a part in overheating the hydraulic systems of skid steers and compact track loaders — forcing operators to take a break to let the machine cool down. Luckily manufacturers like Fecon, Loftness and FAE offer auxiliary hydraulic coolers that keep the work going thanks to their ability to connect to the top of the loader and provide additional cooling during hot days or when the machine is being worked to the max. 
"An auxiliary hydraulic cooler provides significant additional hydraulic cooling capacity to a compact track loader or skid steer," says Mark Ferguson, product manager of attachments for Fecon. "When using high-flow hydraulics for continuous periods of time, as required by attachments such as forestry mulchers, particularly in hotter climates, this extra cooling capacity can make the difference between working all day or working for a lesser period of time before blowing out radiators or letting your machine rest to cool down before going back to work. Of course, this uptime directly relates to the productivity of your machine. Running at lower hydraulic temperatures will also help to prolong the life of hydraulic components such as pumps and/or motors, seals and O-rings."
The unit's cooling capacity is the No. 1 feature to look at when selecting an auxiliary hydraulic cooler. This ensures the cooler you select has the capability to properly cool the hydraulic oil moving through the machine and attachment, allowing operators to safely push their equipment for maximum performance. Bill Schafer, product development supervisor for Loftness, points out that the Loftness Cool Flow offers 140,000 BTUs per hour, thanks to twin 14-in.-diameter fans, an aluminum-brazed core and a peak flow of 45 gpm.
Aside from the unit's cooling capacity, Lee Smith, product manager at FAE, mentions that customers should look for a cooler that's built with quality, durable components and is compatible with the carrier and the attachment's specified gpm and psi. Other features to consider include easy access to maintenance points, responsive customer support and the extra height the cooler adds to the machine. This is important if work takes you to a height-restrictive jobsite.
"Today's coolers are typically designed with a low profile, decreasing the likelihood of damage from an impact," says Schafer. "The Loftness Cool Flow, for example, is less than 13 in. tall."
Rent or Buy?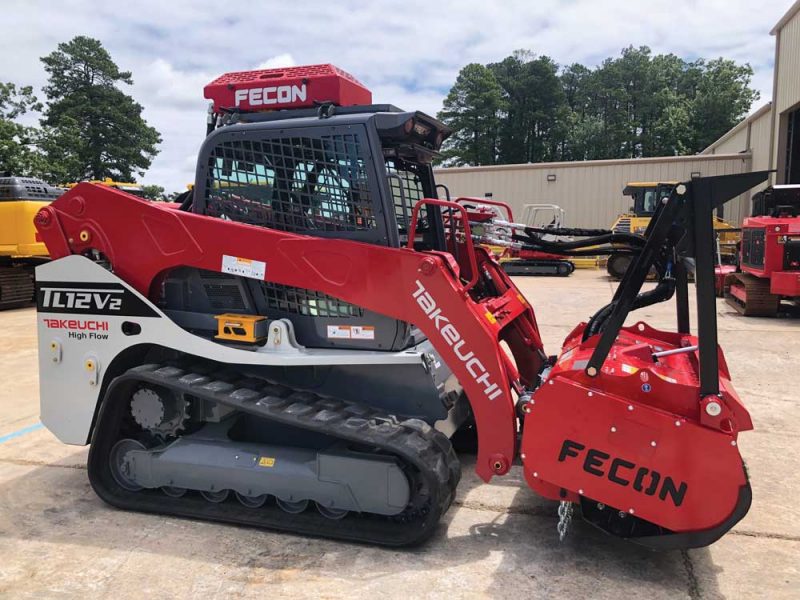 Although some rental lots may stock auxiliary hydraulic coolers, all three manufacturers surveyed for this article agree that this type of equipment is typically owned. List price for a cooler starts around $4,000 and goes up from there.
"As they are permanently mounted on and plumbed into the machine hydraulically and wired in electrically, auxiliary coolers are purchased as opposed to being rented," says Ferguson. "Fecon sells its hydraulic cooler for $4,490 for the cooler kit and offers mounting kits for several makes and models ranging from $600-plus, depending on the model of machine it's being mounted on."
Schafer adds, "The Loftness Cool Flow is permanently mounted to the roof of a skid steer, backhoe or front-end loader. A major advantage of this design is that it can provide hydraulic cooling for all of the attachments that are used with the machine. The Loftness Cool Flow has a list price of $5,280."
Install, Safety and Upkeep Tips
After purchasing an auxiliary hydraulic cooler, next up is installing it on the loader. Installation will vary depending on the make and model of the power unit. However, Schafer does offer four basic steps:
1. Disconnect the cooler's battery. 2. Mount the cooler to the top of the loader's cab. 3. Connect the hydraulic hoses. 4. Make the electrical connections.
Like with any piece of equipment, it's important to check out a cooler's operator's manual for more info and specific installation instructions. Ferguson does add that Fecon doesn't recommend an owner drilling into the loader's cab to avoid compromising its ROPS or FOPS.
Speaking of the operator's manual, it's also a great reference for any safety and best operating tips. Overall, a cooler doesn't present too many concerns while operating and is a relatively out of sight, out of mind piece of equipment. Ferguson does note that Fecon's hydraulic cooler features twin fans that are electrically powered and operators should never place their hands where the fan blades are while the power is on.
Smith from FAE adds that operators should also pay attention to the cooler's hydraulic hose routing to make sure the hoses do not rub or break. This will help lessen the chance of hot fluid leaking on the carrier or operator. Keeping the cooler clean and free of debris should also be a priority in order to allow proper airflow and keep the unit working as efficiently as possible, which leads us to maintenance…
Maintenance on an auxiliary hydraulic cooler is rather simple and starts with a visual inspection of the unit. This includes checking for any loose bolts or hydraulic oil leaks and making sure the hydraulic and electrical connections are intact. Schafer says it's important to clean the screens, cooler fins and core often to ensure optimal performance. He recommends using compressed air or a shop vacuum to remove dust and debris from the unit.
Tags:
April 2020 Print Issue
,
Fecon
,
home
,
Hydraulic Cooler
,
Loftness