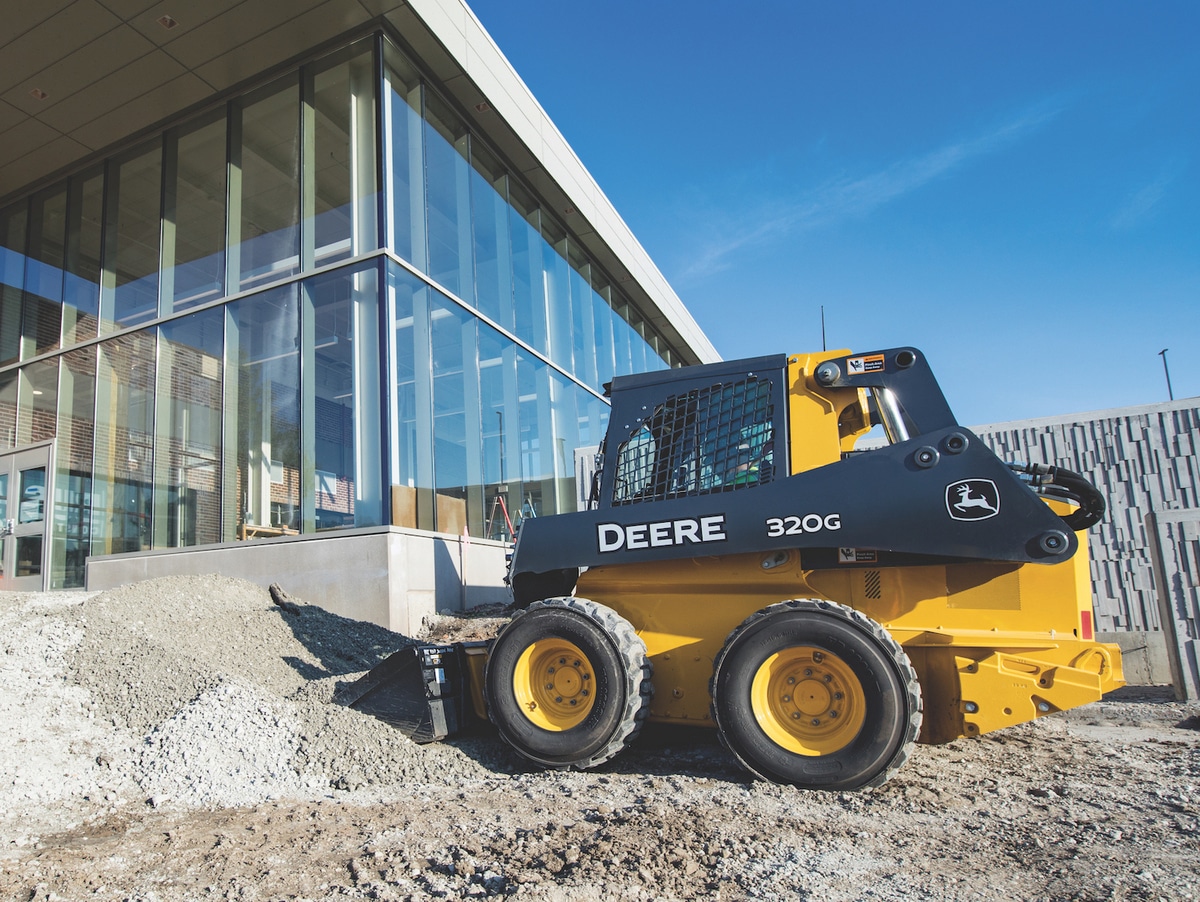 Six Models Covering All the Major Size Classes
This post is a part of Compact Equipment's annual Spec Guide. View other brands' product and spec info by clicking this link. View the magazine version of these summaries by clicking right here. Sign up for the print edition right here. Now enjoy!
John Deere has been in the business of manufacturing skid steers for over 50 years and has made great strides in continuing to improve key features of the machines that enhance the operating experience. The company continues to make quality and durable machines with a focus on performance, comfort and technology features that help customers get their jobs done in the most efficient manner possible. Today, John Deere offers six models of skid steers: two small frame machines in the 316GR and 318G, two medium frame machines in the 320G and 324G and two large frame machines in the 330G and 332G.
Small frame machines really shine when it comes to overall maneuverability once a machine is on a jobsite and also when it needs to be trucked between different sites. These machines are equipped with integrated and easily accessible tie-downs in the front and rear of the machines to ensure safe and secure transport between jobsites. Small frame skid steers also come standard with electrohydraulic controls that offer increased functionality to allow operators to customize machine operations based on performance. EH controls enable key productivity enhancements like differential steering that speeds the outside tires for quicker maneuvering and anti-engine stall that prevents an operator from unintentionally stalling the engine under heavy loads.
Mid-frame machines have been improved over time to increase productivity for customers. Bucket breakout forces have increased over time that result in the machine's better handling of things like pallets of pavers or other heavy objects. This increase in force also allows the machines to achieve larger bucket loads of materials as well. Mid-frame machines also come standard with two-speed drivetrains that can deliver speeds of up to 12 mph, allowing operators to get from one side of the jobsite to the other much quicker.
While all machines have a superbly designed cab, this design really shines through in the large frame skid steer models at John Deere. Their ergonomic design includes a larger and continuous footwell to allow for extra room and repositioning of the operator's feet to maximize overall comfort. The expertly designed HVAC system has vents spaced along the side, bottom and rear of the cab that allows the cab to remain comfortable in all seasons as well.
Visibility is also key and has been a priority when optimizing the cab design. There is clear line of sight from the operator's seat to under the boom arms to the outside of the tires that assists in preventing tire damage and grading activities. The boom and Quik-Tatch design also enable great visibility to the front of the machine when swapping out attachments. When it comes to visibility to the rear of the machine, the low sloped hood and high cross-tube on the upper linkage result in unmatched views, and the addition of a rear camera provides further jobsite awareness.

Advice to Buyers
"Tire selection for skid steers is key in helping the machine perform to its full potential," notes Luke Gribble, solutions marketing manager at John Deere. "Thinking through the most common ground conditions that the machine will be working on and also how much you plan on utilizing the machine is valuable information to share with your dealer salesperson or tire representative. For lower utilization machines operating on stable surfaces, you may want to option for a more economical tire. When thinking about using the machine more off road and in mud or snow, a thicker and more durable tread design will be needed. For operation on roads or hard packed surfaces, different tread patterns ensure that the tire does not wear as fast and can still retain qualities for gripping."