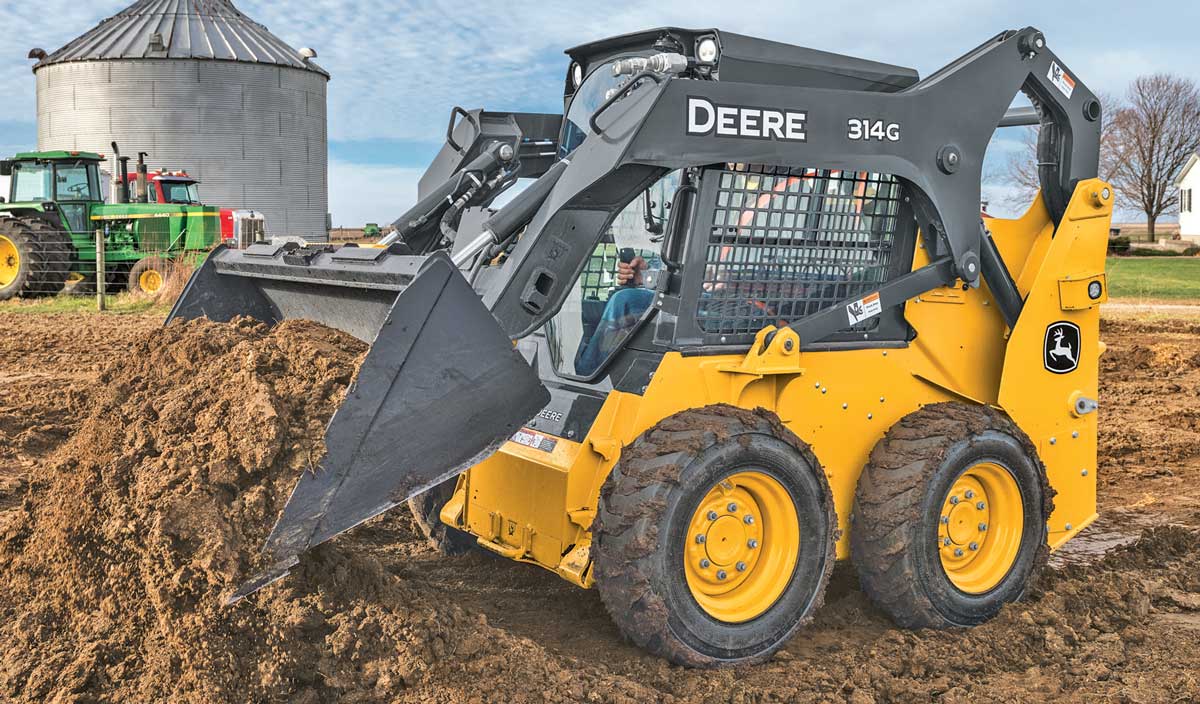 Eight Machines Focused on Great Visibility and Versatility
In February of 2020, John Deere celebrated 50 years of being in the skid steer loader business and even had a display of a restored JD24 loader model, the first skid steer John Deere manufactured, at CONEXPO-CON/AGG 2020. There have obviously been numerous updates and series since that time, but certain aspects of John Deere skid steers have withstood the test of time, including features that enhance productivity and visibility. However, when comparing the original to the current series, it's amazing to see just how much technology John Deere has incorporated into the base of the machine to take productivity to a whole new level.
Currently in its lineup, John Deere offers eight models — its small frame 312GR, 314GR, 316G and 318G, midframe 320G and 324G and large frame 330G and 332G. One of the key features on these machines is their visibility from the cab. Not only are there clear sightlines to attachments and other parts of the machine itself, but operators can back up with confidence if the machine is equipped with an optional dedicated rearview camera. The overall maneuverability of skid steers also means that in tight spaces, it's easy to rotate around to ensure you are completely aware of your surroundings before going on to the next task.
In addition, the productivity-boosting John Deere EH Boom Performance Package on the large frame G-Series skid steers automates repetitive tasks, improving jobsite efficiency and safety. This package offers several features to help trim cycle times, speed production and improve jobsite awareness by automating repetitive functions. Within these machines are also integrated safety features like the in-cab boom lock out so that exiting the machine is done safely. The boom can also be lowered manually using a hydraulic pressure relief valve from inside the cab. Finally, when needing to enter or exit the machine, operators can safely and comfortably use the grab handles located on both sides of the boom and cab.
John Deere large frame skid steers (330G and 332G) have optionality to include industry exclusive onboard grade indication that provides cross-slope (roll) and mainfall slope (pitch) of the machine within the in-cab monitor display. These are viewable as either degrees or percentages and allow real-time grade checks from the cab of the machine, which reduces the need for an individual outside the cab to check grade. This is a fully integrated solution, meaning that no additional hardware or software is required.
John Deere's entire lineup of skid steers is designed to be serviced quickly and efficiently, with the intent of lowering maintenance costs. This is accomplished by things such as grouping daily checkpoints in the rear of the machine and making them accessible by opening just one swingout door. Customers can also work more hours between maintenance with extended service intervals that keep the cost and associated downtime limited.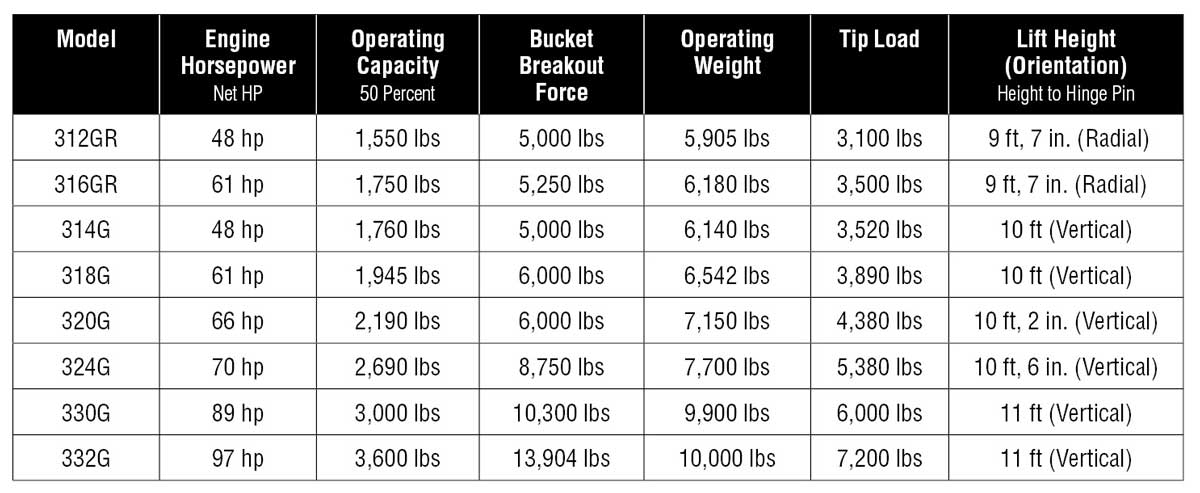 Advice to Buyers
"Remote access to critical machine information is something that is very beneficial to customers," says Luke Gribble, solutions marketing manager at John Deere. "A telematics solution provides customers with vital information on their machines including alerts, service intervals and machine performance. Telematics can also monitor a machine's location and can assist fleet managers in understanding where machines are working and also be a tool to help locate the machine in the event of theft. Telematics also allows for the updating of software and ability to diagnose problems remotely."
Tags:
John Deere
,
July August 2021 print issue
,
Spec Guide
,
Spec Guide 2021