In today's struggling construction and landscape sector, forward-thinking contractors are focused on productive and efficient solutions (even if it costs a little more upfront). Construction crews and landscapers looking to expand the value of their small equipment fleet might do well to consider a relative newcomer to the American machine family — the small, tool-carrying wheel loader.      
"Compact wheel loaders have just begun their career in North America and many contractors are just experiencing the advantages of these multi-purpose machines," explains Marcus Auerbach, director of compact equipment at Wacker Neuson (the European king of compact equipment, making small wheel loaders for 80 years). "Skid steers have been the machine of choice by default for generations of contractors in America. It took almost 20 years for the mini excavator market to develop in the United States. Increasing fuel prices and the need for a competitive edge will make more and more contractors take a closer look into
the wheel loader advantages."
European contractors are historically used to higher fuel prices and smaller worksites, so they've been capitalizing on compact wheel loaders for decades. In fact, most of the mini wheel loaders in the world (some 70 percent) are sold into the German market, where Wacker Neuson and Terex (the two sources for this article) make their machines. But a slew of North American brands (Caterpillar, Kubota, Takeuchi, Gehl and Mustang for starters) have begun offering small wheel loaders as "tool carrying" alternatives, focused on combating the skid steer dominated American construction industry with another machine that takes attachments.
The first big hurdle is of course price, which can range from $30,000 to $70,000 (though most fall in the $50,000 to $60,000 price category). When compared to a skid steer, which ranges from $20,000 to $50,000, that's a significant sticker shock. The purchase price may be higher, however, the total cost of ownership should be considered — that's the small wheel loader pitch. A compact wheel loader will provide many benefits, including a longer ownership period, lower owning and operating costs and greater productivity when compared to a skid steer in lots of applications.
"General construction is the No. 1 market for these machines," explains Tom Reith, product manager with Terex Construction Americas, which offers nine compact wheel loaders. "Landscaping, site prep, utility work and agriculture are also strong markets for wheel loaders because they offer better visibility and less maintenance than their smaller counterparts. Because wheel loaders are built to work in extreme temperatures, they excel at snow removal tasks such as keeping sidewalks, driveways, cul-de-sacs and parking lots cleared."
On compact wheel loaders, operators sit up higher, giving better visibility to the attachment and job at hand; that means more safety. It's also much safer to enter and exit the machine than a skid steer, where you must climb over an often dirty and dangerous hydraulic attachment to sit in a moderately comfortable operator's compartment. Also, compact wheel loaders articulate or use all-wheel drive (while skid steers and track loaders skid), which is: A) easier on tires; B) easier on turf and other surfaces; and C) better on fuel efficiency.  
"Compact wheel loaders are typically 20 to 25 percent higher in initial cost than a similar size skid steer, but
they save up to 30 percent on fuel and the tires can last up to five times longer compared to a skid steer," notes Auerbach. "Consequently, the monthly total cost of ownership and operation is often lower. On top of that, the life expectation is much longer. When the skid steer often has reached the end of its useful life and the owner needs to buy a new machine, the wheel loader has typically half of its life still left."
That's why asphalt and concrete contractors are using them to remove slabs and ground up material from roads and bridges. General contractors find they're great for moving building materials as well as dirt. They are becoming popular for landscapers and golf courses because they don't tear up the grass and keep restoration costs down. Municipalities use compact wheel loaders in the winter to blow snow off 48-in. narrow sidewalks and spread salt in one pass. Farmers use them to move feed, fertilizer and manure.
Wheel loaders are categorized by horsepower (typically anything under 80 hp) and bucket size, which is measured in cubic yards (1 to 3 cu yds). Boasting an operating weight between 4,000 to 20,000 lbs and a lifting capacity range of 4,100 to 12,000 lbs, compact wheel loaders are stable and sturdy. Operators have the option of choosing an articulated or all-wheel-steer machine. An articulated loader excels in indoor applications, narrow spaces and on sensitive terrain (like pristine lawns). An articulated loader is easier to control and maneuver, navigating tight corners with heavy loads. An all-wheel-steer loader is known to have more stability and maneuverability on uneven grounds such as slopes. There are plenty of options, sizes and models on the market; U.S. contractors just need to realize the cost benefits beyond that big purchase price before these mini loaders begin to gain more popularity.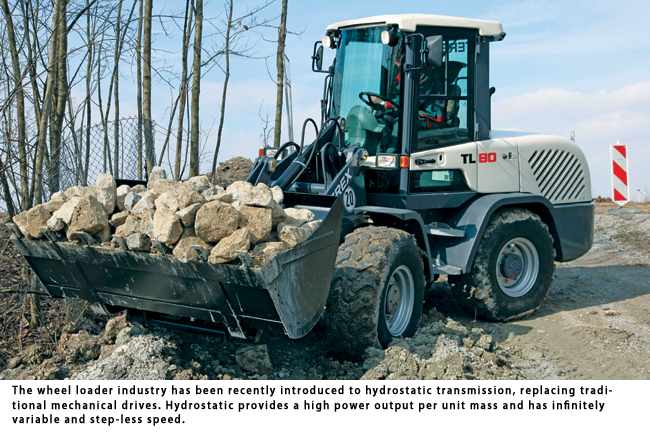 "Selecting the right loader is based on the amount of material [measured in cubic yards] that needs to be moved per hour, the weight of the material and the area that the loader will operate in," says Reith. "It is important that you know how the loader will get the material, how quickly the material needs to be moved and where the material needs to go. Horsepower and operating capacity of the loader are two important factors. Higher horsepower offers more dynamic force for pushing and production, but also translates to a heavier machine. And, know the loader's operating capacity, including tipping load and lift capacities, when spec'ing the unit for a job. You need to make sure the loader you choose can handle the materials you'll be moving."
And it's not just loading, compact wheel loaders can wield high-flow hydraulic attachments, while traveling around jobsites at speeds up to 20 mph. Augers, cold planers, grapples, snow blowers — a compact wheel loader has a toolbox full of job possibilities.
"We see compact wheel loaders as tool carriers, offering a large variety of different attachments to fit all jobsite needs," says Auerbach. "We have made a number of changes to adapt the machines to the special requirements of the U.S. markets, which is very attachment driven. To address this, the new WL 37 compact articulated wheel loader, introduced at CONEXPO, offers excellent speed [19 mph] and power. And it is the only compact wheel loader with high flow of 33 gpm, which is needed to run big snow blowers, stump grinders and cold planers."
We expect more applications and more enthusiastic owners as buyers better appreciate these growing alternatives in the American iron industry.
Keith Gribbins is managing editor of Compact Equipment, based in Peninsula, Ohio.
Tags:
Caterpillar
,
Gehl