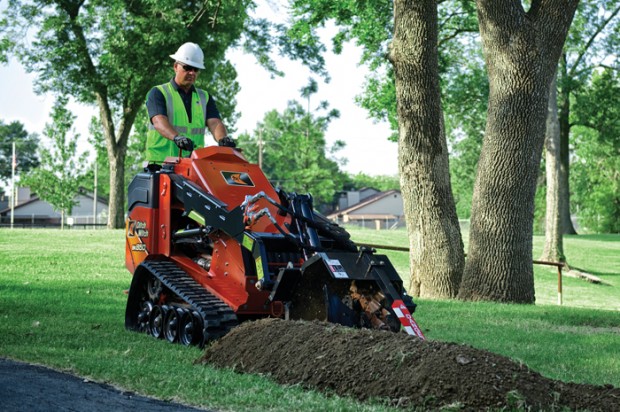 The heart and soul of a good company is the creativity it brings to a marketplace. Innovation (as we'll call it) is both the knowledge a business bestows to an industry and also the imagination in which it approaches its products and customers. In many ways, 2014 has been a tough year for contractors and manufacturers, so now it seems like an appropriate time to celebrate some of the big success stories — contractors who have become leaner and more agile, companies that have diversified and gained market share and manufacturers who have kept trailblazing with ever more efficient and innovative equipment. With this article we salute the companies (from Cat to Kubota) that have changed the commercial equipment market over the last 12 months with their unique, interesting and innovative machines, engines and technologies.
Awesome Engine and Hydraulic Power from the Ditch Witch SK850
To improve jobsite productivity for landscapers and renters, the new Ditch Witch SK850 mini skid steer (a.k.a. compact tool carrier) delivers more power to the attachment with its 37-hp Tier 4 Yanmar diesel engine. The 29-hp of hydraulic power delivered to the attachment helps operators increase performance of dozens of attachments for a wide range of tasks, including landscaping, plumbing and underground utility. Built to outperform, the SK850 features an 860-lb rated operating capacity (SAE), 83-in. hinge-pin height and 4.7-mph ground speed in both forward and reverse. A standard auto-throttle reduces engine throttle when not under load for greater efficiency. Its exclusive high-drive track system has bolt-on interchangeable sprockets and wide track rollers to ease maintenance and enhance track life. For more info, visit ditchwitch.com.
Keith Gribbins is associate publisher of Compact Equipment, based in Brecksville, Ohio.