Sometimes attachments make the machine. Nowhere does that ring truer than with a compact tool carrier (often called a compact utility loader or mini skid steer). As one of the smallest motorized machines on the equipment market, compact tool carriers are specifically designed to run 60 to 70 different implements — hydraulic and non-hydraulic attachments like buckets, breakers, brooms, blades, backhoes and box scrapers (and that's just the Bs).
The entire idea behind the compact tool carrier is offering versatility in a small package. With the right set of attachments, this mini constructor can replace a whole crew of manpower, working in confined residential areas with minimal footprint. Compact tool carriers are most popular in the landscape market, where these units are replacing all of those one-job-only work tools such as dedicated augers, trenchers and wheelbarrows. But their reputation is growing in the construction sector too, especially among fencing, demolition and residential contractors who now have a machine that's smaller than a skid steer, but just as versatile.
These units are not necessarily cheap (most falling in the $14,000-$25,000 price range), so before you choose to buy one it's wise to do your homework. To help out, the crew at Compact Equipment started the reconnaissance mission. There are five major manufacturers of compact tool carriers in the equipment marketplace. Over the next several spreads, we've compiled product summaries, histories, prices and photography of each manufacturer's machine line (from Bobcat to Ditch Witch). Compare each product line, visit multiple dealers, test drive several units and find your ultimate mini tool carrier for the new summer work season.
Keith Gribbins is managing editor of Compact Equipment, based in Peninsula, Ohio.
Vermeer Mini Skid Steers
The Iowa Ag and Utility Giant Offers Four Versatile, Productive and Powerful CTCs
History
Vermeer Corp. was formed in 1948 with the introduction of a mechanical hoist designed to off load grain from wagons and eliminate the back-breaking labor of shoveling. And so began 60 years of innovation and leading technology in agricultural and construction equipment that continues today with market-leading equipment solutions and product designs that help maximize efficiency and minimize labor. Among the prestigious line of Vermeer equipment is its compact tool carriers (called mini skid steers).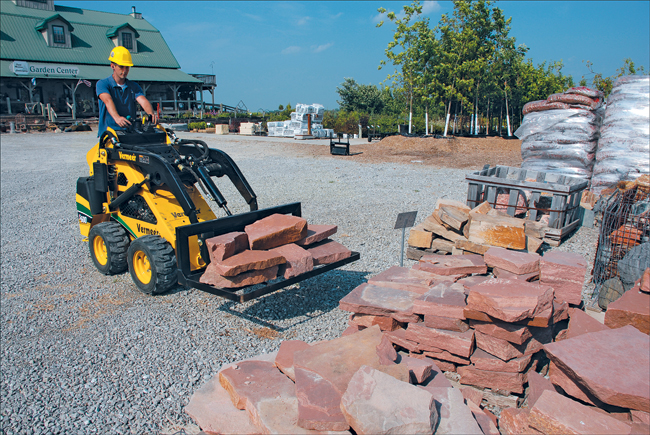 Products
The Vermeer line of compact tool carriers includes four models, the S400TX, S600, S600TX and S800TX. They all have common operational features, yet each is designed with varying capacities for multiple applications ideal for rental, landscape and general construction markets. The S400TX is the most compact of the line and popular for the rental market. A high-mount sprocket track drive powers the rubber tracks, allowing the S400TX to easily maneuver in and out of tight spaces. The 23-hp engine offers a 15 percent increase over the competition, pumping more power into the hydraulic circuit for consistent operational performance.
The S600 wheel and S600TX track models were designed for multiple applications that are ideal for landscaping and tree care, as well as construction, with enhanced maneuverability and features that reduce workload and labor. Both the S600 and S600TX have the largest tank capacity in their class, eliminating the need for refueling during the typical workday.
Rounding out the Vermeer compact tool carrier lineup is the S800TX. Armed with best-in-class loading capacity, the 35-hp diesel engine on the S800TX provides enough power for the rigorous demands of landscaping, hardscaping and utility installation projects. The Vermeer S800TX mini skid steer can efficiently lift and transport a large load of material in and around confined spaces. Maintenance is simplified with an easy lift panel to access the hydraulic filter, radiator fill and electrical control panel.
The most notable feature across the mini skid steer line is the enhanced control system, which was designed for ease of use and allows the operator to focus on the application and not operation of the machine. Two joysticks control transport and boom/bucket motion and can be operated while holding onto an integrated hand-grip bar. The joysticks and hand-grip bar are ergonomically located to maintain control of the machine and balance. Ground drive is controlled by a single pilot-operated joystick and provides a smooth range of motion while minimizing back-pressure from the hydrostatic system. In addition, the stand-up platform on the Vermeer compact tool carrier line is spring-cushioned for optimal operator comfort.
Advice to Buyers
"There are a number of factors contractors should consider when looking to purchase a compact tool carrier," says Jon Kuyers, utility product segment manager for Vermeer. "Make sure you match the work to the capability of the machine. For instance, if the operator is moving material on the ground and dump height is not a concern, a unit with a lower hinge pin height may be adequate. If the operator consistently loads and moves heavier material, then a higher tip capacity and hinge pin height would be desired. Another consideration is whether to select a gas- or diesel-powered unit. Contractors who use a lot of ground engaging hydraulic attachments [like trenchers or rototillers] will find a diesel engine provides increased torque and greater productivity over a comparably rated gas engine."

Contact Info
Vermeer Corp.
1210 Vermeer Rd. East
Pella, IA  50219
Ph: 1-888-VERMEER
Fax: (641) 621-7680
Toro Dingos
Six Compact Utility Loaders from the Famous Red Equipment Brand
History
Toro has been manufacturing its Dingo compact utility loader line since 1997. The original design started in Australia and was brought to North America under a licensing agreement — Dingo Australia. From there, Toro began selling wheeled units in the United States and several foreign countries. The company later introduced its line of tracked compact utility loaders in 1999. The latest innovation to the Toro Dingo tracked compact utility loader line is the TX 427. This unit mixes power with gentle ground pressure, making the Toro Dingo one of the most versatile, reliable and hardest working lines in the compact tool carrier market.
Product Summary
Toro offers six models of compact tool carriers (called Dingos). The lineup is broken up into diesel and gas units, with both wheeled and tracked model options. The wheeled models are the 220 and 323. Toro tracked units include the TX 427 and TX 525 models. These small and versatile tool carriers are geared mainly toward the landscape, rental, demolition and agriculture industries.
The Toro Dingo 220 provides 3,000 psi and 14.8 gpm of hydraulic power to run more than 35 different attachments. It boasts enough hydraulic power to augur 30-in. holes or trench 36 in. deep. It is built with a 20-hp Kohler gas engine and two different ground speeds (low or high) — low speed directs more hydraulic power to the attachment, and high speed directs more power to the wheels. The two-pump hydraulic system uses independent power to supply the attachment or the wheels (one pump supplies 10.8 gpm and the other pump 4 gpm). This provides better usage of power to get the job done.
The Dingo 323 compact utility loader is a bigger wheeled machine, designed for the landscape, irrigation, fencing and general utility markets. Like the 220, the Toro Dingo 323 is packed with 3,000 psi and 10.8 gpm of hydraulic power, two ground speeds and a two-pump hydraulic system, but it's the 23-hp Kohler gas engine that sets it apart. The 323 also utilizes Toro's 4-Paw independent four-wheel drive, which directs hydraulic flow and pressure to all the wheels at all times. Operators can power through tough ground conditions and reduce the likelihood of getting stuck without the use of chains.
Along with the wheeled units, Toro offers four tracked, walk-behind compact utility loaders in both narrow and wide track configurations. The new Toro Dingo TX 427 compact utility loaders possess the versatility to handle countless jobs on every site. Powered with a 27-hp Kohler gas engine, the TX 427 narrow track design provides an impressive low 5.1-psi ground pressure while the TX 427 wide track design has only a 3.4-psi ground pressure, making both units easy on turf. Both models' power is harnessed in three easy-to-use controls, making it simple for operators to be productive immediately. Equipped with a 25-hp Kubota diesel engine, the Toro Dingo TX 525 wide and narrow track units offer good ground engaging power and excellent digging and trenching capabilities while still being delicate on turf.
All Toro Dingo compact utility loaders are compatible with Toro's full line of attachments. Also, Toro Dingo models are available with the optional Toro TX platform, allowing the user the opportunity to walk behind the machine or release and stand on the platform.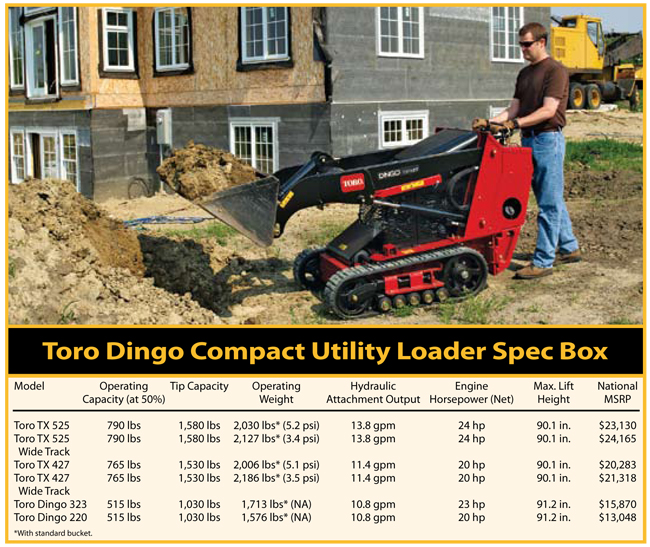 Advice to Buyers
"Ask questions and demo the product in real life situations," says Greg Lawrence, marketing manager, The Toro Co. "This will tell you whether or not you have the right product and right dealer. Then when you're ready to start your decision process, you should start with the power-to-weight ratio. The weight is important when considering the potential damage it will do to the turf. And, the performance of the machine is determined by the power. Toro Dingo compact utility loaders boast the best power-to-weight ratio in the industry."
Contact Info
The Toro Co.
8111 Lyndale Ave. South,
Bloomington, MN  55420-1196
Ph: (952) 888-8801
Fax: (952) 887-8258
Ramrod Mini-Skid Loaders
Eight Multi-Talented Machines from One of the Industry's CTC Originators  
History
It was 31 years ago that Ramrod Equipment introduced one of the very first labor-saving mini-skid loaders to the North American marketplace, thereby helping to lay the cornerstones for the compact tool carrier category. Offering best-in-class performance in both walk-behind and eight generation stand-on machines, Ramrod mini-skids continue to help define the CTC category in terms of power, reliability and overall versatility. Ramrod Equipment is a division of the Canadian materials handling manufacturer Leon's Mfg. Co. Inc., located in Yorkton, SK, Canada.
Product Summary
From humble beginnings 31 years ago with the 500-lb operating capacity of the 230-AKG Series to the class-leading 1,350-lb operating capacity of the M1350-LKD, Ramrod continues to focus on both performance and innovation in the compact tool carrier category.
Recognizing that "one size fits all" is rarely the effective choice, Ramrod Equipment boasts eight different Ramrod machines. From gasoline to diesel, from narrow to normal width, from single- to dual-pump hydraulics, customers can choose the right Ramrod for their needs. In addition to the performance options, Ramrod offers multiple track or tire configurations so the job gets done, regardless of the terrain. And you can add to that an ever-growing list of attachments (70 plus).
All Ramrod mini-skid loaders come standard with self-leveling loader arms to keep the load balanced, and the entire Ramrod line also features best-in-class dump angles (70 to 85 degrees), ensuring that when you empty the bucket, it's empty.
If getting in tight areas and completing tough jobs is what you are looking to get done, look no further than the new 2011 Ramrod Pro Series. The Pro Series offers increased hydraulic flow, greater lifting capacities and aggressive push-pull power. With these product enhancements, the Pro Series has received glowing endorsements from municipalities, landscapers, irrigation, rental and demolition contractors for its increased power and rock solid frame.
If you are a professional contractor or landscaper, Ramrod's four-wheel drive 930 and tracked 1350 are the CTC machines you need to finish projects with power. Boasting the most push/pull tractive power in the Ramrod lineup (1,600 lbs), the most lift power (up to 1,150 lbs, 6 ft in the air) and the most carrying power (up to 2,300 lbs), the 1350 is truly a mighty mini machine. If you need a compact tool carrier for tasks around your property, your greenhouse, the warehouse or the jobsite, Ramrod Equipment offers the new Estate Series models, developed specifically for home dwellers and acreage owners. Offered in special wheel and track configurations, these machines excel in property maintenance projects such as tree planting, fence building, snow removal, garden tilling, lane and driveway sweeping and countless other jobs that were previously done by hand.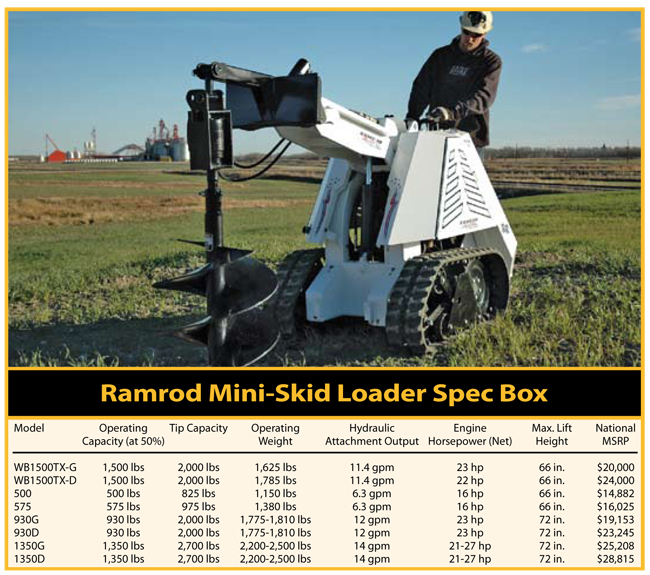 Advice to Buyers
"Most people look at a CTC machine and wonder what they can do with it," says Dwight Turta, Ramrod's sales and product support manager. "We suggest that customers ask themselves what they can't do with it. Whether you are a homeowner or a contractor, time is money, we understand this. The more productive your time is, the more money you will make."
Contact Info
Ramrod Equipment
A Div. of Leon's Mfg. Co. Inc.
P.O. Box 5002
135 York Road East
Yorkton, SK, Canada S3N 3Z4
Ph: (800) 667-1581
Fax: (306) 782-1884
Bobcat Mini Track Loaders   
Two Attachment Wielding Machines from the Compact King of Construction 
History
Bobcat entered the compact tool carrier market in 2002 with the MT50 mini track loader and has since introduced two new models — the MT52 and the MT55. The MT52 replaced the MT50 in 2003 and Bobcat introduced the MT55 at the Green Industry Expo in November 2004. The machines have evolved with larger engines and more hydraulic flow and pressure to accommodate more attachments.
Product Summary
With Bobcat mini track loaders, it only takes one worker to complete a variety of jobs. The mini track loaders deliver all the rugged dependability users expect from the Bobcat brand, along with the jobsite convenience of both a walk-behind or ride-on mini track loader.
Bobcat compact tool carriers, including the MT52 and MT55, are compact in size and full of features to help make you get any size of job done faster. The compact machines allow you to go where many machines cannot. A standard Bob-Tach mounting system makes for quick and easy attachment changes. Durable rubber tracks keep you going in soft, wet or muddy conditions, with minimal ground disturbance. Don't let the word "mini" fool you — the mini track loaders offer an impressive rated operating capacity, cycle times and lifting for all-around good performance.
Bobcat mini track loaders are simple to operate, compact in size and feature turf-friendly tracks. Combine this with the convenience of a walk-behind or stand-alone loader and you have yourself a versatile machine. Bobcat mini track loader controls are simple and require little to no effort to operate. Travel speed and direction, lift and tilt operations are all at the tip of your fingers. With more than 15 available Bobcat approved attachments, the mini track loader is able to add value and versatility to any job you do.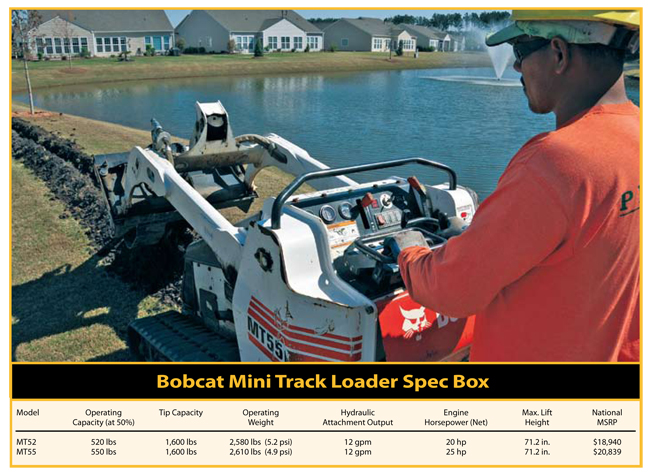 Advice to Buyers
"Compact tool carriers provide a compact size with the attachment versatility of a larger machine, which makes this machine perfect for the landscaping, residential construction and rental markets," says Mike Fitzgerald, loader product specialist, Bobcat Co. "Be sure to make your dealer aware of what the machine will be used for, so they can help best identify the proper machine size and attachment options for you."     
Contact Info
Bobcat Co.
250 E. Beaton Dr.
West Fargo, ND 58078
Ditch Witch Compact Tool Carriers  
The Utility Equipment Pioneer Produces Four Compact Tool Carriers    
History
In the late 1940s, Ed Malzahn, a recent college graduate with an engineering degree, had an idea to build a small compact trenching machine that could replace the pick and shovel when installing residential utility services. By 1949, Malzahn had succeeded in producing the first workable compact trencher. Charlie's Machine Shop was renamed The Charles Machine Works Inc. (CMW) and the first seeds of the worldwide Ditch Witch organization were planted. The company is a one-stop source for trenchers, trenchless machinery, vibratory plows, pneumatic piercing tools, electronic tracking and locating tools, vacuum excavation systems, pipe bursting, compact tool carriers and Zahn utility equipment. In 2003, the Ditch Witch organization expanded its underground construction equipment to include a compact tool carrier with a Honda engine — the SK500.   
Product Summary
Ditch Witch has a roundup of four compact tool carriers — the SK350, SK500H, SK500K and its latest and largest unit, the SK650. This quartet of tool carriers gives customers plenty of options including choices in ride-on or walk-behind platforms, gas or diesel engines and more than 70 different attachments. All model numbers correspond with the rated operating capacity of each unit.
The SK350 has a 36-in. wide dedicated track undercarriage and the added benefit of a stand-on platform, which keeps operators from trekking around muddy or debris-strewn jobsites. The unit's 7.5-gal fuel tank provides almost five hours of operating time every day. Gas and hydraulic tanks reside on either side of the machine's frame, so operators don't have to lift the hood to refuel or top off hydraulic fluid, and both tanks are lockable. The SK350 is also equipped with quick-disconnect hose fittings, so attachments can be changed under pressure, without shutting off the machine. Buyers also have a choice of aggressive tracks for better traction or turf-friendly tracks for less ground pressure.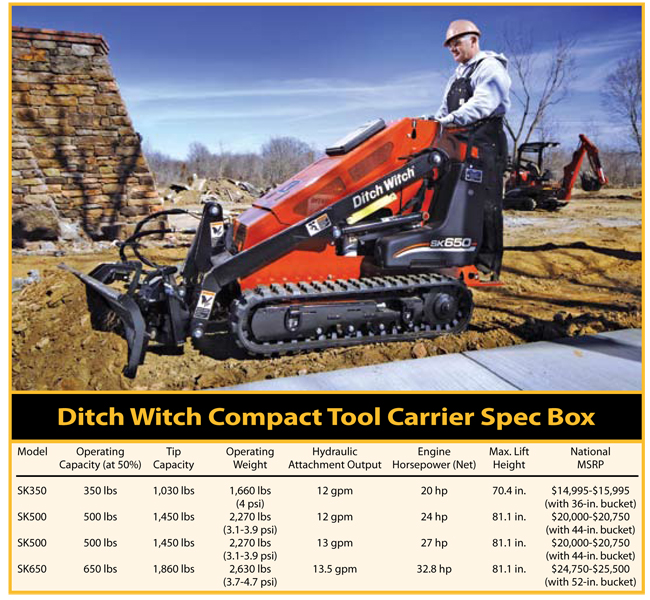 For many operators, riding on a compact tool carrier platform like the SK350 has a bigger benefit. It makes long workdays less fatiguing and boggy worksites easier to traverse. But sometimes a walk-behind model is preferred, especially in cramped quarters with lots of stop-and-go projects. The SK500 is just such a machine; it's a track-mounted, walk-along mini skid steer that has small size and big power. Engineered with a 24-hp Honda or a 27-hp Kohler gas engine, the SK500 has 500 lbs of operating capacity, a maximum lift height of 81.1 in. and a narrow width of 35.5 in. The unit's rubber track undercarriage includes long tracks and a high ground clearance to increase unit stability on hills and decrease ground pressure on delicate green space. The SK500 also features 12 gpm of hydraulics, powered by a set of two hydraulic gear pumps for better attachment control.
The largest of the Ditch Witch compact tool carries is the SK650. The SK650 is the only diesel engine in the lineup — a 31.5-hp Kubota. This is the only compact tool carrier that directs 20 net hp (15kW) to the attachment, enabling this relatively small platform unit to outperform other machines of comparable size — even riding units. 
Contact Info
Ditch Witch
1959 W. Fir, Perry, OK 73077
Ph: (800) 654-6481
Fax: (580) 572-3523
[email protected] Tags: backhoes, Trenchers