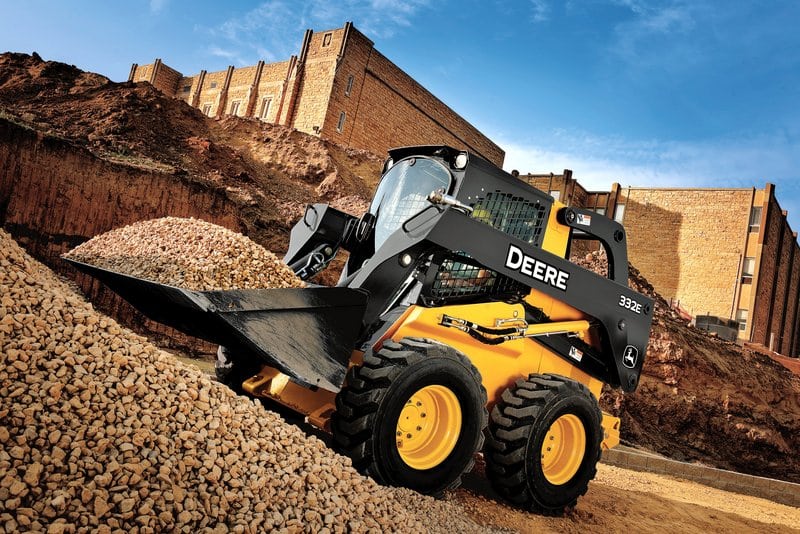 When, in 1958, the Keller brothers introduced the progenitor of the skid steer loader, they were pushing the concept that smaller is better. However, the natural order is for small things to grow larger, and skid steer loaders are no exception. Today, the largest skid steers on the market are three or four times heavier than that original Keller loader (later called Melroe and then Bobcat), with up to 15 times more horsepower. With hydraulics to match, these skid steer loaders constitute what has been dubbed The Muscle Machine Market.
"That market is generally considered to be any skid steer loader with more than 3,100 lbs of rated operating capacity," says Gregg Warfel, district sales manager for Terex Construction Americas, then zeroing in on Terex's own entry in the market. "Yet even with its powerful performance capabilities, the Terex TSV90 loader is compact enough to easily maneuver in and around confined or congested worksites."
Yes, but the TSV90 inarguably doesn't maneuver in tight spaces as "easily" as the smallest Terex skid steer loader. That also is true of its peers in the market. Nimbleness is sacrificed as a skid steer grows larger, so contractors must choose between small size and big capacity. In the biggest skid steers, capacity is the clear choice.
Terex customers have two machines that meet the "muscle machine" definition — the Cummins-powered 85-hp TSV90, with a rated operating capacity of 4,130 lbs, and a new generation V350S, which has a smaller Deutz engine (74 hp) and a rated operating capacity of 3,500 lbs; rated operating capacity is half the weight that a loader can lift under ideal conditions without tipping. Both Terex models are vertical-lift loaders. The V350S has a slightly higher bucket breakout force, but the model TSV90 can travel a mite faster.
And so it goes as customers fine-tune their loader needs. "Selecting the right loader is based on the cubic yards of materials that need to be moved each hour, the weight of the material and the area that the loader will operate in," says Warfel. "It is important you know how the loader will get the material, how quickly the material needs to be moved and where the material needs to go."
The John Deere 332E vertical-lift loader is larger in most of its dimensions than the Terex models. It is a few inches wider, for instance, and weighs about a 1,000 lbs more with a Yanmar engine rated at a full 100 hp. Its rated operating capacity is less than either of the Terex models, but its bucket breakout force is more than twice as much at 13,875 lbs. Bucket breakout force is a machine's hydraulic capacity to curl the lip of a loaded bucket.
"Our machine is a little heavier and, therefore, more stable," says Gregg Zupancic, product marketing manager for skid steers and compact track loaders for John Deere Construction and Forestry. He says the machine's weight, combined with breakout force and pushing power, means "the 332E can push buckets deeper into a pile and break out more efficiently."
Deere conducts skid steer productivity studies to see how much material a loader can move and how quickly. "One of the productivity measurements is metric tons of material moved per hour," says Zupancic. "We have a big pile of dirt and sort of have a drag race to see how fast we can load a truck." Zupancic says the 332E can move 181 metric tons of material in an hour, about 50 metric tons an hour more than moved by a tested rival loader.
Two Manitou Group skid steer loaders are larger yet, the Gehl V400 and the Mustang 4000V. These vertical-lift loaders each weigh in at 11,100 lbs with Cummins 99-hp engines and are descendants of large-scale models dating to 2001. "Those original Gehl 7800 and Mustang 2105 models effectively created the market segment," says Brian Rabe, senior product manager of skid and track loaders at Manitou Americas.
Expanding on that heritage, the latest Gehl and Mustang skid steer loaders boast a rated operating capacity of 4,000 lbs and a vertical reach of 144 in., more than a foot higher than most competing machines. These performance characteristics lead to Mustang's claim that the 4000V is "the world's most powerful skid steer loader."
Manufacturers agree that the upsizing of skid steers is a result of customer demand, rather than engineering whim. Warfel, for example, says that large Terex second-generation loaders feature more than 100 customer-driven improvements. The Gehl and Mustang high-capacity, high-lift bucket was demanded by their customers, according to Rabe. Deere's customers asked for more cooling capacity, Zupancic says, so engineers crafted unique separate cooling systems for the skid steer's radiator and hydraulic units. All these sophisticated features and increased capacities are housed in bigger frames.
"The trend in the last decade for skid steer loaders has been the growing popularity of larger units with more capacity, faster speeds and longer, wider wheelbases," says Warfel. "Owner/operators demand production, higher bucket capacities and improved lifting capabilities because these are directly related to how much they can get done in a day." He believes the "larger frame units" will continue to increase in popularity for several more years.
Zupancic isn't so sure. ""I dont expect the market to grow into even larger machines than are already available today," says the Deere marketing manager. "There will be some who will make larger size machines over time, but it is not a very big market, and I don't see skid steers getting much bigger. They should be transportable and that directs a lot of skid steer sales. You can put a skid steer on a trailer behind a pickup instead of hiring a professional truck driver and rig."
The transportation factor may already be an issue with machinery rental customers. Smaller loaders with a rated operating capacity of 1,750 to 2,000 lbs are typically what rental houses have in inventory. Though the rental industry is buying more top-end skid steers than it once did, smaller units dominate inventories because they are perfect for day rentals by property owners or small contractors. "I think it is about transportability more than anything else," Zupancic says.
However, Rabe at Manitou Group argues that, while trailering weight for large loaders and their attachments is a consideration, it is not the ultimate one for end-users. "For total cost of ownership, yes, transportation and operational fuel costs will be higher, but that can be easily recovered through the higher efficiency and performance of the larger units on the jobsite," he says. "The Gehl V400 and Mustang 4000V loaders were designed for the user who is looking for huge capacity and high volume productivity."
With more hydraulic pressure and greater horsepower at their disposal, the largest skid steers are mulching tree stumps up to a foot in diameter and running trenchers 5 ft or deeper in the ground. Buckets and forks are still the most popular attachments, of course, but the big skid steer buckets hold 60 cu ft, the cold planers grind out 40-in. strips, the grapples are 84 in. wide. "The bigger the bucket, the bigger the loader," says Warfel.
Eventually, a contractor will size himself out of the skid steer loader function, needing the reach of a telehandler or the capacity of a wheel loader. But skid steer loaders still have a lower price point than those machines and often remain a best choice. "Contractors have to make those equipment decisions," says Zupancic. "Maybe they can better afford two skid steers that they can tow around, rather than one larger machine. It can make financial sense."
Giles Lambertson is a freelance writer for Compact Equipment.
Tags:
Cummins
,
Deutz
,
Gehl
,
home
,
January 2016 Print Issue
,
John Deere
,
Manitou Group
,
Mustang
,
Terex Construction Americas
,
Yanmar