Landscaping can require the use of multiple specialty tools at any given time — and the tools can vary from job to job and from season to season. Landscape contractors are always looking for tools to help them do their jobs more efficiently, because speed and ease can translate into greater profitability. Versatility and job diversification are what keep many landscaping businesses afloat.
A Landscaper's Best Friend
Most landscapers already have one or more tool carriers in their fleet, anything from compact tool carriers, skid steer loaders, compact track loaders and wheel loaders to backhoe loaders and telehandlers. These multi-use loaders can provide a significant savings to any landscaping business by eliminating the need for various dedicated specialty machines. When equipped with a universal quick-attach system, loaders offer versatility and ease of use. And because attachments can be changed out relatively quickly — oftentimes by simply turning two locking pins and connecting hydraulic lines — using a loader as a multi-purpose landscaping tool enhances productivity and efficiency.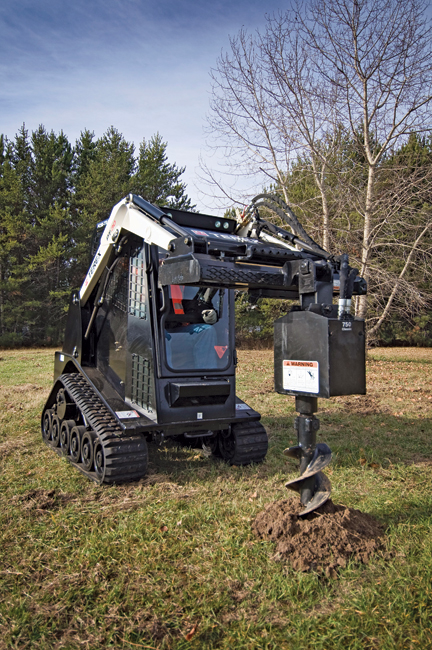 Buckets, augers, trenchers, vibratory plows, breakers, backhoes, levelers, tillers, cultivators, forks, blades, brush hogs, land planes and rakes are the attachments most commonly associated with landscaping projects. By adding rotary brooms and snow blowers to a landscaper's fleet, a seasonal business is able to easily expand its service offering to year-round. According to Jamie Wright, product manager at Terex Construction Americas, the most popular attachments used in landscaping applications are buckets, pallet forks, Harley rakes, augers and land planes.
"Ninety percent of the time, landscapers are using buckets and pallet forks for hauling, grading and backfilling material," says Wright. With different sizes and styles available for each of these attachments, Wright says landscapers should choose the style of attachment based on the application and the size of the attachment in relation to their loader. Landscapers using attachments for production work should choose a style that is both durable and powerful for repeat applications, such as lockable rail systems on pallet forks or a planetary-drive auger. Attachments used for specialty applications may be chosen for their unique features, such as adjustable pallet forks, or their ability to perform multiple tasks such as prepping the ground for sod, leveling and removing rocks from a yard with a power box rake.
An equipment distributor can help landscapers match the right size of attachment to a loader's horsepower and hydraulic capabilities. Features such as float function, electric-over-hydraulic and 10 to 20 gpm of hydraulic flow are common attributes on landscapers' loaders.
"Equipment distributors will also train landscapers on using an attachment for the first time," says Wright. "It
is important to know how to operate the attachment in forward and reverse, as well as how to use the float function. Distributors will also make sure the loader is wired correctly for electric-over-hydraulic."
When it comes to running the attachment, operators need to be aware of their surroundings, says Wright. Operators should also be familiar with the existing landscaping and infrastructure, as well as how much area the loader needs to operate when equipped with an attachment.
"For example, when an operator is using a brush hog or mulcher attachment, it's critical to know where the discharged material will go. Or, when the loader is equipped with tree moving equipment," continues Wright, "an operator will need to account for the height of the tree in relation to the attachment when working in the vicinity of power lines, buildings, other infrastructure and existing landscaping. As always, it's also critical for operators to ensure that bystanders are clear, and that telephone, gas and power companies are called to locate the area for underground utility lines."
Attached to Attachments
With tight budgets and slim operating margins, contractors are relying more heavily than ever on these machines and more specifically on the attachments that make them so versatile.
Michael Otte, owner of Whitewater Gardens in St. Charles, Minn., has learned that by carefully selecting the attachments he purchases, he is able to increase his profits — the attachments pay for themselves. "With the right attachments, I find ways to use my loader every day, handling all sorts of tasks, no matter if I'm constructing ponds, waterfalls or surrounding landscapes."
According to Otte, because of the variety of attachments available, his Toro Dingo compact tool carrier can be used to: haul and place boulders, gravel and rocks; carry tools and equipment to and from the jobsite; dig ponds; install waterfalls; put together the surrounding landscape; and even clean up afterward.
On many projects, Otte's loader is used in every step of the building process. With a bucket attachment, Otte digs out the pond basin and hauls boulders and other materials to the site. In fact, shuttling materials is one of the loader's main functions. With the loader, he can move rocks up to 1,000 lbs around the site with relative ease. He uses a multi-purpose tool with swivels and straps to carefully set larger boulders in place. This attachment is invaluable, says Otte, to avoid damaging the fragile rubber membrane that lines the water gardens while placing the boulders.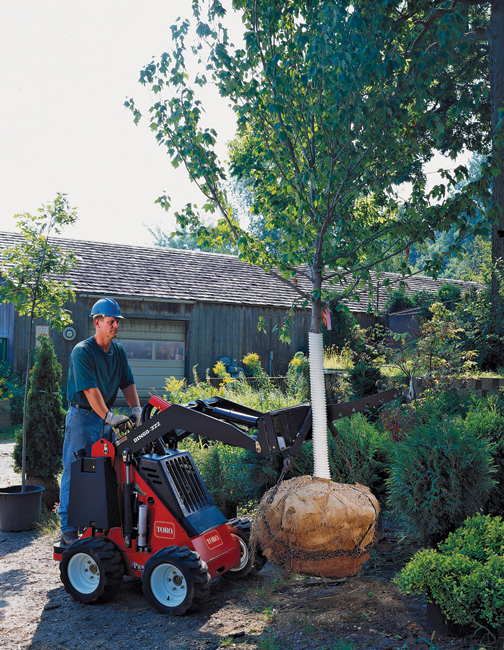 Also, he makes use of forks to set boulders higher up in his waterfall designs. Otte uses his loader with one of his three bucket attachments to construct berms behind the waterfalls, as well as to backfill and smooth out the terrain during the clean-up phase. And with a trencher attachment, he can lay the plumbing in his pond creation. He can use the backhoe attachment for excavation and backfill work, and his vibratory plow attachment can make short work of any irrigation project.
Terex customer Bob Namchek, owner of Pioneer Electric in Grand Rapids, Minn., has also managed to grow his business offerings by investing in a Terex ASV PT-30 compact track loader along with a series of landscaping attachments, including a trencher and a backhoe attachment. He even added a Harley rake, forks and a bucket to his lineup. Not only will these landscaping attachments help keep more work in-house for Namchek, but he also hopes it will expand his customer base.
"Hopefully, other contractors will start subcontracting to me," says Namchek. "This will generate work from a broader customer base and will help me recoup the upfront investment costs that much faster. My theory has always been that tools and equipment make you money."
It's no secret: Businesses continue to struggle in these tough economic times. Many businesses are taking some time to reevaluate their current strategies and develop new ways to grow while saving money. The landscaping industry is no exception to this trend — savvy contractors are investing in attachments as a simple way to make more money with their loaders without significantly increasing costs.
 
Amber Reed is a technical writer with Performance Marketing, based in West Des Moines, Iowa.
Many Attachments … A Multitude of Applications
Considering there are so many attachments available for use on tool carriers, evaluating the work required to complete a project is the first step in attachment selection. Is the project going to require digging, prepping soils or carrying materials? "Whatever the job may be, there are numerous attachments that can help speed up the work," says Greg Lawrence, product marketing manager at The Toro Co. "Consider the capabilities of each attachment as it relates to the tasks at hand. Depending on the job demands, one attachment may handle all tasks, or different attachments may be needed to efficiently handle the job." The following is a list of some of the most commonly used attachments for loaders.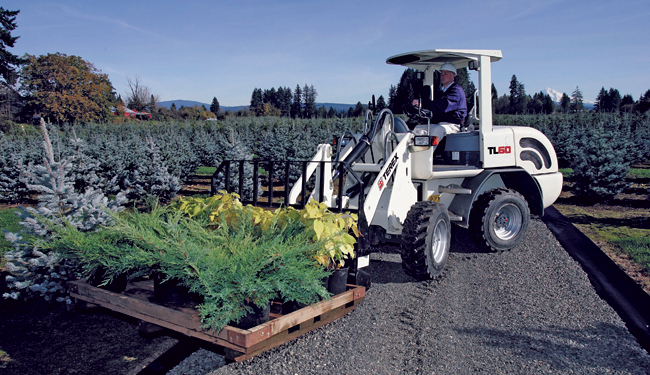 Buckets are ideal for moving rock, dirt, sand, snow and mulch and loading material into utility vehicles. In addition, the bucket can be used as a leveler for backfilling applications.
Adjustable forks are used for a number of heavy-material-handling tasks. Forks can move tools, posts, pallets, landscaping blocks and beauty rocks. Tree forks help operators transport, plant and position trees and shrubs quickly and effortlessly.   
The box rake, tiller and soil cultivator are three attachments that all do some form of ground preparation, but each offers unique advantages that make them ideally suited for certain tasks. The power box rake is used as a soil grader in some applications. It also has the ability to windrow rocks, either pushing them off to the side of a path or moving them to the end of a raked row for pick-up later. This accessory often is used to clean up by removing debris and prepping soil for landscaping. The attachment can act like a land plane, cutting high spots and filling low spots, or it can be used to pulverize and fluff soil for seed and sod bed preparation.
Used primarily to break through hard soil conditions in areas such as gardens or flower beds, the tiller attachment also can prepare areas for seed and sod installation. This attachment has the ability to break up tough soil (including clay and hard pan) up to 6 in. deep, which makes planting easier.
Crews like the soil cultivator because it can do three jobs at once. It breaks up hard soil, buries rocks, clods, grass and other debris beneath the soil and creates a fine, fluffy soil bed that's 5.5 in. deep — perfect for seeding, sodding or flower planting.
Trencher attachments are ideal for projects such as the installation of irrigation systems, drain tile, valve boxes, pipes or cables, as well as edging applications. Optional crumber attachments are available to ensure a clean and debris-free trench bottom, as well as trench-filler attachments to expedite the backfilling process.
As with the trencher, the vibratory plow is used for the installation of cables and irrigation systems. What makes this attachment different is that it optimizes pipe- and cable-pulling performance, while minimizing turf damage through a less extensive cut.
The backhoe attachment can be used for various golf course activities, such as excavating bunkers and digging for tree planting, as well as trenching for irrigation and utility installation.
Another attachment designed for digging is the auger. Not only can the auger dig holes for tree and shrub planting, it can create holes for fence and other footings without disturbing the existing landscape.
A leveler attachment is used to grade, finish and spread landscaping materials, backfill trenches and break up turf, dirt and rock clumps. It also is great for transporting landscaping materials, such as fertilizer, irrigation supplies and container plants.
Attachments like the multi-purpose tool include convertible pieces that perform a wide variety of tasks, such as carrying, ripping and transporting materials with just a simple adjustment. This attachment comes with a boom and chain, allowing the loader to carry and lift more weight. In addition, a tow bar can be used to easily move a trailer around the course, while a ripper breaks up hard soils and removes existing plants.
A hydraulic breaker attachment fractures concrete, asphalt, rock or brick when completing renovations and other demolition projects.
Other attachments are designed to be used for specific purposes, such as the snow blower, stump grinder, hydraulic blade, bore drive head and cement bowl.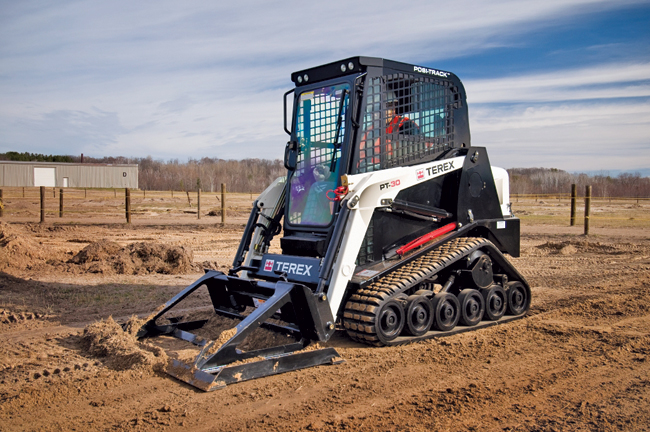 Tags:
backhoes
,
Trenchers