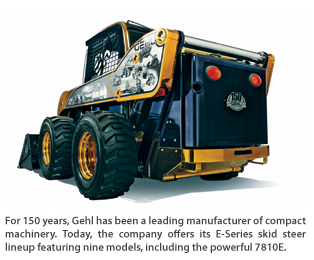 Gehl Co. is one of the bedrock manufacturers of compact machinery in the United States. Along with its venerated history in the American machine market, the company also makes the world's biggest, most powerful skid steer — the 7810E. To commemorate its unique product line and the company's 150th anniversary, Gehl Co. "chromed-out" its 10,000-lb unit, making another one-of-a-kind skid loader.
"We were looking for a unique way to celebrate our 150th anniversary," said Dan Keyes, vice president of sales and marketing. "What better way to commemorate this milestone than with the most unique machine in our product lineup, all decked-out. There is truly nothing like this machine."
Gehl Co.'s 150th anniversary commemorative skid loader combined the talents of five suppliers: Form-I Design, Milsco, Mitographers, XXX Chrome Plating and Ace Canvas, along with several company departments such as engineering, manufacturing, marketing, purchasing and shipping. The original concept for the machine was created by Form-I Design based in Waverly, Iowa. The design features a highly reflective gold and black finish and includes laser-cut Gehl logos in the ROPS side screens. Large decals on the lift arm display historical milestones of Gehl Co.
Milsco, a long-time Gehl supplier based in Milwaukee, contributed a customized seat for the project. Covered in leather, the seat is decorated with silver piping and an embroidered Gehl 150th anniversary logo. The most challenging aspect of the design was the chrome-like reflective surface of the machine. To achieve this dynamic finish, Gehl Co. contracted with XXX Chrome Plating in Brookfield, Wis. The machine's exterior received chrome plating treatments in gold, black and mercury, using a highly specialized chroming process.
The interior cab components were sanded and chrome-plated, and the headliner received a leather treatment to match the seat. Custom-made 3-D chrome plates with a laser-cut Gehl 150th anniversary logo adorn the sides of the bucket, the front of each lift arm and the steel mesh on the rear engine cover. To commemorate their 150-year milestone, Gehl Co. has published an illustrated hard cover book that details the events of the company's evolution. Copies can be ordered on the Gehl Web site — www.gehl.com — on the "Gehl Gear" page. Tags: Gehl