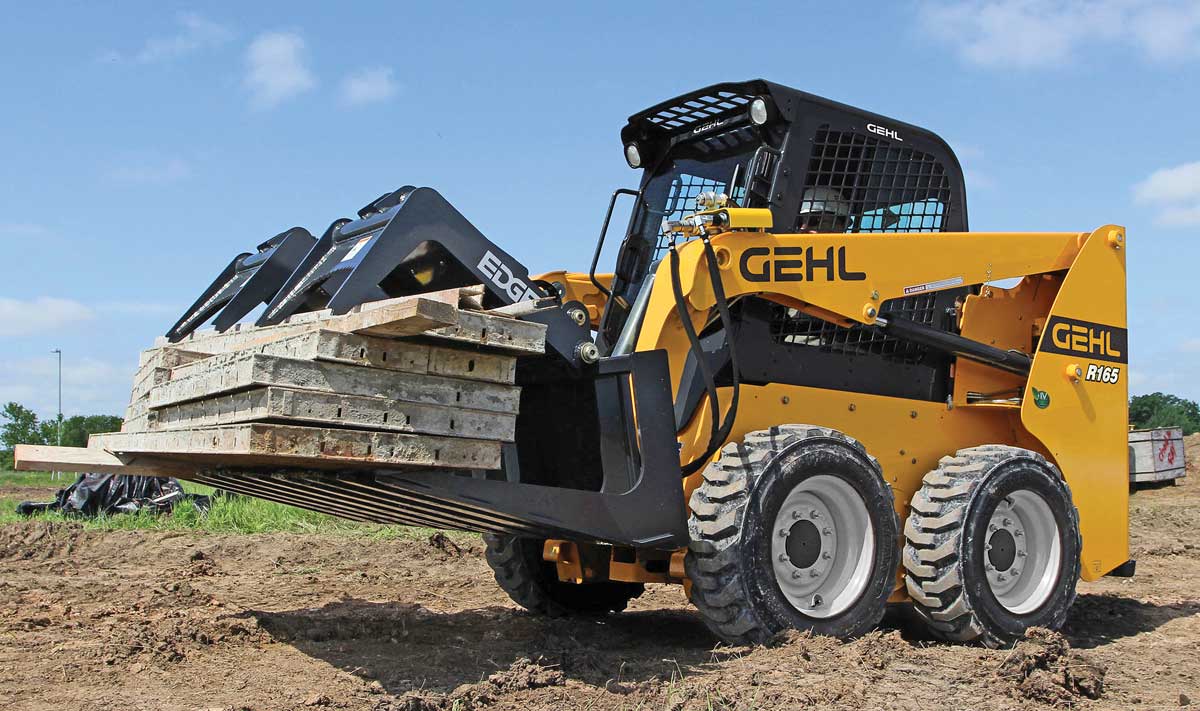 Nine Models Built with Endless Possibilities
Gehl began manufacturing agricultural implements out of West Bend, Wis., in 1859. From those humble beginnings in a blacksmith shop, the Gehl brand has become a major force in the compact equipment industry worldwide. Today, Gehl's leading edge research and design facility is still located in West Bend, with North American manufacturing operations in Yankton, S.D., and Madison, S.D.
The Gehl skid loader line for North America consists of nine models, all built for high performance and maximum versatility. The small- to medium-frame family includes the R105, R135 GEN:2 and R165. These radial-lift models deliver full power and maneuverability in a compact frame. Engine power varies from 34.7 to 69.9 hp, and rated operating capacities range from 1,050 to 1,650 lbs. The R105 is the smallest Gehl skid loader with an overall width of 48.4 in. and height of 70.3 in., making it ideal for access through doorways and tight work spaces.
Completing the offering of radial skid loaders, Gehl offers the R190, R220 and R260. These highly durable large-frame machines are the perfect solution for heavy ground engaging work. They offer operating capacities up to 2,600 lbs and high torque motors with excellent tractive effort.
Three vertical-lift models round out the Gehl skid loader line. The V270 GEN:2, V330 GEN:2 and V420 models offer greater capability in lift-and-place applications. The Gehl V420 is the largest skid loader offered in the market today. It has an impressive operating capacity of 4,200 lbs, operating weight of 11,665 lbs and 120-hp engine. A vertical-lift path of almost 12 ft gives this machine excellent dumping and loading performance, and the added option of high-
flow auxiliary hydraulics pushes hydraulic flow up to 41 gpm .Serviceability is thoughtfully designed into every skid loader, says Gehl. Service points are easily located, and ROPS structures tilt for full access when needed. Safety features include standard Level 2 ROPS/FOPS structures, ample grab handles and standard front and rear work lighting.
Additional skid loader features and options include extra-long wheelbase lengths and Gehl's trademarked Hydraglide system, providing a smooth ride with less material spillage. Gehl's exclusive Powerview boom maximizes operator visibility along the sides of the machine as well as to the bucket.
Power-A-Tach is also an option on all Gehl skid loaders except the R105. This hydraulic, all-weather system allows users to quickly install and remove attachments. An operator leaves the seat only to connect auxiliary hydraulics. With hundreds of attachments to choose from, Gehl skid loaders can easily transform to fit any project need.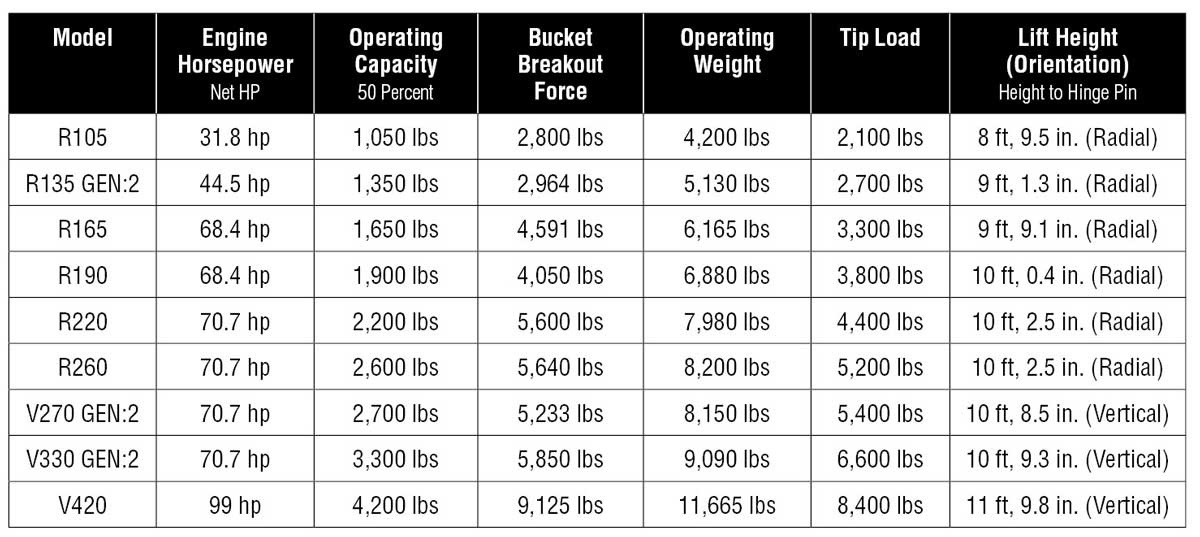 Advice to Buyers
"When buying a machine and attachments, take into account the difficulties finding great workers that most industries are experiencing," says Nathan Ryan, Gehl global product manager of skid and track loaders. "For jobs like clearing snow, consider investing in a larger machine and a snow push, rather than a standard bucket or blade, to reduce job time so your employee can get to the next job sooner."
Tags:
Gehl
,
July August 2021 print issue
,
Spec Guide
,
Spec Guide 2021