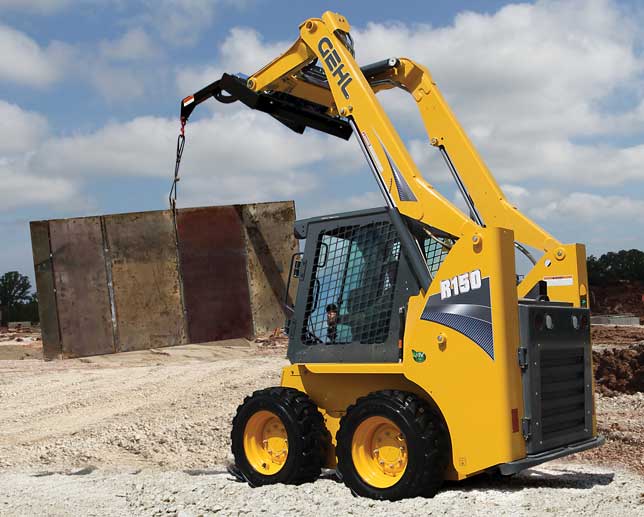 Eleven Innovative Models Built with American Pride
Gehl began manufacturing agricultural implements in 1859, in West Bend, Wis. From those humble beginnings in a blacksmith shop, the Gehl brand has become a major force in the compact equipment industry worldwide. Today, Gehl's headquarters is located in West Bend with a state-of-the-art research and design facility. Manufactured and assembled in Madison, S.D., Gehl skid loader models range from 35 to 99 hp, with rated operating capacities from 1,050 to 4,000 lbs.
The small- to medium-frame family includes the hard-working, durable R105, R135, R150 and R165 skid loaders. These models feature strength relative to the most compact dimensions in the industry, notes Gehl. With engines rated from 35 to 68.4 hp and clearance circles (including bucket) from 69.4 to 73.6 in., these machines offer power in a compact frame.
Large-frame skid loaders round out Gehl's range with the R190, R220, R260, V270 GEN:2, V330 GEN:2 and V400 models. The R190, R220 and R260 models feature radial-lift path geometries, providing performance in ground engaging applications. The V270 GEN:2, V330 GEN:2 and V400 are equipped with vertical-lift path configurations, offering greater capability in lift-and-place applications. All Gehl skid loaders feature one of the broadest ranges of control patterns in the industry, allowing operators to do what they do best, how they do it best.
Versatility is ensured with standard auxiliary hydraulic flow for attachment power and optional high flow on larger models. The exclusive Gehl Powerview boom provides visibility to work areas along the side of the machine, as well as to the bucket. Extra-long wheelbase lengths provide smooth rides, while engines deliver performance. Serviceability is thoughtfully designed into every skid loader, says Gehl. Service points are easily located, and ROPS structures tilt for full access when needed. Safety is also standard on Gehl skid loaders, with Level 2 ROPS structures to protect operators. Additional features include ample grab handles and standard front and rear work lighting.
Advice to Buyers
"There are many choices and options available to today's compact equipment buyer," says Brian Rabe, Gehl senior product manager of skid loaders and track loaders. "The most important step in choosing a skid loader is to determine the application or applications in which it will be used. For maximum return on investment, it is essential to purchase a right-sized skid loader, which will complete immediate application needs but will also allow room to grow. Your local dealer is an expert on providing knowledge and assistance and will be able to help narrow the field. Finally, request a demonstration to be sure a particular skid loader is the best match for applications."
Manitou Americas Inc.
One Gehl Way, West Bend, WI 53090
262-334-9461 | info@gehl.com | gehl.com
Click on table to enlarge
[prettyPhoto title="Gehl Specs" link="https://compactequip.com/wp-content/uploads/2017/07/gehl-specs.png" type="link" ]

Tags:
2017 Spec Guide- Skid Steers
,
Gehl
,
July/August 2017 Print Issue