The world of construction equipment requires a lot of travel, and May was a busy month for machine manufacturers. Mid-month, Kubota invited Compact Equipment down to Shelbyville, Tenn., to operate two of its most interesting offerings in the UTV industry — the RTV1100 and the RTV400. The famous orange engine and equipment brand cleverly held the event at Shelbyville's Celebration Arena, a 105-acre complex that houses the Tennessee Walking Horse National Celebration (a festival that began in 1939 and today gives more than $650,000 in prizes and awards).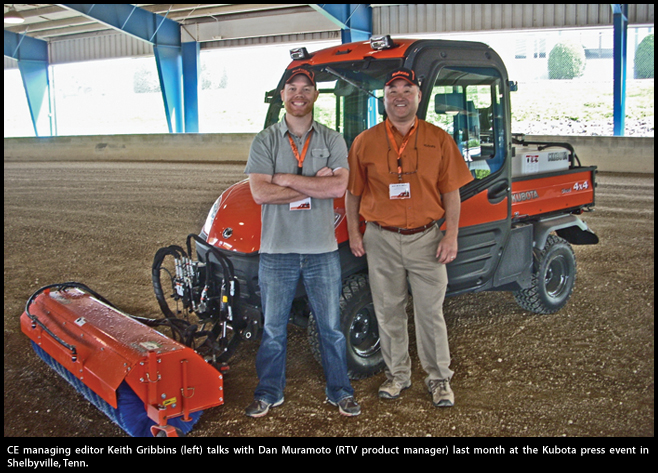 The Tennessee Walking Horse would make a pretty good mascot for Kubota's RTV Series of utility vehicles — both are work focused, but still like to play a little after hours. Tennessee Walking Horses were originally bred by the farmers of middle Tennessee who wanted to develop a breed that could work in the fields during the day and also give the owner a comfortable saddle gait after the job was done. Kubota's line of off-road RTV utility vehicles were raised the same way — as workhorses that still provide a nice ride when all the work is finished.
Behind the wheel, editors explored the dirt-covered outdoor arenas with dozer blades and broom
attachments, putting the Kubota RTVs to the test.
"The 1100 has been out for a while [a year plus], but the rotary broom that we featured today has only been out for a few months," said Dan Muramoto, RTV product manager with Kubota. "And the broom completes our hydraulic front-implement selection for now, which includes the 72-in. commercial straight blade, 72-in. V-blade and the 60-in. rotary broom."
Front-mounted hydraulic attachments complete the RTV1100's work resume; the new, cool, quick-attach system is a synergy with RAD Technologies. Attachment work is awesome with the RTV1100 because it comes with a Premium Grand Cab, the industry's first factory-installed all-weather cab with standard air conditioning, heater and defroster. The RTV1100 is available in both worksite and recreational models and packs plenty of power with a three-cylinder, 24.8-hp Kubota diesel engine that boasts a best-in-class 50.3 ft-lbs of torque for all-around durability and drive. It also comes standard with a hydraulic bed lift system and a cargo load capacity of more than 1,100 lbs. The attachment system is operated using a nice, center-mounted joystick.
"This attachment system brings front-implement capability that didn't exist before," explained Muramoto. "It gives a commercial contractor — a snow removal contractor, landscaper, rancher or groundskeeper — it gives those people options that were non-existent before. Prior to this, they either had to use a skid steer or tractor."
It should be noted that folks like Bobcat and Polaris also offer UTV attachment systems, but they all greatly differ. Besides implements, Kubota also introduced the new RTV400Ci, a 16-hp utility vehicle that fits into the bed of a full-sized pickup truck, making it ideal for anything from hunting to routine work around the jobsite. It's a fun little unit, but still made for work.
"I like to say the RTV is the Clydesdale in a field of race ponies," smiled Muramoto. "There are a lot of other utility vehicles that are faster and better in terms of extreme off-roading, but that's not what we're about. We're about trying to make your work day a little better."
The Volvo Ocean Race
The only U.S.-stopover for the Volvo Ocean Race provided a great opportunity for Volvo Construction Equipment to highlight its advances in sustainability. Volvo invited industry journalists down for the Miami leg of the race to learn more about the company's approach to a fuel efficient future, its partnership with the World Wildlife Fund's (WWF) Climate Saver program and its Stage IIIB/Tier 4i emissions compliant range of engine systems, with a little bit of nautical fun thrown in. The best way to understand how to do more with less is to see the cramped quarters 11 men must occupy for nine months on the high seas. The seamen's passion to push through and win the race is the same passion Volvo CE puts forth in its dedication to its core values — quality, safety and environmental care.
At a press conference, Volvo CE president and chief executive Pat Olney emphasized the company's portfolio of more than 60 new fuel-efficient products, all with Tier 4i compliant engine systems. Powertrain expert Dave Hahn stressed Volvo CE's four point strategy to answering the call for long term, significant and sustainable machine efficiency.
"Engine technology continues to make tremendous strides in finding improvements in fuel efficiency while at the same time reducing harmful emissions," Hahn stated. "But this alone will be insufficient to meeting our long term environmental and productivity goals. Volvo CE is addressing the issue of machine sustainability from a holistic viewpoint, one that includes engines, systems, emerging technologies and even operator behavior."
The cooperation between Volvo CE and the WWF forms part of the Volvo Group's wider commitment to reduce carbon-dioxide emissions by 30 million tons from construction equipment, buses and trucks made between 2009 and 2014. Of this total, Volvo CE is dedicated to cutting its carbon dioxide output by 15 million tons in that timeframe. Volvo Construction Equipment officially joined the program in February 2012.
"The WWF's Climate Savers program is a challenging initiative that will help us to further reduce our CO2 emissions, increase our products' fuel efficiency and demonstrate that we're truly committed to environmental sustainability," Olney said.
One steamy morning of the press event, a group of journalists had the rare opportunity to tour one of the Ocean Race boats — the Abu Dhabi vessel headed by double Olympic medalist and 2008-2009 Volvo Ocean Race skipper, Ian Walker. It was invigorating to witness the great technology and dedication involved with the competition, something Olney said correlates to the advances at Volvo CE.
"The thing with the Volvo Ocean Race, it's a global event and it goes through all our major markets which allows us the opportunity to connect with our customers around the world," he said. "I think the athletes that are involved are a very special breed of committed people that reflects well the leadership values that we appreciate inside Volvo CE."
Tags:
Kubtoa
,
RTV
,
UTVs