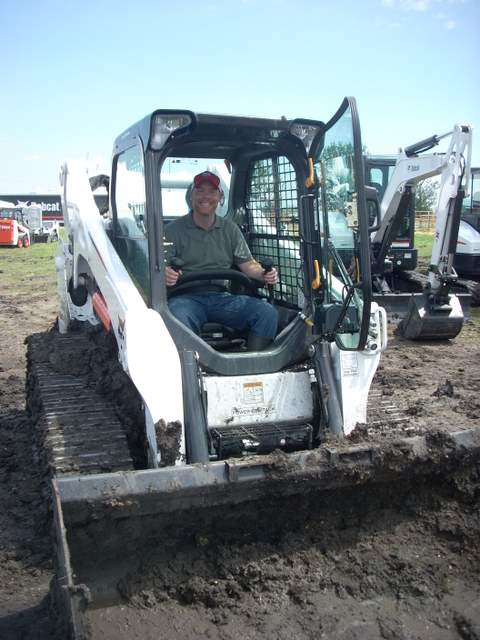 Editors need a good balance between education and experience. Trade journalists in particular need to plunge themselves into a specific industry (in our case construction and landscaping), getting out into the field, talking to professionals and experiencing the day-to-day operations of the market. In 2011, the writers at Compact Equipment have made it a point to get out and operate machinery with the aim of accumulating practical equipment experience.
In July, I had the awesome opportunity to fly to Fargo, N.D., and drive equipment for two days at Bobcat Boot Camp (created by Bobcat Company). Skid steers, mini excavators, compact track loaders, utility vehicles, and a whole host of attachments were at the disposal of eight editors from all over the country, journalists from industries as diverse as concrete construction and design/build landscaping. Behind the joysticks of Bobcat's new M-Series tool carriers, I was able to dig, sculpt, grade and backfill thick, sticky North Dakota mud, as well as wrangle trencher, soil conditioner, tree spade and grapple attachments all day long.
Bobcat training experts took editors out of the classroom and put them into the field to accumulate experience and hours in the operating cab. We did walk-arounds of M-Series skid steers and compact track loaders (the S630, T630, S650 and T650) and M-Series compact excavators (the E32, E35, E42, E45, E50 and E60). We inspected engine compartments, enclosed cabs, hydraulic attachment systems, boom configurations and dedicated track undercarriages. We got into machines and perfected operating techniques. We put the newest technologies through its paces: selectable joystick controls, two-speed travel, auto-shift, ride control, high-flow hydraulics, auto idle, and climate controlled cabs (yeah, it was pretty hot out there). We practiced attaching and detaching implements using each tool carrier's quick-attachment system, and we moved lots of dirt to test cycle times and production rates. 
Of note, Bobcat's compact track loaders excelled in the rainy, mud-covered jobsites we worked in (especially fitted with gnarly steel tracks, a unique industry option only available on the Bobcat T250, T300 and T320). We also had the opportunity to operate Bobcat's Loader Radio Remote Control System. This unique technology (the focus of our cover story "Robots to the Rescue" in June) taps into a loader's selectable joystick controls and allows professionals to operate a unit remotely while outside of the cab up to a mile way.
I was also impressed with the quietness and fuel consumption of Bobcat's compact excavators. All new M-Series excavators are offered with a standard auto-idle feature, which causes the engine to automatically drop to idle if the excavator's functions are not used for a period of about four seconds. Also, the new engine, air intake, cooling and exhaust systems, along with an entirely new pump and valve system, lower sound levels, resulting in a more comfortable, quieter machine. The overall sound levels have been reduced by more than 50 percent, say Bobcat experts. 
All of these features and technologies are usually things I read about in press releases. The chance to get out and experience the machines I write about is an invaluable experience. I thank Bobcat for the opportunity, and I extend the invitation to other equipment makers. Invite us out and let us experience your unique machines. — Keith Gribbins, managing editor, Kgribbins@benjaminmedia.com