Add another application to the infinite list of skid steer projects — under the title vertical geothermal drilling. The fine folks at RigKits explain that its K1 geothermal drilling mast attachment is capable of drilling geothermal bores 300 ft deep, creating geothermal loops that help heat and cool buildings, pools and other structures.
RigKits LLC is based in North Carolina and the company produces the K1 with a simple interface — a two-hose connection to the auxiliary power supply of your skid steer or excavator that requiring 20 to 40 gpm at 3,000 psi. The hydraulics on the mast balances the flow between rotation of the drill string and the down feed to advance the drill without overheating the system.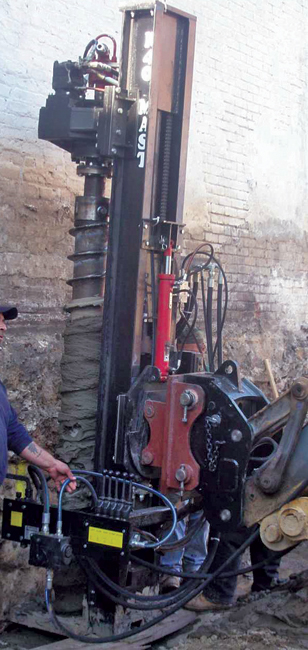 The attachment plate on the back of the mast allows a variety of quick-change attachments to be fitted matching it to a specific unit, meaning the change-over between attachments is simple and only takes a few seconds. As the mast attachment utilizes the diesel engine on the skid steer or excavator, capital costs and purchase price are reduced dramatically (compared to a full-time geothermal drill). The modular construction of the RigKits equipment means that the customer can customize the mast to meet his or her specific drilling requirements with various clamp, drill head, winch and other options all coming from the RigKits product range.
With the economy being what it is, contractors need a cost-effective and affordable way to get into geothermal. With powerful and innovative equipment customers have the versatility to take on any geothermal job and drill through almost anything. RigKits has an inexpensive range of drilling rig kits. The company also has fully trained drilling rig fitters and can offer onsite or telephone assistance with the construction of kits if needed. RS#50