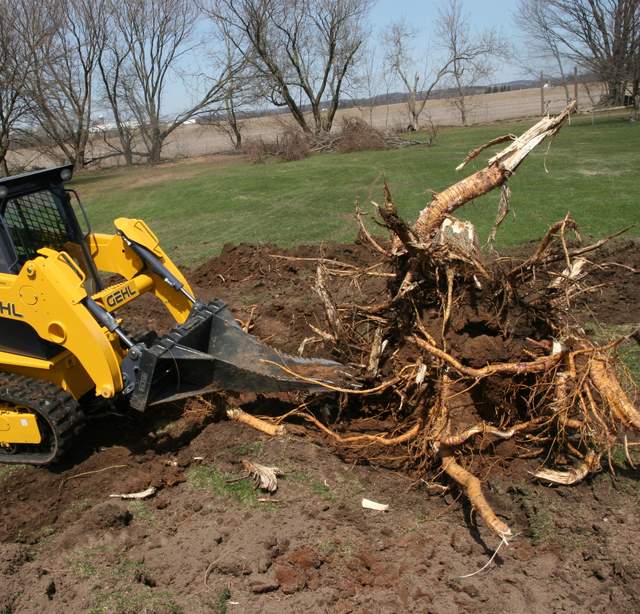 CEAttachments Inc. is a global supplier of attachments and accessories for compact equipment. The company offers a zillion different unique implements for skid steers, excavators, tractors and beyond – branded under its EDGE nameplate. Recently CEAttachments announced the newest addition to its attachments catalog — the all new EDGE stump removal bucket for skid steer loaders. 
 
The all new EDGE stump removal bucket is the ideal attachment for every landscape professional or everyday skid steer operator in need of a multi-functional tool for quick and easy removal of tree stumps and roots, digging ditches or moving and placing rocks.
This economical attachment features three durable 23-Series cast steel teeth that dig deep under roots of tree stumps. With a tilt of the quick-attach, side teeth on the bucket cut through stubborn roots and help extract the stump and roots from the ground. 
This versatile attachment can also use its strong ½-in. laser-cut funnel-shaped steel bucket to scoop up and carry heavy rocks for placement on retaining walls. The robust 1-in. thick cutting edge will channel deep into the ground for digging trenches or excavating ditches. This new EDGE stump removal bucket has an overall length of 62.5 in., width of 46 in. and height of 20 in.
The EDGE stump removal bucket compliments the lineup of other EDGE tree tool attachments available through CEAttachments, including EDGE stump grinders, tree boom, tree handler, tree shears, hi-reach clipper, tree spades, U-blades and tree transplanters.
See the new EDGE stump removal bucket in the awesome action video below. To learn more about CEAttachments, visit their website at www.ceattachments.com.