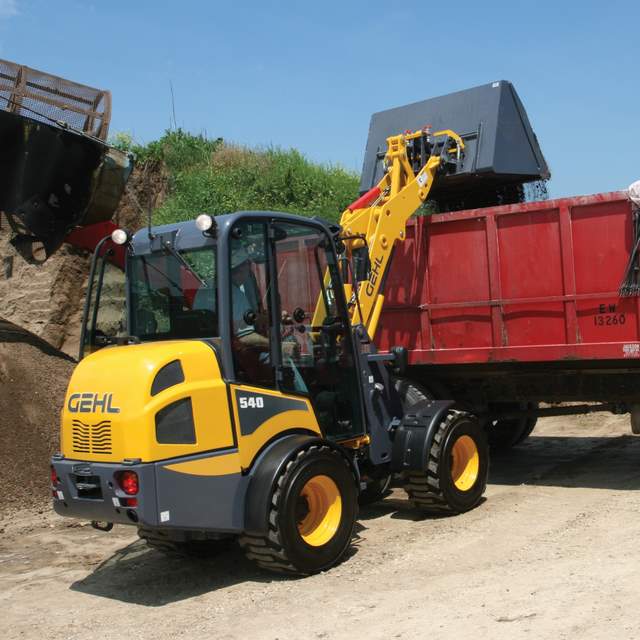 Gehl Company, a leading manufacturer of compact equipment for agriculture and construction markets, is really turning people's heads with new, small wheel loader additions to their product lines: Gehl compact articulated loader models 140, 340 and 540. These exciting new machines have caught the eye of landscapers, farmers, ranchers, stable operators, fertilizer and feed plants, municipalities and grounds maintenance crews worldwide.
Three all-new, uniquely different sized loaders are designed to fit both the budget and the application at hand. Gehl articulated loaders feature tipping loads ranging from 1,900 to more than 5,100 lbs (when not articulated) and rated operating capacities from 950 to more than 2,550 lbs. These multi-talented machines can run virtually all universal-type attachments, putting tools customers already own to good use. Compact sizes from as narrow as 41 in. on the model 140 allow easy access to extremely tight spaces.  Articulated steering allows for turns up to 45 degrees, which further enables these compact loaders to navigate confined spaces while minimizing damage to sensitive surfaces and reducing tire wear.
Gehl articulated loaders come equipped with industry-proven Yanmar diesel engines.  These quiet and efficient powerhouses feature Interim Tier IV-certified emission technology with excellent performance in all applications. Horsepowers range from 23 hp on the model 140 to 47 hp on the model 540.
Gehl articulated loaders are designed to go almost anywhere and do almost anything. A heavy-duty oscillating joint offers 45-degree turning angles to the left and right and 10 degrees of oscillation in both directions for optimal stability and maneuverability.
The bucket and tires follow a constant turn radius, so the rear tires of the loader follow the path of the front tires. Narrow machine widths allow access to tight, confined spaces that most skid-steer loaders with comparable operating capacities cannot access.
A complete cab enclosure option is available on the models 340 and 540, providing enhanced comfort and safety for all-day-long operations. Excellent 360-degree visibility is achieved by positioning the operator above the load for safe operation and excellent view of the attachment. A multi-function joystick controls the lift arm, bucket, float, travel direction, differential lock and auxiliary hydraulic functions. An inching pedal allows operators to vary ground speed while maintaining a fixed engine speed, to optimally run attachments while enabling precise machine speed control.
For more information, visit www.gehl.com or contact the Gehl literature hotline at 800-628-0491.