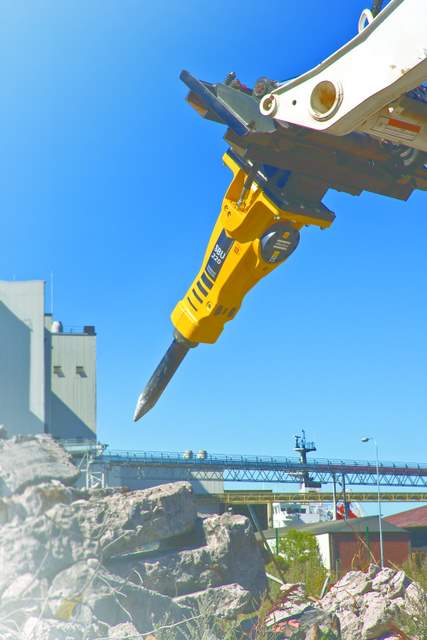 If you're searching for a hard-hitting attachment for your tool carrier (skid steer, excavator, whatever), the Atlas Copco SBU 220 hydraulic hammer is a brand new breaker fit for almost any toolbox.  The SBU 220 features a patented one-piece housing construction — the solid-body concept, which integrates the percussion mechanism and guide system into one single block of steel. The one-piece housing is designed to have fewer components to maintain and to provide a greater return on investment.
With an operating weight of 494 lbs and a tool shank diameter of 2.56 in., the SBU 220 hydraulic breaker is intended for carriers ranging from 6,150- to 13,230-lbs (2.8- to 6.0-metric-tons). The breaker is designed to offer a favorable percussive power-to-weight ratio.
The SBU 220 offers an oil flow rate of 11- to 20-gallons per minute and an impact rate of 720- to 1,380-blows per minute. The unit features the Atlas Copco VibroSilenced system with sound pressure rated at 89 dB(A) and sound power at 118 dB(A). This is designed to allow the unit to work close to schools, hospitals and other areas where noise can be an issue.
With the breaker's solid-body concept, which integrates the impact mechanism and the guide system, the SBU 220 is lighter in weight and features a slimmer profile when compared to other hydraulic breakers, making it ideal for small carriers. The Atlas Copco SBU 220 hydraulic breaker is designed for production breaking: demolition, trench rock, utility and landscaping. The SBU 220 is designed to be well-suited for use in confined spaces such as indoor demolition work, along buildings and for narrow trenching. For more information, visit www.atlascopco.us.