Tractors were one of the first tool carriers, using a power take-off system to run implements that range from harrows to hay balers. There are a variety of implements available for compact utility tractors, but two of the most popular are discussed at length below. Read the summaries, discuss your options with a local dealer, demo a few units and maybe add one of these implements to your utility tractor arsenal.
Tractor Loader Backhoes
Earth movers need solid steel to tackle tough terra firma. Backhoe attachments can turn your tractor in an impressive earth moving and excavation combo. Backhoe implements for compact tractors are a popular category for commercial users, with a price tag that can range from $6,000 to $14,000. On tractors, backhoes are often used to dig small-sized projects quickly — utility trenches, irrigation lines, footings, landscape beds, waterproofing projects, retaining walls and residential and utility applications of all sorts. These backhoe implements are less expensive than say an excavator and can perform light and supplemental jobs that may not require or accommodate a larger excavator.
Backhoe attachments for compact tractors can vary from simple, three-point-hitch-mounted units to more complex, integrated, frame-mounted models that mimic large backhoe loaders. The size of the backhoe and tractor will often determine the size and the attachment system for a backhoe. Smaller backhoe attachments often have easier on/off mounting systems that usually rely on the tractor having a swivel seat. The bigger the job, the bigger the backhoe implement. Most commercial utility tractors will take a backhoe attachment with a sub-frame design, which requires a bit more installation. The installation of integrated frame-mounted units can take an experienced mechanic between two and six hours, depending on the tractor and type of hydraulic system used.
The tractor usually supplies direct hydraulic power to the backhoe or provides power via a PTO to operate a self-contained hydraulic system within the backhoe. Buyers need to look at the specifications on all available products in the category, beginning with horsepower. It's important to compare gross horsepower, net horsepower and, most importantly, PTO horsepower. Also consider the hydraulic pump types, number of pumps and gallons-per-minute (gpm) output. Most sub-compact tractors have a single hydraulic pump that requires higher engine revolutions per minute (rpm) during operation to perform hydraulic functions. This system is acceptable for a novice operator, but not for the commercial operator.  A dual pump hydraulic system truly enhances the experience of the operator. Dual pumps are found on most compact tractors and larger tractor loader backhoe equipment.
PTO Mulchers
When it comes to right-of-way and land clearing, the equipment choice is clear-cut. That's because few machines offer the same level of performance, versatility and safety as PTO-driven horizontal drum mulchers. This makes them ideal for many professional contractors looking for a cost-effective method for mulching thick grass, brush and trees. In many cases, they may already own a suitable tractor for other jobs. Once the decision to purchase a horizontal drum mulcher is made, however, there are several more important choices to make. From cutting teeth options to the drive system, the machines can be configured many different ways to meet individual needs.
Before getting too deep into drum mulchers, it's important to first identify how they will be used. These units can be pushed or pulled behind the tractor for mulching or mowing, but will the operator actually use the machine for multiple applications or just one? By answering this question, a person can make the decision process a little easier. The type of application also helps determine what type of tractor will work best. For mowing applications where the mulcher will mostly be pulled, any tractor with a standard three-point hitch, PTO shaft and operator protection system is fine. However, if the mulchers will be pushed for a large portion of the time, reversible platforms are preferable.
Swinging the seat around to face the rear of the tractor provides a much more comfortable and natural position for the operator to work for extended periods of time.
Hydrostatic tractor drives are also recommended over mechanical drives for applications where the unit will be pushed behind the tractor. Mechanical transmissions can be jerky, and a tractor may stall if the mulcher is forced into a large tree too quickly. On the other hand, hydrostatic transmissions help the operator slowly drive the mulching drum into tough material.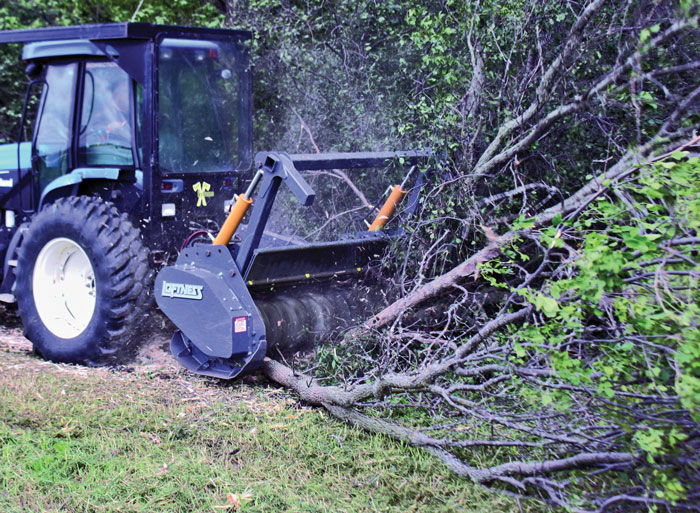 After considering how the horizontal mulching drum will be used, it's time to think about options. The best place to start is deciding between swinging-hammer and fixed cutting teeth. The two types require different rotor configurations, so this decision needs to be made right away. After deciding on the cutting teeth, consider the components of the cutting chamber. Most manufacturers offer counter teeth, which are welded inside the housing to enhance the grinding performance, but some units are also available with a shear bar. It increases efficiency and provides a cutting edge to help reduce particle size. Also, it minimizes wedging from root balls or other debris in the tapered chamber.
Requests for PTO-driven horizontal drum mulchers have grown in recent years because of their extreme versatility, durability and productivity. Interest has also increased because the discharge trajectory is more controlled than alternative mulching equipment, helping to improve safety. With the right set of options, you can experience the same success for mowing and mulching applications.