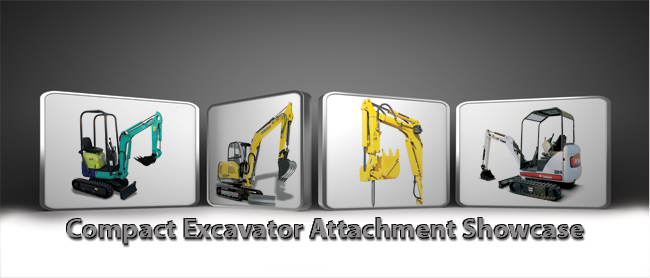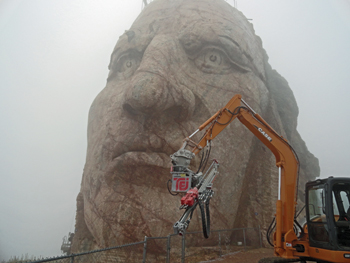 TEI Rock Drills
TEI Rock Drills makes pretty cool attachments. The Montrose, Colo.-based company manufactures a fairly awesome MME260 rock drill attachment, which uses its newly patented hydraulic drifters and feed systems. It's the same attachment you see in this picture, at the Crazy Horse Memorial in South Dakota. When attached to a mini excavator, the drill is used for the detail work on the mountain. TEI Rock Drills make very useful tools for blasting, foundation repair, earth retention and (apparently) making amazing sculptures. The patented drifters mentioned above help give full percussion power when fully engaged; this prevents "dry firing" of the percussion unit and a tremendous savings in parts and longevity of the drilling equipment. For more information, visit TEI Rock Drills at www.teirockdrills.com.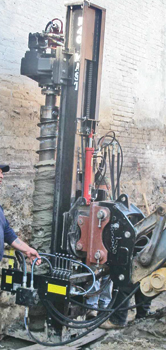 The K2 Mast Attachment by RigKits
The K2 has been designed to fit on excavators, skid steers and other similar equipment. Requiring only 33 gpm at 3,000 psi, the K2 is capable of drilling to depths of more than 600 ft (200 m). Quick-attach mechanisms mounted between the mast and the carrier machine ensures simple attachment. Twin T-shaped storage legs are removed once the mast has been attached to the carrier unit. The K2 provides low cost entry in to the drilling market, utilizing existing carriers and power units. The JT200 Series rotation heads have a hollow main shaft for direct air or mud flushing, making the rig a versatile drilling attachment for all ground conditions. For more information, visit RigKits at www.rigkits.com.
PENGO Revolution Series DV Drive
The PENGO Revolution Series Auger/Anchor Drive product line continues to grow with the recent addition of the Variable Speed Drilling Drives. These drives are ideal for various types of drilling applications and have torque ranges from 2,500 to 40,000 ft-lbs, for use on excavators 17 to 30 tons. The Revolution DV Series Drives also include a highly efficient gearbox, cross-over pressure relief systems and a two-piece bail housing design. Today, PENGO is the largest manufacturer of augers and related wear parts in the world, serving the utility, construction, agriculture, foundation and major worldwide OEM customers. For more information on PENGO, visit www.pengoattachments.com, call 800-599-0211 or e-mail pengosales@paladinbrands.com.
Atlas Copco HC Hydraulic Compactors
When it comes to compaction of soils with a mini excavator 6 metric tons or below, Atlas Copco offers three major solutions. The Atlas Copco HC 150, 350 and 450 models of hydraulic compactors are designed for carriers in the 2,200- to 12,000-lb class, although the HC 350 fits up to 17,000-lb carriers and the HC 450 also fits carriers up to the 19,000-lb class. The Atlas Copco range of hydraulic compactors are designed for compacting soil, trenches and slopes and also for driving and extracting piles. With rig-mounted hydraulic compactors from Atlas Copco, there is no need for personnel in the direct area of operations, thus reducing safety risks. For more information on Atlas Copco, visit www.atlascopco.us/usus.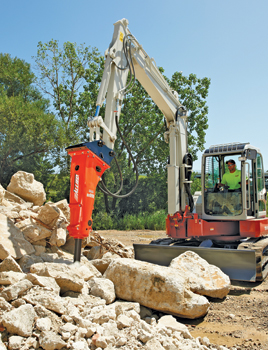 Allied Sandvik Small Range Breakers
After many successful years of promoting and distributing the S-Series (Small Range) of breakers, Allied Construction Products LLC has introduced three all-new Sandvik small range breakers — the BR555, BR777 and BR999. Designed without tie rods and incorporating the Constant Blow Energy (CBE) plus operating system, all three of the new Sandvik small range breakers are powerful, reliable and easy to maintain. The integrated one-piece tool bushing design includes the thrust ring, upper bushing, lower bushing and dust seal requiring fewer parts. The one-piece bushing is easily field replaceable. The box-type housing of the "power-of-three" breakers incorporates high-tech dampening material that reduces noise and vibration in addition to fully-protecting the power cell. For more information on Allied Construction Products LLC, visit www.alliedcp.com.
Giberson Enterprises' Eco Mini-Crusher
Giberson Enterprises has filled yet another niche with their smallest Eco Attachment, the Eco Mini-Crusher. Fitting on mini excavators as small as 2.5 tons (and up to 14 tons), the crushing bucket's output can be adjusted to 4, 3 or 2 in. – (minus). The throughput from three different sized buckets range from 5 to 15 tons per hour. With a gpm range of 13 to 29, the crusher can handle concrete, brick, block and stone on a standard "hammer circuit" (o ne-way flow). This pressure powers twin rams to move the upper jaw against a removable, lower jaw. Wear is minimal with this crusher bucket. Bucket widths are 22, 24 and 29 in. on the three sizes offered. A pre-screen lip adds to the unit's proficiency. A mounting bracket is included on all models. For more information on Eco-Crusher attachments, visit www.ecocrusher.com.