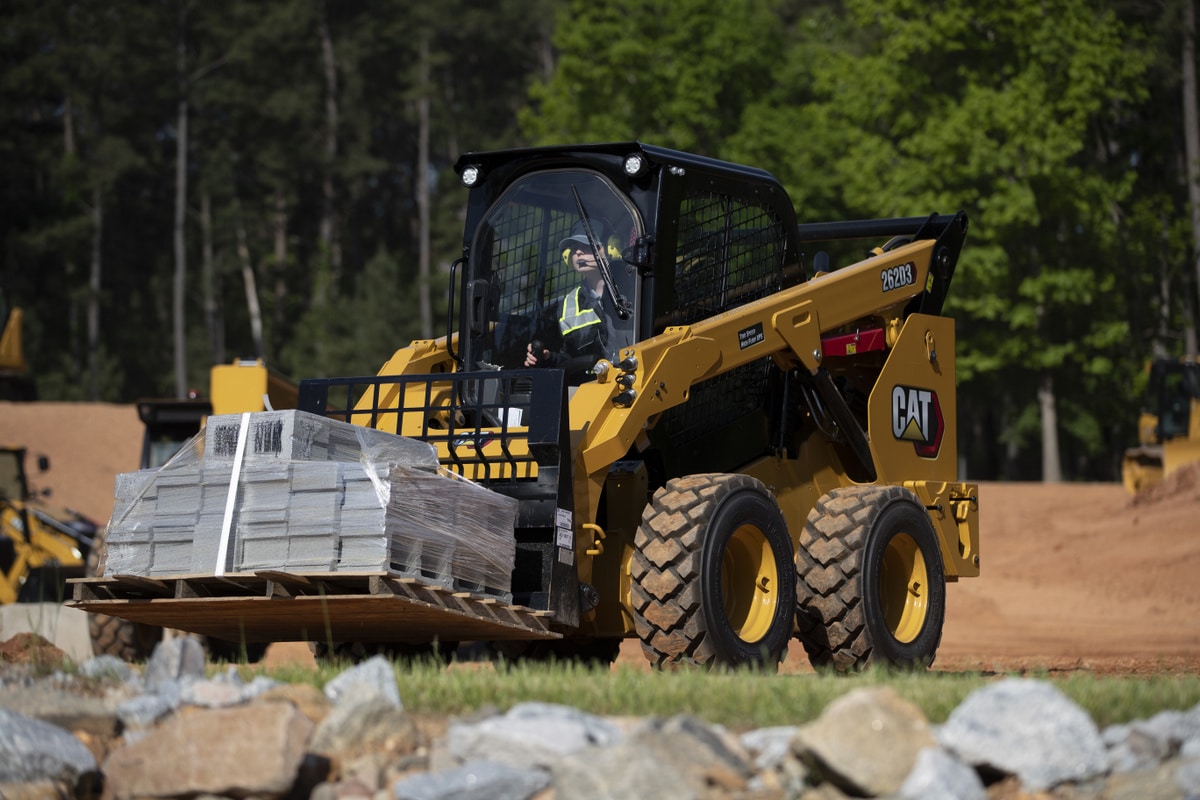 Multiple Choices Across Eight Models and Four Chassis Size
This post is a part of Compact Equipment's annual Spec Guide. View other brands' product and spec info by clicking this link. View the magazine version of these summaries by clicking right here. Sign up for the print edition right here. Now enjoy!
After over two decades of skid steer loader production, the Cat D3 Series skid steer loaders continue to offer customer inspired, innovative solutions. The eight available models, three radial-linkage models and five vertical-linkage models, offer four chassis sizes with horsepower ranging from 67 to 110 gross hp.
All Cat skid steers come standard with a hydraulically driven demand fan, separating the engine speed from the cooling fan speed. This is critical in the toughest conditions when the engine lugs down and the machine needs the fastest fan speed for cooling. The hydraulically driven cooling fan, combined with the high-capacity cooling system, allows customers to work all day. The standard hydraulic fan also features demand fan functionality, which matches fan speed with the machine's cooling needs to deliver improved fuel efficiency, lower noise levels, better cold weather heater performance and max available engine horsepower for optimal performance. For applications with larger amounts of airborne debris, an optional reversing fan is available that can be manual activated by the operator or set to automatically activate at a desired interval.
The Cat High Flow XPS hydraulic system offers increased flow (up to 32 gpm) as well as higher pressure (up to 4,061 psi), which provides more speed and more torque to the attachment. The largest Cat skid steer model, the 110-gross-hp 272D3 XE, provides even higher flow (up to 40 gpm) with the higher pressure (up to 4,061 psi). These high-flow, high-pressure aux hydraulic systems provide great productivity in applications utilizing high torque attachments such as cold planers and heavy-duty brush cutters or wheel saws.
The D3 Series skid steer models offer the operator excellent sight lines to the connected attachment, sides of the machine and tires via loader arm and cab designs focused on visibility. Visibility to the sides and rear of the machine is enhanced further with a standard rearview mirror. An integrated rearview camera, standard on most models, provides a wide-angle picture of potential blind spots and hard-to-see areas behind a skid steer loader.
The D3 Series models are even more comfortable, delivering 3 additional in. of knee room for the operator. A standard security system provides protection from unwanted operation and theft. Additional control features are incorporated into the cabin like a full color LCD monitor that provides the operator the capability to customize up to 23 different parameters. Each of these parameters, which include language choice, display preferences and machine performance adjustments, can be retained for each individual operator code (up to 50 codes). Also standard with each D3 Series skid steer loader is Smart Technology. Smart Technology allows the machine to recognize the new line of Smart Attachments and convert the machine's existing joysticks to the intuitive controls needed to easily operate these attachments. Smart Attachments include the Smart Backhoe and Smart Grader Blade for fast and easy grading and excavation tasks.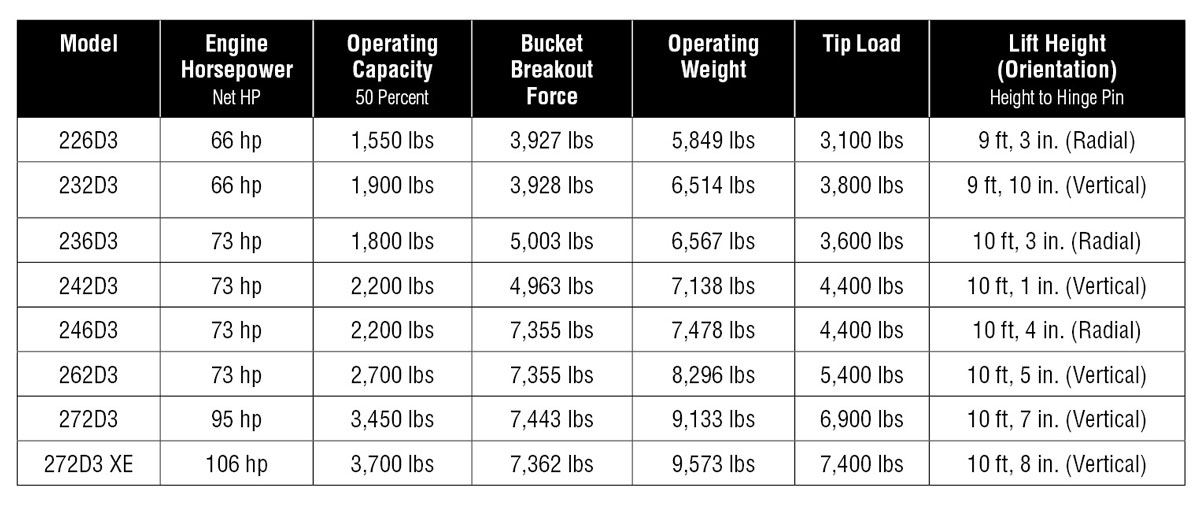 Advice to Buyers
"The total cost of ownership is an important piece of the financial consideration when purchasing a machine, and a large part of the cost of ownership is machine maintenance costs. Consider access for daily service and routine maintenance items," says Kevin Coleman, senior product specialist for Cat. "Check the operator's manual for the location of these items and the frequency at which they are to be serviced, then simulate servicing those items. Daily checks and fill items, such as engine oil, should be easy to accomplish without having to reach into areas where components may be hot. Routine maintenance items, like cleaning and replacing the engine air filter or servicing the fuel filter, should be quick and simple without requiring bolts or panels to be removed."