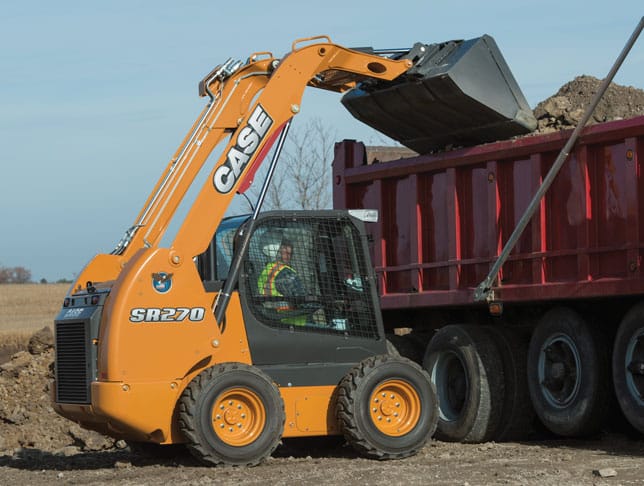 Case Ups Its Game with the All-New 3,400-lb ROC SV340
Manufactured in Wichita, Kan., Case promotes its skid steers as featuring class-leading breakout force, torque, hydraulic flow and 360-degree visibility (all dependent on model/class). The company was also the first to take its entire product line Tier 4 Final and incorporate selective catalytic reduction (SCR) technology into models 75 hp and higher. Case manufactures nine skid steer loaders, ranging in rated operating capacity (ROC) from 1,300 up to 3,400 lbs. This includes six radial-lift skid steers ranging in ROC from 1,300 to 2,700 lbs, and three vertical-lift skid steers ranging in ROC from 1,850 up to 3,400 lbs.
Rated at 74 hp, the SR240 and SV280 deliver torque of 232 lbf, a bucket breakout force of up to 8,776 lbf and standard hydraulics (24.2 gpm) and high-flow auxiliary hydraulics (37.6 gpm) for power and attachment versatility. Weighing in at 7,400 lbs, the SR240 is an all-purpose skid steer that offers an ROC of 2,400 lbs, while the 8,090-lb SV280 offers an ROC of 2,800 lbs. Both feature a diesel oxidation catalyst — a maintenance-free emissions solution that requires no diesel particulate filter (DPF), no DPF regeneration or replacement and no fluids to add.
With a rated operating capacity of 3,400 lbs and bucket breakout force of 9,531 lbf, the 90-hp SV340 is Case's most powerful skid steer. The SV340 offers optional high flow (38.7 gpm at 3,450 psi) and enhanced high flow (35 gpm at 4,000 psi) auxiliary hydraulics and heavy-duty 14 x 17.5 tires. Additional counterweights and a long wheelbase provide a stable platform for high-production and heavy attachments. The SV340 offers one of the widest cabs in the industry, says Case, and the lowest entry threshold for easy access and greater visibility down to the attachment. The cab-forward design, large rear window and ultra-narrow wire side screens provides 360-degree visibility.
Advice to Buyers
"Return on investment is your number one priority when purchasing a skid steer. Consider what you need the loader to do for you today, but also think in terms of future business plans," says John Dotto, brand marketing manager for Case. "The power, maneuverability and versatility of a skid steer can make them your greatest single asset on a jobsite, but an over or under spec'd machine can be your greatest liability. With a wide variety of ROCs, horsepower ratings, aftertreatment solutions, lift geometries and hydraulic packages, there's a loader on the market for everyone."
Case Construction Equipment
621 State St., Racine, WI 53402
866-542-2736 | casece.com
Click on table to enlarge
[prettyPhoto title="Case Specs" link="https://compactequip.com/wp-content/uploads/2017/07/case-specs.png" type="link" ]

[/prettyPhoto]
Tags:
2017 Spec Guide- Skid Steers
,
Case
,
July/August 2017 Print Issue