For tree care service firms, good, reliable equipment — chain saws, brush chippers, stump cutters and chip trucks — are critical for success in an industry where there is plenty of competition. In many cases you can now add a versatile compact tool carrier to the list of key machines as both company owners and their employees are significantly benefiting from these small but very valuable machines.
"It's a win-win situation," says David Parker, owner of Treeworks, an Egg Harbor Township, N.J., firm that specializes in tree pruning and removal. "Whether I look at the compact tool carrier from my perspective as the person who owns the company or from the vantage point of my employees who use it."
With a customer base that is 90 percent residential, Parker and his six employees work in counties along the southern coast of New Jersey. "Some days we are on property that measures 30 ft wide by 60 ft deep, typical of yards in beach communities," he says. "At other times on the mainland, we work on 90-acre properties. Regardless of where we go, our compact tool carrier is with us every day."
That's because of the value the two-year-old machine provides for both Parker and his employees. As soon as he could purchase one, he purchased a Vermeer S600.
"The bottom line with the compact tool carrier is that I make more money with it," he says. "In the same or less amount of time, I finish more jobs in a day. Productivity is up 10 to 25 percent, depending on what we are doing. The units allows us to step up to a new level of efficiency."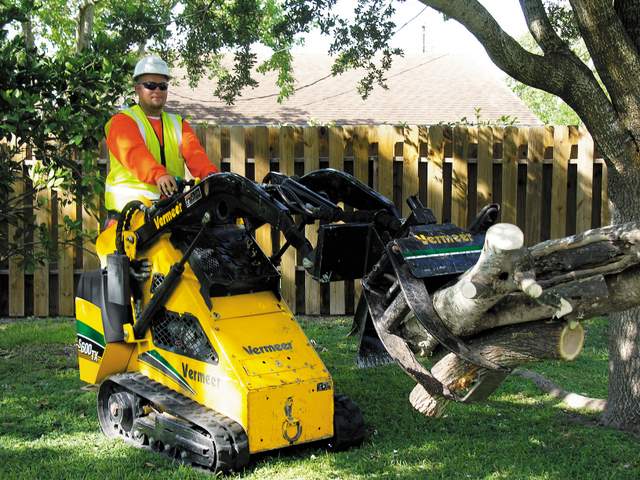 Employee morale, says Parker, "went way up the day I purchased the machine."
Manual labor has been drastically reduced. No more dragging or carrying logs and branches from a backyard jobsite to a chipper parked on the street. Employees are able to work in areas once considered inaccessible to other equipment. The S600, only 36 in. wide, fits through gates and other limited-access areas.  In most cases Parker's employees do not even touch branches once they are stacked into a pile.
"The compact tool carrier, equipped with the brush grapple attachment, picks up the material, carries it to the street and feeds it directly into our chipper," says Parker. "We have a big chipper, a Vermeer BC1800, so we can feed the entire grapple load right into the chipper. We have an employee monitoring the process, and if something needs to be handled, he can do it. But nine times out of ten, he is just watching."
A pallet fork attachment for the compact tool carrier, which has a rated operating capacity of 600 lbs, handles logs that are too big for the opening of the grapple. Parker also has a bucket.
"Once we finish taking out a stump with our SC372 stump cutter we use the bucket to pick up the grindings and haul them away," he says. "We leave the area in excellent shape, something our customers really appreciate."
The compact tool carrier is small enough, says Parker, to be transported along with a stump cutter on a trailer rated for 12,000 lbs. A second trailer is not necessary. Other advantages of a compact tool carrier for tree-care firms, according to owners, include: It can take the place of one or two employees and also allow the company to pick up additional projects when on a jobsite, such as landscaping or excavating. Several easy-to-change attachments open the door for even more work.
"I would encourage any tree care company to purchase a compact tool carrier," he says. "It's one of the best investments you can make in moving your firm forward, especially when it comes to working more productively and making life easier for your employees."
Article by Paul Posel, a feature writer for Two Rivers Marketing, based in Des Moines, Iowa.