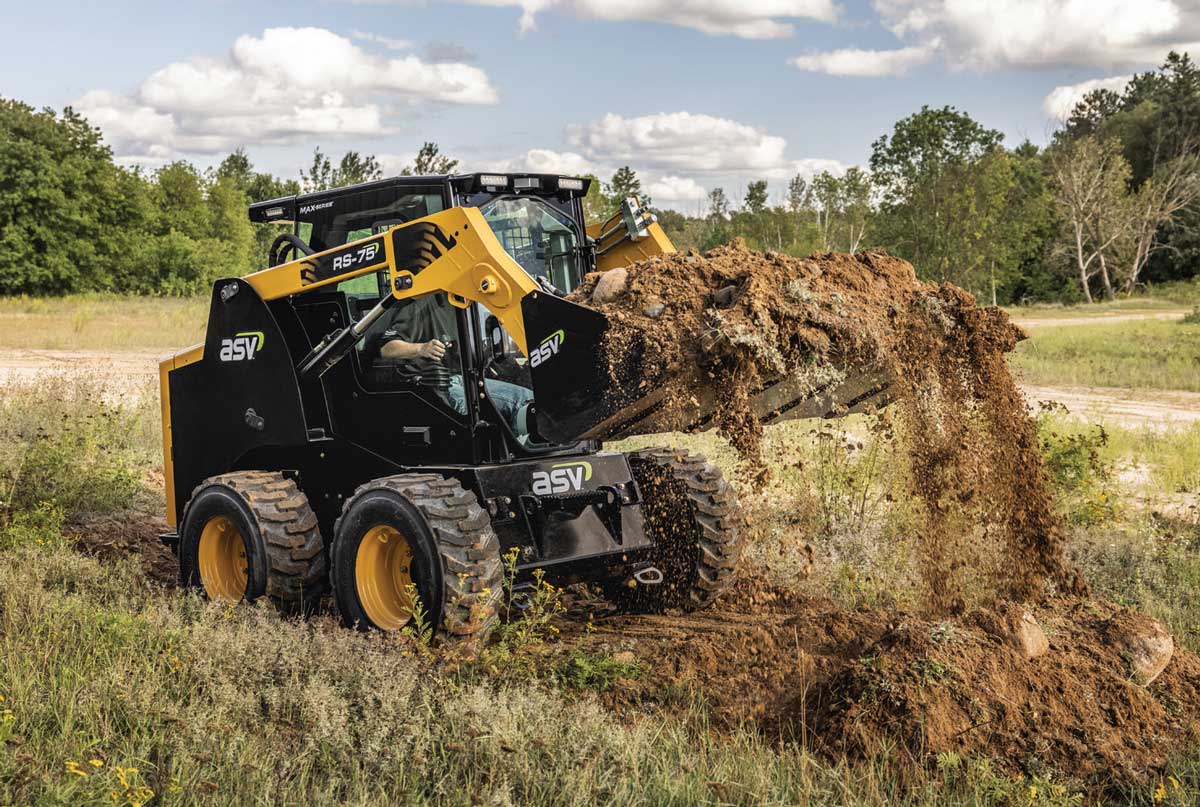 Seasoned Track Loader Manufacturer Also Offers Robust Skid Steers
This post is a part of Compact Equipment's annual Spec Guide. View other brands' product and spec info by clicking this link. View the magazine version of these summaries by clicking right here. Sign up for the print edition right here. Now enjoy!
ASV introduced its line of skid steer loaders in 2011. Each model was designed from the ground up as a skid steer loader, yet the line shares many of the same field-proven components and design features as ASV's long-running line of compact track loaders.
The ASV skid steer loader line includes the Max-Series RS-75 (radial) and VS-75 (vertical). ASV's Max-Series lineup provides premium 360-degree visibility, featuring a floor-to-ceiling clear area made possible by all clear sides and a frameless door. This gives the operator 52 percent more clear area in the optional enclosed cab compared to previous ASV models. Operators can work in comfort with the optional fully suspended, fully adjustable seat. A roomier cab includes up to 2 more in. width at the shoulders, 8 in. more width at the knees and up to 4.5 in. of extra foot room. The cab also features available Bluetooth radio, improved speakers and an optional state-of-the-art 7-in. touchscreen display. Operators will see more ease of use because of improved, intuitive switch locations and operator controls. Additionally, the Max-Series includes standard LED lighting and the industry's first skid steer roof escape hatch.
The RS-75 and VS-75 share some of the time-proven powertrain, hydraulic and operator station components as their track loader counterparts but are purpose-designed as skid steer loaders. The 74.2-gross-hp RS-75 includes a 2,600-lb rated operating capacity and a 5,845-lb breakout force. The vertical-lift VS-75 features a 5,920-lb breakout force and an impressive 3,500-lb-rated operating capacity for its 74.2 gross hp. The VS-75's high-capacity rivals many 95- to 100-hp units, giving operators the ability to have the fuel economy and reduced price of a lower horsepower machine but the performance of some of the largest skid steers out there.
Both machines offer a single-speed auxiliary hydraulic system for use with a wide range of attachments. Each machine has 10.5 in. of ground clearance, more than 2 in. higher than similarly sized skid steers, notes the company. The RS-75 and VS-75's purpose-built chassis also allows for a 24-degree departure angle that enables the units to push up on higher grades without bottoming out.
A high-performance cooling package includes side-by-side engine and hydraulic oil coolers that keep the machine operating at full load, even under high ambient temperatures. ASV also offers optional two-speed auxiliary hydraulics. The RS-75 and VS-75 lead the industry in serviceability, says ASV. The swing-out door and cooling system open quickly to expose the engine, filters and other daily checkpoints for easy maintenance. ASV includes drain plugs on all service items to speed the draining process. Zerk fittings on the end of all pins make greasing easy. Standard metal-face seals ensure the drive hubs don't require maintenance for the life of the machine.

Advice to Buyers
"Start with a machine that fits your application then look at whether there are any features that can be added to the basic configuration to improve comfort and productivity," says Buck Storlie, product manager for the ASV brand. "Things like a roomier cab and one-sided lap bar for easy entry and exit to speaker and radios with Bluetooth capabilities can allow operators to work longer days in comfort. Features like fully suspended seats can go a long way towards making the cab accessible to all body types. Keep an eye out for features like this. Whoever is operating the equipment — whether it's you or an employee — will likely thank you."
For reprint and licensing requests for this article, please click here.
Tags:
ASV
,
July August 2022 Print Issue
,
Spec Guide
,
Spec Guide 2022